Many people at Bramall Lane wouldn't have believed an 18-year-old centre back making his debut as a substitute against Cardiff City back in April 2011 would go on to become the world's most expensive defender.
That was the case for Harry Maguire who is nine Premier League games from completing his first season at Manchester United.
Maguire endured a tough education of the game but progressed at each level he played at from playing League One matches on a cold Tuesday night to playing in front of 80,000 at Old Trafford every week.
Sheffield United beginnings
It all started in the Sheffield United academy following a brief stint at Brunsmeer Athletic where the young centre-back learned his trade with the ball at his feet under academy manager John Pemberton.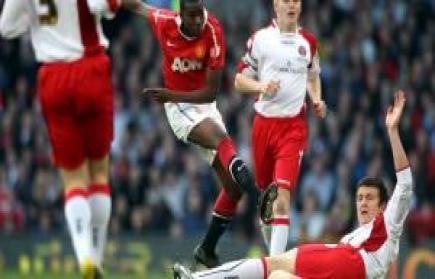 When speaking to The Star's and Sheffield author Danny Mills; there wasn't much talk around the club of the youthful defender making it into the first team.
"There wasn't that much hype around him. There were typically no colored boots and normal haircuts at the academy so there weren't as many flashy names." 
"It was more when he got into the first team people took notice of him as some players are talked about when they haven't got onto the field yet.
"At the academy, there was a big push to play football at your feet rather than booting to the big man up front. Harry benefitted from that because he had the raw attribute for having a good touch for a big man but taking him out of his comfort zone helped him as well.
"One of the bright sparks of the season was seeing Harry's youth team get to the final as people wanted to take their minds off the first team, look to the future and realise it is not all bad news.
"He (Pemberton) played Harry in midfield to expose him to having the ball at his feet and being comfortable on the ball. There was an end goal in mind to develop him as a ball-playing centre half which meant throwing him into the deep end."
A disappointing 2010/2011 season for the South Yorkshire club ended in relegation from the Championship to League One for the first time in 23 years.
Yet a highlight came from the introduction of academy prospects into the starting eleven to prepare for life in the third tier of English football. 
Maguire was certainly one of these players and certainly left an impression with his size and physique.
"This kid's an absolute unit who could play as well.
"There was something different about him in terms of the size of him. You see kids coming through like David Brooks coming through the academy who was the complete opposite as he was the smallest person you would meet with shirts on three sizes too large and Harry was like the Incredible Hulk bursting through his shirt.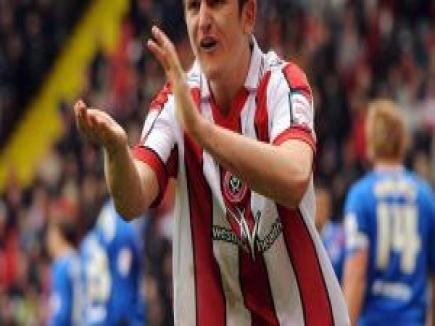 "When you first saw him as a centre half you thought he was going to be murdered by anyone with any kind of pace. When you saw him on the ball you thought he could play, spraying the ball 60 yards to wingers, breaking forward.
"You could see him looking around for options in midfield and he almost thought f**k it I'll have a go myself then. He would venture forward holding people off which was unbelievable to watch."  
Maguire spent the majority of his time at his boyhood club playing in League One for three seasons which accumulated into 129 appearances for the Blades.
A demanding league required players to immediately adapt to it, so for youngsters, it's about growing up in men's football which is something Maguire thrived on. 
"It is a big thing for a young kid to have that pressure put on him to drag a proud club to the Championship. It is a huge responsibility that has seen him play he didn't look like it hindered him. 
"There was the feeling some Sheffield United shirts looking heavy on players and psyched them, not on Harry who took it on brilliantly. The biggest compliment I could pay him is that you would have no idea he was an 18-year-old and he never looked back.
"There will be academy prospects that have played 27 games where Harry would have played roughly 300 games. League One you learn your trade as it chucks you into the deep end.
"Watching Academy football you're thinking as good as it technically how much are you learning where Harry playing for United would learn his trade from getting battered by a centre forward away at Shrewsbury on a Tuesday night which you don't get from playing in the check a trade trophy games. You can have all the raw attributes it doesn't mean anything unless you go out there and prove it
"The most bizarre moment for me was watching him score against Sweden and I was thinking I watched this kid in League One playing against teams like Bury."
A high point for Maguire's time at Sheffield United was taking them to Wembley in their incredible 2013/2014 run to the semi-finals of the FA Cup.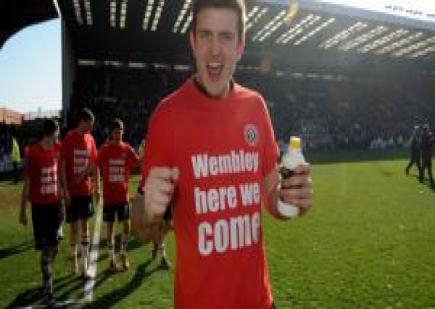 The dream of winning silverware for his hometown club may have ended with a 5-3 defeat to Hull City but his performances caught the attention of top-flight clubs at the highest level meaning it was inevitable he would be moving on.
"There are players in League One that you wonder how they are not playing in the higher league so it might have been the FA Cup run that put him on the map. There was the feeling when he was going to leave not if, even if they got in the Championship there was the feeling, he was going to outgrow the club at some point.
"Him winning player of the year three times in a row brought attention to himself already. But there are never any guarantees but people were taking notice of his playing style and thought it could work higher up.
"The fans keep track of him because he stayed local and was at Hillsborough when Sheffield United beat Wednesday 4-2 a couple of seasons ago which showed he kept that humidity and not forgotten where he came from."
"Fans respond to that as in the current climate fans and players have never been further apart but Harry is a bit of a throwback as he knows where he came which fans respond to that."
Becoming an established PL player 
Ironically the club he eventually transferred to were Hull City, his opponents at Wembley a few months earlier, who had secured their Premier League status after their 2013 promotion for £2.5 million.
Maguire was a victim of their success as they bolstered options in the centre half position, limiting his chances in his first season at the club.
The independent's and Hull City enthusiast Kathryn Batte predicted a first season of settling in before making his presence known in the team. 
"He had quite a few players in his position ahead of him and he signed on the same day as (Andy) Robertson where there is that famous picture of them both signing on the same day.
We are delighted to announce the signings of Harry Maguire and Andy Robertson #WelcomeHarry #WelcomeAndy #UTT pic.twitter.com/yMbvNCms5I

— H u l l C i t y (@HullCity) July 29, 2014
"Robertson was thrown straight in and Maguire was made to wait his turn as we signed Micheal Dawson after him towards the end of the window.
"Also we had Paul McShane, Alex Bruce who was ahead of him as well so we knew he wasn't going to be thrown in straight away regularly.
"He hadn't had that establishment in the Championship as he was playing in League One meaning this was a huge jump and this was going to be a player not for this season but in a couple of seasons even if we go down he will be a player for the Championship.
"He had a spell at Wigan and did very well but what was the strange situation for us coming down that year as we held on to quite a lot of our main players and Steve Bruce."
Despite enjoying a fruitful spell at Wigan Athletic for the second half of the 2014/2015 he returned to his parent club just after being relegated back to the Championship.
Surprisingly Hull kept a lot of their key players on the back of dropping down to second-tier football. Nevertheless, Maguire played a crucial role midday through the season as he played 13 consecutive appearances from November 2015 to the end of the following January.
"We kept the people who were ahead of him the season before in a strange way so we still had (Curtis) Davies, Dawson, ahead of him and Alex Bruce was there as well as the loss of James Chester made him 4th choice.
"When we played three at the back he would come in then but he wasn't even then established as a starter under Steve Bruce particularly.
"There was a moment against QPR on News Years Day where there was a moment where he makes this tackle and he takes two QPR players out at once and wins the ball fairly which was the moment every Hull fan decided that they loved him.
"Even though he didn't play when he was first signed he was very liked and became a bit of a cult figure probably because he succeeded Paul McShane and fitted the bill of being a tough and ready centre back.
"I remember him making that tackle and thinking he is someone who wears his heart on his sleeve in terms of leaving everything on the pitch."
Hull's immediate return to the Premier League led to a turbulent summer with no new signings, nine senior players which included Maguire and no manager after Steve Bruce left just before the start of the 2016/2017 season.
Seven points from Mike Phelan's four games as caretakers convinced the owners to give him the manager's role on a full-time basis.
However one win in 15 cost Phelan his job and was instantly replaced by the unknown former Olympiacos manager Marco Silva who involved Maguire more in his team.
"Under Mike Phelan, there was a perception that the squad wasn't fit he didn't get much of a chance, it was more when Marco Silva came in with his stricter fitness regime and style of football suited Maguire down to the ground.
"When you look at the pictures of Maguire when he first signed and by the time he was playing under Silva he was a lot fitter. When we first signed him there were question marks over him because he was a bit slow.
"As time went on and he was playing regularly his confidence grew with each game, taking the ball out of defence and going on these runs waiting for him to pass the ball but he kept going and you were thinking bloody hell he was in the opposition's half.
"He could pick a long pass and be comfortable in making passes out of the back and that is what Marco Silva wanted to do, he was obsessed with playing out from the back and playing a certain brand of football rather than hoofing it up to the big man up front.
 "It did suit Maguire strangely because he doesn't look like he would a particularly expansive footballer, but he was very good with the ball at his feet."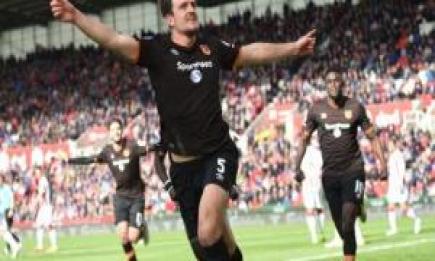 The improved performances from Maguire were not enough to prevent the East Yorkshire club from finishing in the bottom three. It was inevitable the revitalised centre back was going to be the subject of transfer speculation away from the club.
"Maguire appeared from nowhere as a leader and was made captain for a couple of games with Match of the Day picking him out a couple of times for his performances and you know when that happens people start taking an interest as well as him.
"The fact he was doing well in a struggling team shows he had potential to go onto bigger and better things and we all knew as soon as Hull was relegated he was going to leave. Even if we stayed up he might have gone as well." 
From a tiger to a fox 
Maguire's career has gone in an upwards trajectory and the step up from relegated Hull to Leicester for £17 million in total seemed the sensible next step as he would be playing every week in an ambitious club. 
The reliable partnership of Wes Morgan and Robert Huth was ageing meaning that a fresh addition at the back was needed and Maguire seemed to fit the checklist in what the Foxes were looking for.
Lee Chappy from Leicester fan TV was convinced that Maguire was going to succeed at the King Power stadium.
"It looked like he was going to be a Robert Huth type character coming in, big chap got a good header on him and good background as well being a Sheffield lad and a good run at Hull as well.
"You don't know what you are going to get until they are actually on the field as you do have flops but Harry Maguire certainly wasn't a flop.
"During his first game when he came in a lot of people thought he was very slow, didn't look like he connected with the players but as the games went on you could see he was the player he turned out to be.
"He was solid at the back, ball awareness was on point and he was a great person to aim the ball which is what Leciester missed and still miss that now without Maguire there as we don't have a target man at set-pieces.
"He was a character that a lot of youngsters looked up to and he was that sort of personality that seems to draw in the youngsters as he is that type of guy.
"He became Leicester City's number one centre back as Wes Morgan was ageing as well and made his stamp and is now our club-record fee for a player being sold, taking over from Emile Heskey who was sold 20 years ago."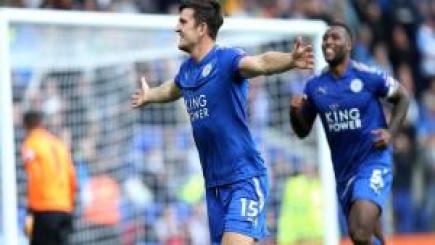 Maguire is well known for his character off the field as well as playing style on it, which shined at the World Cup where the nickname 'Slabhead' started circulating around the football world.
But Leicester's main leader at the back personality shone through with his teammates and fans as Chappy explains with a personal example of his own. 
"During the summer of 2018 my son fell ill and was in the hospital with Nephrotic syndrome and Maguire wished him well which meant a lot to him as Harry was his favourite player at the time.
"I caught a video of him singing the Harry Maguire song, tweeted it and tagged him in it which he sent a message and a video clip saying wishing him well and a speedy recovery which shows what a top class guy he is all round.
"He's not just a character in the dressing room, he's one outside of it as well."
An outstanding first season at Leicester and 2018 World Cup in Russia brought attention from Manchester United and Jose Mourinho who were in desperate need of a centre back. 
Leicester's stance meant they kept hold of their key asset but there was acceptance he would be moving on at some point. Chappy summarised how the club saw this coming and had a plan in place to ease the pain in losing him.
"100 percent I and most Leicester Fans knew Harry Maguire was out of the door. But our owners, at the time Vichai Srivaddhanaprabha, now his son Aiyawatt Srivaddhanaprabha or 'Top' as we call him, have the same character of not wanting to sell someone until he thinks he got the right amount.
"You just got to look at Riyad Mahrez and not let him go until we got a decent fee for him and it was the same for Harry Maguire, we played ball and got £80 million for him.
"I am not knocking Harry Maguire on the quality or money that was spent but we replaced him in a way with someone sitting on the bench the next season in Soyuncu meaning we haven't missed Maguire at the back.
"Brendan Rodgers came in knowing that he was going and the idea was to introduce Soyuncu into his game plan because he walked in and knew what he was doing and settled in straight away. I think Maguire was going regardless of the management at the club so he was always going."
Even with Maguire getting his transfer to Manchester United, Chappy has no ill feelings with the world's most expensive defender's move to the Red Devils. 
"The Leicester fans still give him a bit of banter but we feel like we gave him a stepping stone to where he got to. Harry Maguire won't be a club legend unfortunately because of the move to Manchester United
"His never say die attitude is what fitted into Leciester's fearless Foxes attitude and the Red Devils have that kind of attitude as well.
"I think we got a good deal there, at the same time I thought it's a lot of money as he is a great player but I do not if he is £80 million worth. The England international status puts the price tag on it.
"He is doing a phenomenal job at Manchester United which comes with a lot of pressure.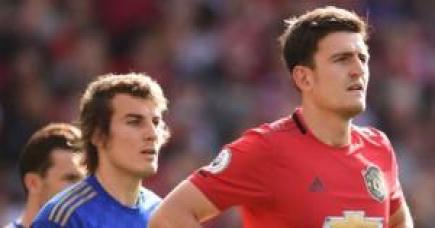 "At the time of him getting his debut for England and then signing for Manchester United he doesn't look like a 25-year old. Imagine being a 25-year-old and being the centre back for England and the world's most famous club in Manchester United it comes with a lot of pressure which is going to affect your game but he has dealt with it very well and I think he will at Manchester United for the rest of his career."
Now Manchester United's captain, a lot is expected of Maguire in the coming seasons to get United back to the top who's come a long way from the kid who could barely fit into his first Sheffield United shirt.