The George Ford or Owen Farrell discussion is likely to dominate English rugby for many years to come but England's current incumbent of the fly-half jersey downplayed the importance of their latest head-to-head battle in the Aviva Premiership final.
Farrell (above right) was the golden boy of English rugby when he broke into the side as a 20-year-old and Ford (left), 18 months his junior, had to remain patient.
But with injury ruling Farrell out of the Six Nations, Ford grabbed the opportunity with both hands and appeared to secure his position as England's leading No.10.
So when Ford's Bath and Farrell's Saracens faced each other in English rugby's season finale in May it was viewed by many as a direct battle between the country's top tens.
Farrell scored 18 points and picked up the man-of-the-match award as Sarries won 28-16.
Ford was deemed to have lost the battle. It was an unjust conclusion on the 22-year-old but the debate was reignited nonetheless.
"It was never about me versus Owen in the final, it was never going to be," said Ford, who was speaking as part of the England Team at the official launch of the Canterbury England Rugby World Cup kit. 
"We play the same position but it was two brilliant teams playing against each other and it was always going to go down to the squads' efforts on the day. Unfortunately they played better on the day than we did.
"We had a great season at the club and we can't dwell on it too much."
Ford understands the intrigue though. Not only are the two young men the leading fly-halves in England in most people's eyes, there is a friendship there that spans the best part of a decade.
Both were born and grew up in the North West, both played rugby league growing up and both moved south so their dads could join Saracens. In the end, the England stars not only went to the same school, they were neighbours for a few years.
Ford said: "You can see why people are interested in it because we played against each other in rugby league from a young age, we went to the same school, lived next door to each and we are good mates away from the rugby field.
"We also played together in age group rugby union and with us playing in the same position and both having the rugby league background, and with our dads (Bath boss Mike Ford and England coach Andy Farrell), you can see why people are always asking questions.
"People don't believe that we are good mates but we genuinely are so it is brilliant to be around him with England.
"We have been really good mates for a long time but there is a massive competitive edge there [between us] and we push each other as hard as we can for the sake of the team. The team comes first and whoever starts for England will hopefully be the best person to play at that particular time.
"He has been brilliant since his return from injury and you can see the impact he has on the way Saracens play and he was always going to do that. He is that type of character.
"He demands the best out of others and out of himself. He is a great guy to be around in camp and he trains the way he plays and that is by giving the best he can every time."
Oldham-born Ford, who moved south at the age of 13, and Wigan's Farrell are two of four specialist fly-halves in a 50-man training squad which will be cut to 31 at the end of August. Sale's Danny Cipriani and Northampton's Stephen Myler are the other two.
Ford insists he hasn't be assured of his place at this year's main event but only a fool would back his omission.
Ford said: "Playing in the World Cup would be amazing. Featuring in a World Cup is one of the highlights of your career, never mind in your own country, so I want to enjoy it and make the most of it. It doesn't come around very often so I want to embrace it."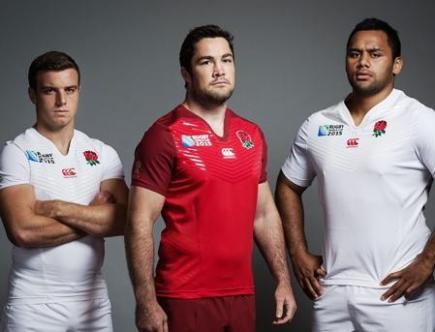 NO MESSING: England trio George Ford, Brad Barritt and Billy Vunipola will form a key part of Stuart Lancaster's World Cup squad
George Ford was appearing alongside his England team mates at the launch of the innovative England Rugby World Cup shirt #CommittedtoEngland. Visit Canterbury.com