Claire Steels' surname really says all you need to know about her rapid rise to duathlon success.
Just one of many decent amateurs not long ago as she balanced her work as a personal trainer alongside competition, Claire then won gold in the ladies' 25-29 year-old age group at the International Triathlon Union 2015 world sprint championships in Adelaide, Australia.
Now a double world champion at both the sprint (5k run – 20k bike – 2.5k run) and standard (double sprint distance) and also a European silver medallist at the sprint distance, MM were able to find out how she does it.
"Grit. It is always going to hurt, you just have to be prepared to push through the pain and focus on the end goal," she said.
"Irrespective of where you finish, if the race is a sprint (half standard distance) or a standard, you still feel pain, the type of pain varies but it's always there. You need grit to make sure the pain doesn't stop you. You need to feed off it."
Just as crucial is recovery, whether that's eating the right food or wearing the best clothes to relax in. Now in partnership with clothing brand Sundried, Claire is able to push herself hard in training knowing she has the right balance away from running and cycling.
"Recovery is vital, it allows your body time to adapt after previous training sessions and get stronger," she said.
"It also gives you time to refuel and prepare for upcoming training sessions. I tend to wear compression tights to aid my recovery and then other comfortable clothes to help me relax. 
"Compression clothing helps recovery and can make it easier to train again sooner than if you didn't have them."
MM: What are your plans for 2017 and even further into the future?
CS: My realistic goals for 2017 would be to be competitive in a British elite level Duathlon race and to get onto the podium for my age group at the world championships in 2017. 
Further into the future I would like to represent GB at elite level. I am also keen to pursue cycling as an individual sport. 
Ironman does appeal to me although I would have to spend a lot of time in the water, swimming isn't my favourite thing and I certainly don't excel at it! 
MM: How on earth do you manage all this while working as a personal trainer??!
CS: Being a PT is hard work. You have to work long hours and be prepared to put that extra stint in even when you're beyond tired! It is also a competitive industry and you have to be prepared to stand out and work hard to be the best that you can be.
The same basic principle applies to training for any sport if you want to succeed. There is then the obvious benefit of understand the body and physiological adaptations to training, being able to understand how a training session will benefit me in a race is a really helpful tool for the tough training sessions. 
**
So what qualities do Sundried clothes have then? MM asked the clothes company for a breakdown of how they can help athletes such as Claire achieve their goals…
Sundried activewear is designed using the latest technical fabrics to ensure our athletes best performance, from sweat wicking to four-way stretch, reflective strips to technically engineered breathing holes, our clothing is ready to perform with you.
What makes them a natural partner for an athlete on the up?
Sundried support our athletes by sharing our success, our activewear has been trialled and tested by leading triathletes, making it the perfect partner for any athlete on the up. Our ambassadors share our ethos and likewise we support them through our events, website and social media.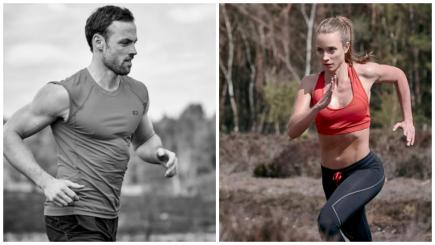 What does the Sundried ambassador programme entail?
To become a Sundried ambassador we have five main criteria:
Shared ethics: Sundried pride ourselves on the relationships we build, so you'll need to share our ethos for ethical production and protecting our environment for the future.
Passion: We're passionate about what we do. If we're not talking or writing about Sundried, we're either training or sleeping. If you are passionate about health and fitness and want to be part of a brand who want to make a change to the activewear market, get in touch.
Persistence: Athletes and personal trainers alike will understand the importance of persistence, sometimes, you hit a wall, your results slow, or you have a bad race. We are looking for ambassadors who have got what it takes to grow from their setbacks, learn from their mistakes and are always seeking to improve.
Dedication: It goes without saying that our ambassadors are dedicated and humble individuals, fitness is earned and not given and the dedicated reap the greatest rewards.
Lifestyle: At Sundried we're about more than just clothing, we're for making a positive lifestyle change to a healthier you and a better world for all of us.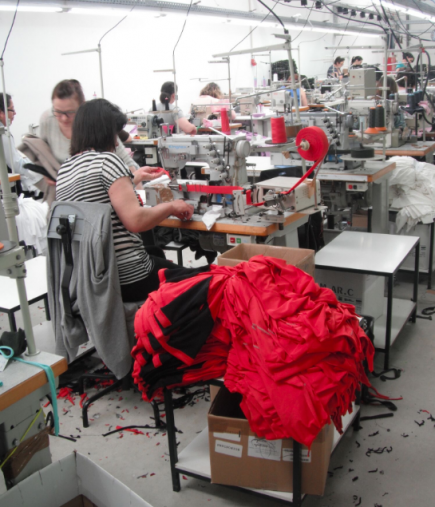 ALL HANDS ON DECK: Sundried's manufacturers are based in Portugal
Sundried has lots of different meanings to us, firstly we encourage all our clothing to have minimal environmental impact – even after purchase by developing our activewear to be washed cool and 'sun dried', secondly with our roots deeply embedded in the world of triathlon, Sundried made us think of the transition from swim to bike, as you dry off between the two disciplines of triathlon, we liked it and so here we are.
Who else do you work with other than Claire?
Our list of triathletes is growing from strength to strength, we'll be releasing the names of our other athletes over the next few months, so keep your eyes peeled!
Sundried ambassador Jade Mottley represents the brand in Manchester, she is a Register of Exercise Professionals Level 3 Personal Trainer and founder of Performance for All.
Image courtesy of Instagram, with thanks.