Mancunian Matters looks at England's record at the Gabba and three of their most memorable performances.
The 2021/22 Ashes begin on December 8 in Brisbane, with England looking for their first series win on Australian soil since 2011.
As is tradition, the first test will be held at The Gabba – a venue which the hosts have had a lot of success over the years.
Before defeat against India in January this year, the Aussies had not lost a test match there since 1988 (v West Indies). England have a notoriously poor record at the stadium, with only four wins in 21 test matches against Australia in the Ashes.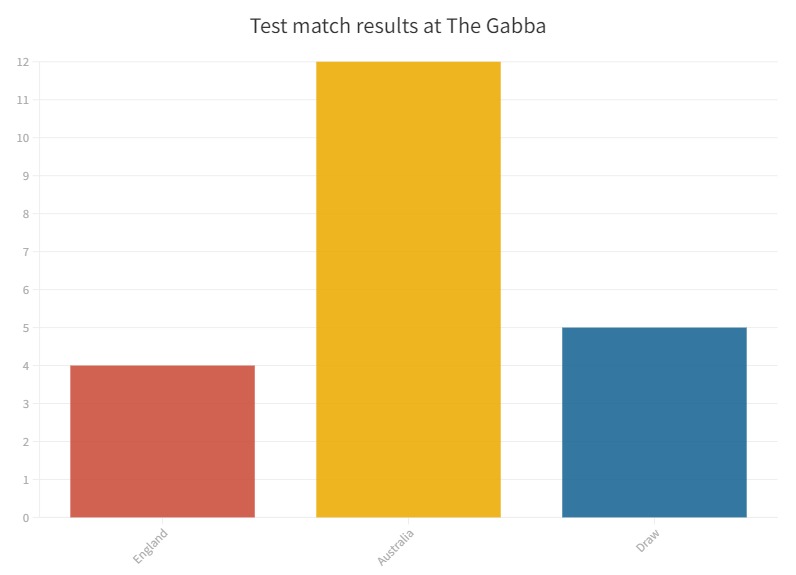 The tourists will go into the Ashes having struggled to a draw in the 2019 edition.
They have only won five series held in Australia since World War Two, in which they have only lost once at the Gabba (in 1954 – since then they have won two and drawn two in winning Ashes series­­­­).
A win at the 'Gabbatoir' could provide the springboard for England to regain the urn for the first time since 2015.
There have been some famous performances and results at the ground when the two nations meet which could provide inspiration for the visitors.
Alastair Cook's record-breaking stand with Jonathan Trott in 2010
Prior to this series, England hadn't won the Ashes down under since 1987. The previous edition in Australia had been a disaster – an embarrassing 5-0 whitewash in which the hosts took brutal revenge for their loss on English soil in 2005.
The tourists had prepared thoroughly for this Test. Three warm-up games were played (two three-day and one four-day game) in which the Test batsmen took part. The first-class bowlers also participated in the first two matches.
In the match itself, Peter Siddle shocked England by taking a hat-trick of wickets and posting a career-best of 6-54. The hosts then posted a total of 481 all out to lead by 221 runs going into England's second innings.
Enter Alastair Cook.
The Essex batsman put on an opening partnership of 188 with Andrew Strauss (110).
Then a stunning 329-run stand with Jonathan Trott.
This broke the record for the highest partnership at the Gabba – set by Michael Hussey and Brad Haddin in the same Test for Australia – and still stands as of December 2021.
Cook's 235 not out also broke Don Bradman's record for the highest Test score at the ground (226).
It is still the highest score posted by a non-Australian. Only Michael Clarke's 259 against South Africa in 2012 has eclipsed it since.
England declared on 517-1, and Australia played 41 more overs before a draw was declared.
This was a huge morale boost going into the rest of the series. Victories in Adelaide, Melbourne and Sydney securing the Ashes.
Botham and the bowlers drag underdogs England to seven-wicket win in 1986
England were at a low point in 1986.
They had lost to West Indies, India, and New Zealand within a 12-month span and to Queensland in a warm-up game.
This was followed by a humiliating draw with Western Australia which would have been a defeat had rain not stopped play.
As a result – despite being in indifferent form themselves – the Australians were considered strong favourites to win the series.
The hosts put England into bat after winning the toss. Ian Botham entered at six, with the tourists on 198-4.
He then produced a dominating performance by hitting 138 runs from 174 balls, including 17 boundaries (13 fours and 4 sixes).
England reached a first-innings total of 456 runs, far exceeding expectations. They then bowled Australia out for 248 and forced the follow-on, stopping them at 282 runs and setting a target of 75 to win.
Graham Dilley and John Emburey were key, taking six and five wickets respectively across the two innings. Botham contributed three himself.
In the end, England won by seven wickets – a crushing blow to the hosts who had high hopes going into the Test – and went on to win the series 2-1.
The 'Allen Test' in 1936
As with the other Tests in this article, England went into Brisbane as underdogs in 1936. Their form was so poor prior to the series that critics predicted a 500-run innings from the hosts.
Bowling in particular proved an issue – Bill Voce had not shown his form from the infamous 'Bodyline' series of 1932/33.
However, captain Gubby Allen proved his worth as a leader to drag the tourists to a magnificent 322-run win. His team selection was unorthodox yet worked to perfection.
The Test began as expected – England were 20-3 and struggling until Maurice Leyland and Charlie Barnett put on a stand of 99. The former top-scored with 126 as England were bowled for 358.
The hosts were 151-2 at the end of the second day before Voce found a ruthless streak. He took six wickets in the innings as the Aussies reached 234 all-out.
Allen played a captain's innings next, hitting 68 runs and denying celebrated bowler Kyle O'Reilly a wicket through sheer concentration. The Australians were set a target of 381 to win.
What happened next was inexplicable.
Jack Fingleton was bowled first-ball by Voce. The Australian batsman had hit a century in his first innings – to get him out was vital.
From that point on, Allen and Voce destroyed the hosts' order. The captain dismissed Jack Badcock, Morris Sievers and Don Bradman in his first two overs with the ball to leave them on 7-4.
The fielding was on-point, Allen's tactics and positioning were excellent, and the two bowlers were precise.
The Australians were bowled out for 58 runs. This still stands as the lowest innings total in Gabba history by any side.
Allen took five wickets, Voce took four (giving him 10 over the course of the Test). A side out of form had recorded an unlikely victory.
The current side will look to replicate these historic performances when they begin their Ashes campaign in Brisbane on Wednesday.