Let's forget the negative publicity surrounding Oldham at the moment.
The League One club has stepped up to take on the challenge of planting the seeds of hope for England's next crop of talent.
All this against a backdrop of racial allegations and evidence of corruption within football's governing bodies. You won't get far in our national sport without uncovering some foul play off the pitch.
So Oldham have built the North West's first outdoor futsal centre. With it will surely come fresh initiatives to encourage team spirit among children.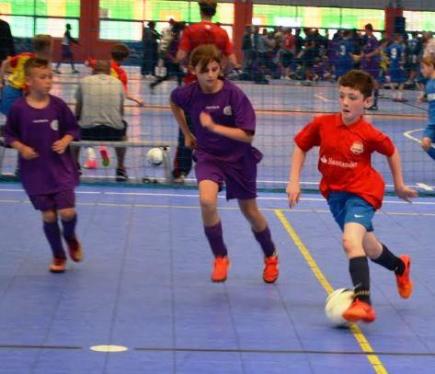 BORN WINNERS: England are desperately seeking a return to the glory days of the 1966 World Cup victory by nurturing future generations
MM went off the beaten track to find out what kind of impact it might have on the beautiful game…
Admiring glances are something typically associated with everyday life and they come in many forms. From catching sight of a Michael Kors watch worn with pride by the new office intern to the latest wardrobe extravagantly displayed at a film premiere, being envious is an inescapable part of being human.
You would further be forgiven for desperately checking how much holiday allowance you have left. Traipsing the cobbled streets of Greater Manchester while on your way to and from work, on a grim winter evening these thoughts are never very far away.
Alas, Costa Del Cheadle doesn't quite encapsulate feelings of sun kissed squares in the Mediterranean for the majority of us struggling to making ends meet.
Turning the clocks back to last May, England's footballing youngsters beat Holland in the U-17 European football championship.
A rare, but tantalisingly rewarding final, it would be fair to say that on this occasion those glances were drawn to our young men.
Incredibly, it was also completed via means of a penalty shootout, yes a penalty shootout! Oh how U21 coach Gareth Southgate will have smiled.
Moving back to present time, when it comes to consistently bringing through exciting, home-grown talent that can play in major tournaments however, the jury is still very much out. 
Aspirations of mirroring foreign countries in consistently turning over enviable talent is something high on FA boss Greg Dyke's wish list. 
Is this really achievable though?
According to Neil Lucas, head of recruitment at Sala Soccer Schools, Oldham and Greater Manchester can be the starting point for keeping those eyes locked on football's homeland.
Sala Soccer currently coach over 250 children a week in weekly classes, as well as working in seven primary schools and six nurseries, coaching futsal to 1100 school children in Oldham and Tameside.
"Two years ago I went to watch how Barcelona play from a young age," Lucas told MM.
"They have incorporated a game known as futsal, which we teach at our schools. They decide when their players get older, when to stop playing futsal, and when to start playing football as we know it. However the FA will tell you differently."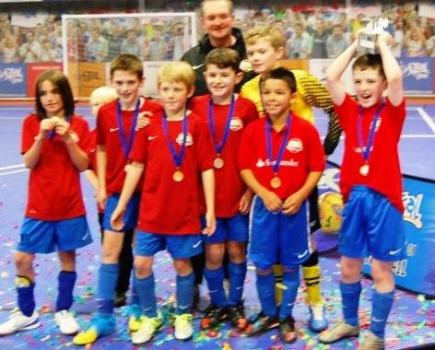 SMELLS LIKE TEAM SPIRIT: Futsal puts smiles on faces says Lucas
Now 43, Lucas has been coaching for over five years and has seen how South American flair, associated with the romance of academies such as Barcelona's La Masia, has become the desirable blueprint for success.
"I use the techniques I saw as a tool to help children get better at football here in Oldham," he added.
"We're not building skyscrapers, we're building bungalows, but we want to be a part of those fundamental foundations.
"You need to be taught life skills as much as how to pass a football."
England's senior side have not won a major competition since Sir Geoff Hurst's winning goal against West Germany almost fifty years ago. That's five footballing generations.
Then followed that piece of commentating gold: "They think it's all over, it is now!" This is today viewed with incredulous irony, as, for many, England's brief flirtation with global praise came and went with the spirit of 66'.
Not even Paul Gascoigne's tears in Rome, some 24 years later at Italia 90', could kick-start a reverse in fortune for a nation still in thrall at the seemingly unattainable prospect of success at a major tournament.
Now in 2015 the game changer for many is the argument that football is now too much of a business.
'Buy now, pay next year' deals weren't just limited to furniture advertisements over Christmas, they're an everyday part of the makeup of our clubs.
Growing resources are stretched to compete with the distorting effects of oligarchs and billionaires while costs spiral out of the realms of sanity.
In September last year Manchester United's former head of development, Eric Harrison, claimed the club had sold its soul.
No wonder, with an unquantifiable amount of money spent since that famous youth cup winning side of 1992 where Paul Scholes, David Beckham, Ryan Giggs and the Neville brothers, to name just five, burst onto the scene.
Greater Manchester houses arguably the definitive piece in the English club jigsaw, with not just two huge and well supported clubs in United and City but a number of aspiring clubs within the football league.
Bolton, Rochdale, Bury, Oldham and Stockport are all clubs familiar with their main assets being young talent.
Lucas wishes for his own futsal vision to help reconnect long suffering fans' faith in the FA and, furthermore, the faith of aspiring youngsters and professionals all hoping to achieve their goals.
"Spanish futsal coaches say when you play as a youngster it moves ability forward and also changes the way coaches deal with players at a younger age," he said.
"I just don't think that, until now, the real basics, the ABC's of learning with the ball, have been taught enough."
Luke Regan, research officer with the Sports Think Tank, believes sport on the whole here in England suffers from a wider concern in sporting development that isn't just constrained to football.
"We are concerned with talent pathways and athlete development, and I fear just as in football, in tennis a similar problem also exists," he told MM.
"We have a problem in terms of individual skill – I feel sure of it."
The Sport Think Tank wants to explore means of widening pathways that sometimes remain open to the reasoning that suggests that in some cases England actually, as a nation have overachieved.
Southampton and Sheffield United, along with Crystal Palace, Middlesbrough and Derby, are national examples of how a strong academy can produce players ready made for first team football.
The onus now is ensuring the North West takes heed of these models.
The aforementioned clubs have philosophies in cultivating individuals and strengths and according to the Sports Think Tank, this is broadly referred to as a 'constraints based' approach to coaching, as opposed to deconstructing the game into its component skill then adding tactics and incorporating them into a game later.
"This is basically the supposed learning of futsal, in terms of skill-learning," said Regan.
"There's no doubt that good coaching is priceless and our rivals in France, Spain, Holland, and Germany generally have more and better paid junior coaches than we do."
The Sport Think Tank has been pushing for further recognition on the wider picture of sport and not for parents to concentrate on just pushing their children down a single avenue.
"It's time to get back to basics… when PE/sport was an everyday activity alongside the 3 Rs" http://t.co/YNfuQWCMTP pic.twitter.com/3Y6uYmbunD

— Sports Think Tank (@sport_thinktank) December 18, 2014
Regan added: "The other factor I'd like to mention is specialisation: partly because of the demise of outdoor play and the dire state of school and community sport we just aren't producing decent all-round athletes any more for the open-skill sports like football and tennis – the way we used to do without even really trying."
In a potential remedy to the concerns raised, the Oldham College facility off the Rochdale Road campus brought the news of a first seen outdoor futsal centre in the north.
It is hoped that this will become the regional hub for a frantic five-a-side game developed in Brazil, which we now know to call futsal.
Fifa approved and FA affiliated, the new centre pays homage to the faith and belief of coaches such as Lucas.
There will be three futsal pitches, marked by lines instead of walls, to encourage the opportunity to move in a limited space.
According to Club Futsal UK, the national body for the emerging sport: 'Futsal education programmes are built around smart technology to provide young people and education partners, including leading colleges and academies, with new ways of learning.'
Now we have seen a shake-up from the FA and the emergence of sports such as futsal choosing Greater Manchester as their base, the current impetus is ensure the foundations of a child's development are catered for, before another generation passes by presenting little to no success.
"Take a famous building like the Beetham tower," begins Lucas' conclusion.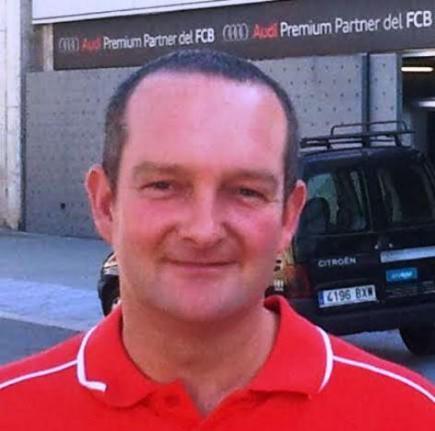 SOLID FOUNDATIONS: Kids need to learn the basics if they are to become great, says Lucas
"When the foundations were laid did they just brush over them with some average builders and let the more experienced builders start working on the last few top floors?
"Of course not, so why are we doing this with young kids when the foundation stage is the most important stage?
"If they are not good the building topples, it's no different in developing young technically gifted footballers." 
Main image courtesy of Neil Lucas, with thanks.