Two lucky teenagers at Cedar Mount Academy had the opportunity of drawing the women's FA Cup fourth round draw alongside Manchester City Women's Keira Walsh and Georgia Stanway on a very special day they will "never forget."
Blumartha Chikaonda and Jainbaba Adams were selected by their teacher Michelle Bennett to draw the names out of the hat for the women's FA Cup fourth round draw, live from their school.
Both year nine girls are members of their school football team and were thrilled to have the opportunity to conduct the draw in front of their footballing heroes.
"When I first started at the school, I never thought that something as amazing as this would actually happen and have this type of opportunity," said Blumartha, 13.
"I am really grateful that I actually got to meet two of the City players.
"We asked them before the draw what their first pair of boots was and they told all my peers what inspired them to play football. It was a very special day that I will never forget."
Jainbaba, 14, said she had been playing football for three years and believed the experience would inspire her age group to get even better at the game.
"Now that Manchester City has come to inspire us, I hope we have the potential to do more as a team."
Assistant vice-principal Bennett told MM that the event was a once in a lifetime experience that would inspire her pupils to achieve both academic and sporting success.
"It was absolutely fabulous having the FA cup draw here at our school and it is an experience that some of our students will never see again and nor will I.
"With the professional footballers coming to the school, it is just an inspiration for our students. Not just on the sporting side but also on the academic front.
"Hearing that Georgia Stanway juggled her work life balance with football and still got 11 GCSEs at the end of it is an amazing achievement and something our kids can take away."
The year nine pupils drew reigning SSE women's FA Cup champions Manchester City away from home against WSL 2 side Brighton and Hove Albion.
Manchester City and England under-19 international Stanway spoke to MM after the draw and expressed her delight at being able to inspire the Cedar Mount pupils.
"It is massively important to inspire the next generation, especially when we are trying to get the women's game out there.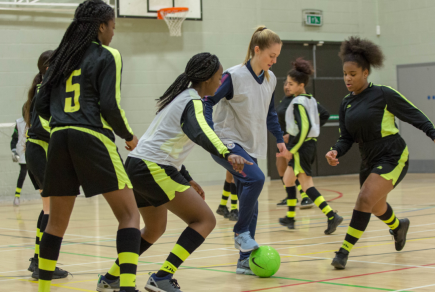 BEST FOOT FORWARD: Keira Walsh dazzles Cedar Mount Academy football players with her skills
"I think it is really important to go into secondary schools and give them the opportunity to see what women's football is like and how we got there."
England international forward Walsh added that she was delighted to see how inspiring the visit to Cedar Mount academy was for the children and staff in attendance.
"If we can inspire any of the girls and  boys just to come down and watch one of our games and see what it is like watching the women's game, then it is great for the team."
Manchester City overcame the challenge of Birmingham City in last year's final to lift the women's FA Cup for the first time in the club's history on what was a special day for both players.
"Coming on at Wembley in about the 60th minute and playing on that pitch, it was a dream come true, especially with all the people in the crowd and my family in the stands. There is no bigger opportunity than that," said 2016 Nissan Goal of the Season award winner Stanway.
2017 FA Cup final player of the match, Keira Walsh, agreed: "I think it was probably one of the best games that we have played as a team.
"We really got the ball down and  controlled the game that day. Cup games can swing either way, but as a team we really controlled the game.
"To retain the trophies we won last year would be a great feeling."