A blind and visually-impaired cycling club from Bury are preparing their biggest challenge yet – a 220-mile ride in less than 24 hours where they will climb twice the height of Ben Nevis in total.
Bury Tandem Club for the Visually Impaired will ride through the night from Manchester Velodrome to Sir Chris Hoy Velodrome in Glasgow, which was inspired by the Commonwealth Games.
Twenty of those taking on the challenge are visually impaired – along with 13 with full sight as pilots and two vehicles.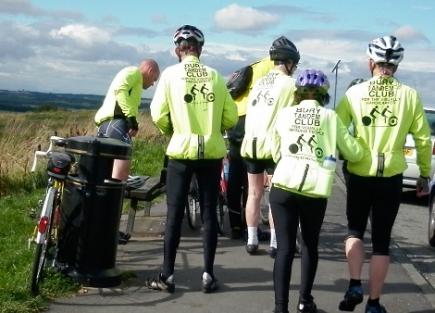 A WELL-EARNED BREAK: Bury's intrepid crew stop roadside to recuperate
Derek Pritchard, 75, set up the club when his own eyesight began to deteriorate and said: "I wanted to keep riding and share my love of the sport with other visually impaired people."
From the youngest member at 22 to the eldest at 76, the club rides every Sunday, covering between 40 and 60 miles, across Lancashire, West Yorkshire and Cheshire.
Mr Pritchard added: "Over the years, we've had all sorts of people riding with the club – men, women, young, old, people born blind, people who have lost their sight.
"For some it's the first time on a bike, others are coming back to cycling after many years. We are always happy to welcome new riders."
The club, which is a registered charity, runs on donations and grants, most recently from Prestwich Athletics Club and from Tottington and West Bury Rotary Club.
Members hope to raise £10,000 in sponsorship for their Glasgow ride which starts on Friday July 18 and will feature 2,600 metres of climbing, including Shap summit at approximately 3am.
If you would like to find out more or can help the club with sponsorship, call Derek on 0161 794 1239 or visit www.bury-tandem-club.org.