Hendre Fourie has swapped the pitch for the classroom to deliver engaging sessions combining the sport of rugby with basic financial education with Number Cruncherz.
The South African-born England international was joined by Sale Sharks Community Trust coaches as well as a number of Sale first-team players, including new additions Peter Stringer and Brian Mujati on Wednesday.
The programme is delivered by Sale Sharks in conjunction with primary sponsor MBNA to thousands of schoolchildren in the North West and North Wales.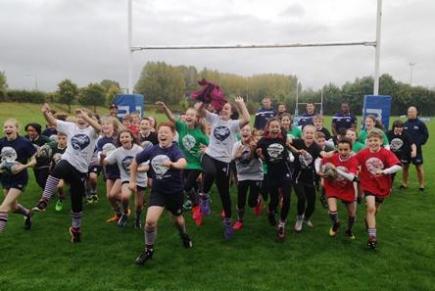 SPREAD THE LOVE: Pupils from Rishworth School in West Yorkshire leap for the sky
Fourie enjoyed a two-year spell with the club before unfortunately having to retire due to a persistent shoulder injury, but he admits he is relishing his new role at the club.
"We started Number Cruncherz with a pilot in January of last year," said Fourie.
While Fourie admitted that the Number Cruncherz struggled initially, with word of its existence not getting out too well, the programme apparently truly kicked off halfway through last year.
Fourie added: "As soon as we go the first couple of schools it started to spread and now we're working with an average of two, maybe three, schools a week during term-time so it's really good."
The lucky schoolchildren taking part were pupils from Rishworth School in West Yorkshire, the former school of Joe Ford and his England fly-half brother George.
Ford said: "It's brilliant for the kids to get a day out of school, it's the best thing ever at that age isn't it?
"So they're obviously having a great day and what they're learning on the back of that is an enjoyable way of learning some really valuable lessons."
Along with Ford, there were a number of other nationalities on show with Stringer (Ireland), Mujati (South Africa), Chris Cusiter (Scotland), Jonathan Mills (Wales) and Sammy Tuitupou (New Zealand) also joining in on the fun.
While each player has represented their country on the international stage, this time they were flying their respective colours in the classroom as pupils were assigned to each player and their respective country.
Using the inner-workings of the club itself as a platform, the players and Sale staff worked with the Key Stage 3 pupils to deliver money management tips which Fourie described as "massively important".
"Obviously they know that money comes in and how to spend stuff but not much else.
"After that they are in awe of their parents and think 'they really do spend a lot of money on us' so it's really helpful especially at that age to give them the tools to go and help themselves out."
When the number crunching was over, the pupils engaged in a number of touch rugby sessions on the pitches at Sale's Carrington training base.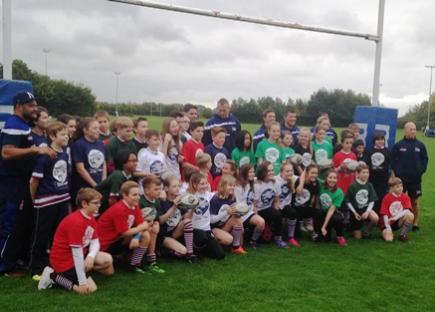 MOVING THE POSTS: Number Cruncherz struggled initially but Sale Sharks have helped its growth