Former Southampton footballer Francis Benali paid Manchester a much-needed visit – and used Old Trafford and the Etihad as pit stops – as part of his epic challenge to raise £1 million for Cancer Research UK.
Benali, who made over 300 appearances for the Saints, is completing 'Benali's Big Race', where he is running and cycling to every Premier League and Championship club in 16 days.
Remarkably, this is not the former defender's first gruelling charity event. In 2014, he successfully ran the distance to all 20 top-flight clubs to raise money for Cancer Research UK.
This time, however, he is resolute on pushing is body even further.
Having set off from AFC Bournemouth last Sunday, Benali is running a marathon and cycling 75 miles every day, heading north before looping back down to the south.
He is expected to finish the event at St Mary's Stadium, the ground where he enjoyed a 16-year career, on Sunday October 16.
Speaking to MM after arriving at Old Trafford on Thursday, Benali said: "Coming to grounds that I've played many years ago is nice, but it seems to be little bit more special this time – my spirits are lifted.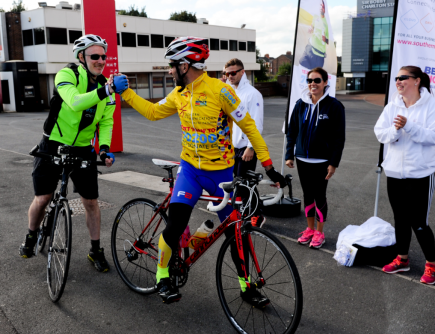 SPIRITS LIFTED: Francis Benali is all smiles after arriving at Old Trafford where Cancer Research UK Scientist Duncan Smith was on hand for support (photo courtesy of Benali's Big Race via Facebook, with thanks)
"It comes in those waves – sometimes it's really hard to keep moving and keep motivated."
But he was quick to commend his support team for their 'incredible' determination for helping him on every leg of the journey, likening the experience to his days as a footballer.   
"I'm doing the daily mileage but there's a team around supporting me very much like in playing days," he said, before stripping his socks off so that his blisters could be treated.
"It's not just been the training – it's been the logistics of it as well. My family have been just consumed by it all. It's all that we've been talking about it for months and months."
Benali's campaign has hit the ground running – having gained over 5,000 followers on Twitter where it has been endorsed my stars and TV presenters from the footballing community, including the likes of former Southampton star Matt Le Tissier and Sky Sports presenter Jeff Stelling.
Homeward bound after an amazing day with an amazing bloke. My respect for @FrannyBenali has gone thru the roof @BenalisBigRace

— Matt Le Tissier (@mattletiss7) October 4, 2016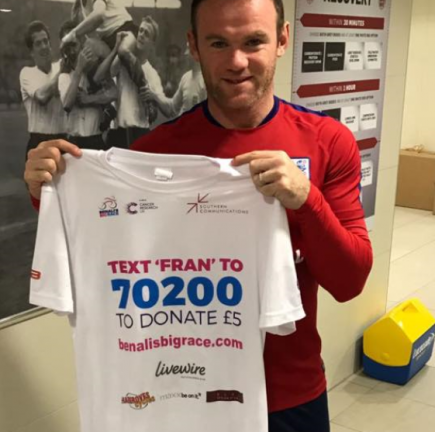 BIG HELP: Benali has enjoyed the support of England and Manchester United captain Wayne Rooney (image courtesy of Benali's Big Ride via Facebook, with thanks)
Upon arriving at United's ground, Benali was greeted by his wife Karen, support team and members of Cancer Research UK, among whom was Clare Dickinson, a senior nurse at the Manchester Cancer Research Centre, who was on hand to give Benali one of his favourite things to keep him going – a tub of jelly babies.
Before setting off to ride to Merseyside, Benali had enough time to greet life-long United fan Clive Barley, who overcame bowel cancer to complete 10 marathons for Cancer Research UK.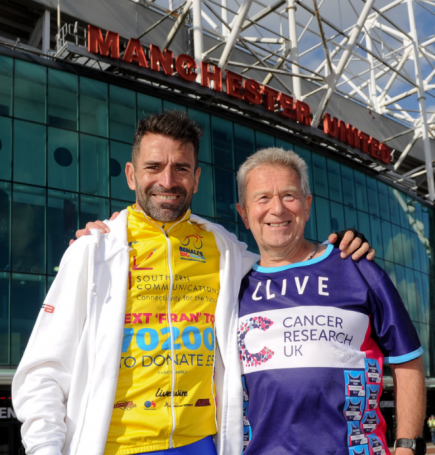 ARM IN ARM: Clive Barley overcame bowel cancer to run 10 marathons but sadly had to miss out this year's event owing to injury (image courtesy of Benali's Big Ride via Facebook, with thanks)
Clive was due to accompany Benali from the Etihad to Old Trafford although he had to pull out due to a last minute injury.
Like many others, Benali spoke of how his own family and close friends have been affected by cancer which is inspiring him to keep putting one foot in front of the other.
To donate to Benali's Big Race, text FRAN to 70200 or visit benalisbigrace.com