John Leech has called on Premier League clubs to challenge the 'bonkers' legislation – which prevents standing at football grounds – in an effort to restore the atmosphere to games.
A lifelong City fan, the Lib Dem MP for Withington has been open before now on his support for standing in football grounds, which has been banned by in top-flight football since the Hillsborough disaster in 1989.
At a meeting with Manchester City's 1894 fan group to discuss rail seating, the safest standing system, Leech urged a top flight team to champion their use.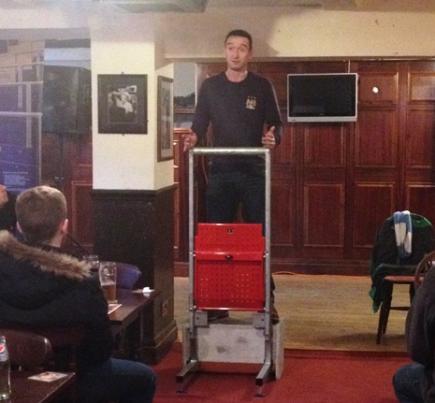 JUST THE TICKET: John Leech showing off the rail seat
"The current policy is inconsistent. It is an absolutely bonkers policy that people can stand at lower league clubs and the Premier League fans can't," said Leech. 
"If a club put its neck on the line we would see the law tested. I think the rail seats comply with the current law. What we need is for a  club to actually test the law."
The reintroduction of standing at football grounds has been included on the Liberal Democrats manifesto for next May's election, a fact of which Leech is very proud, having held a season ticket at City for over 30 years.
Shadow minister for sport Clive Efford is a Millwall season ticket-holder, and a previously vocal supporter of standing, but since his promotion to the frontbench has revised that opinion, while the Conservatives have been similarly quiet.
"The Tories don't understand football," he added. "There are some individual Tory MPs who do, but as a party they don't.
"Labour have been very risk averse on the subject, but there are some Tory and Labour politicians who think the current regulations are complete nonsense."
While standing is currently banned on the grounds of safety, Leech argued that many fans stand already, which in an all-seater stadium is actually more dangerous.
"We have never got rid of standing at football games. In every Premier League ground people stand, even at Anfield," Leech said.
"The only time I got injured at a football match was when I was standing up at the front of a stand and Joe Hart threw his shirt into the crowd in my direction, and someone behind me dived over me to get it."
Furthermore, with no designated standing areas, but standing still commonplace, fans are being turned off by the prospect of not being able to sit and watch if they wish to.
Leech said: "People are going to stand no matter what. I don't see why I should be able to decide whether YOU can stand or sit. When I go to away games I want to stand up, but at home I will sit down.
"I know people who don't go because they can't stand all game, and are worried that everyone around them will be standing. By not giving some people the choice, we are actually depriving people of the opportunity to watch football."
In Germany, nine out of the current 18 Bundesliga clubs have some sections of rail seating, which can be turned into seating by the club as required by Uefa and Fifa games, allowing fans the choice to stand or sit as desired.
The most famous section is the 27,000-strong contingent who stand at the Westfalenstadion, the famous 'Yellow Wall', which creates one of the best atmospheres in the world.
It features the rail seating system which travels round the United Kingdom presenting to fan groups, clubs, and other interested parties as part of the Safe Standing Roadshow.
The important facet of rail seating is that it can be easily turned back into seating, at the turn of a key, when Uefa or Fifa games come around which require all-seater facilities.
The SSR works alongside the Football Supporters Federation's Safe Standing campaign, and receives the support of a large number of smaller supporters clubs.
Sources have also revealed that were a resolution trialling safe standing to be put to the Premier League member clubs, it could receive the required support of 14 clubs to pass the resolution.
However, Leech told the gathered fans that at present there was little political in Westminster to initiate a change, so that it is now up to fans to put pressure MPs, if standing is ever to return to the top level of English football.
"Politicians need to be told by football fans that 'we will not vote for you if you do not support safe standing'. It is in your hands," said Leech.
"Until fans stand up and say that, it is not going to change. It is going to happen, it is just a matter of when it happens."
Main image patchwork foundation via YouTube, with thanks.