With less than three months to go until the scheduled start of the 2020 Olympics in Tokyo, in a parallel world where the coronavirus never happened, Bryony Page would be stepping up her training regime.
Instead, the Olympic silver medallist is at home, under the same lockdown rules as the rest of us.
As with many other Olympians, Page's training regime is effectively curtailed. She cannot use a trampoline, which as a trampolinist, is somewhat essential for practice.
But the 29-year-old is looking to channel positive energy and focus on she can do, not just to stay fit and healthy, but to help others too.
Page said: "A lot of it just boils down to controlling the controllables. So much of this is out of our control and this virus is not something we can control.
"It's difficult not being able to get on a trampoline, but I've been able to adapt to it and even get a little bit creative which I've enjoyed doing. It took time to adjust but I want to use the time I have wisely.
"The side of it I want to focus on is that I'm getting an extra year to improve. I want to upgrade and consolidate my routine. Our preparations have completely changed and everything is up in the air at the moment, but ultimately the important thing is doing our bit to stop the spread of the virus."
With the Olympics pushed back to 2021, Page is no longer actively worrying about securing Team GB a second Olympic spot, nor is she currently worrying about securing one of those two spots for herself.
Neither is yet certain, but Page is in a strong position to achieve both of those goals.
She is also no stranger to setbacks. She's spoken of dealing with "lost move syndrome" in the past, and following her success in Rio, she required multiple ankle surgeries, and she said how those past problems are helping her in the current situation.
"Having the Olympics moved gives me a year back that I missed through injury," she explained.
"This is different to coming back from injury, because we're all close to peak fitness, but I've got the skills in my little toolbox that I've gained from those recoveries.
"I can actually push myself a bit harder because usually we have to be careful with our fitness. If you trampoline when fatigued you increase the risk of injuring yourself and you're less likely to have a productive session. So not being on the trampoline means I can train through fatigue and train myself harder."
Page has used social media to publish some of her work-outs, and also participated in the 26OlympiansChallenge, a charity workout video involving famous Olympians such as Tom Daley and Rebecca Adlington.
"I was surprised to be asked to be a part of the challenge with all these famous names, but I thought it was amazing," Page explained.
"We each get to put forward a charity and for me it was The Wingate Centre, a charity that funds the disability-inclusive gym where I started trampolining.
"In general with social media I've found the benefits of connecting with people. I feel less isolated and more energetic, working out with other people, even if it's just virtually, is a really great feeling."
She added: "It also helps other people, and I feel more connected to the trampolining community in general than I have before, partly because we're all in the same position: none of us can go to our clubs and jump on a trampoline.
"I've been fundraising, and I enjoy seeing the positive effect that that has on people. It gives them something to do, something to get creative with and excited about. For me it all comes back to creating that sense of community and helping people in what's an incredibly daunting time."
A big part of Page's fundraising is with GBR Trampoline, who are raising money for the NHS and encouraging people to be creative in the process.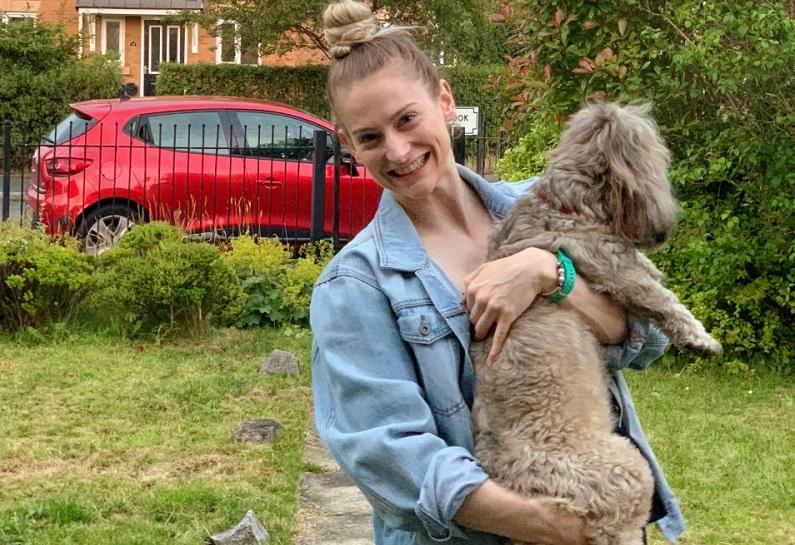 And one other way Page's creative spark has come out during lockdown is on her head, as she dyed her hair a vibrant red, joining a sizeable portion of the British public in doing something drastic to their hair during quarantine.
She explained: "I really liked the colour coral and thought I'd give it a go, now that I had the time. With trampolining you're being judged and you don't want to do anything that might bias the judges so you want to be careful with something like colourful hair during competition time, so I figured if there's any time to do it, it's now. It's fun and different but it's only going to be temporary."
To find out more about GBR Trampoline fund-raising click here.
Main image courtesy of Simon Wright / gbdancestars.com / @gbswimstars_gbdancestars