As England head coach Eddie Jones prepares to make his first team announcement for the upcoming Six Nations, speculation among fans, coaches and the media concerning player selection is as high as it has ever been.
It seems the whole nation has an opinion on who Jones should pick to start against Scotland on February 6, a prospect now made far more daunting for England fans after the two sides' contrasting performances at the World Cup.
Poor form, injury and players (in Sam Burgess' case anyway) quitting the sport entirely will mean that Jones' new-look England squad will be made up of a mixture of battle-hardened old timers, bright young things and perhaps, the return of a prodigal son.
Danny Cipriani, the Sale Sharks fly half, has been making a conspicuous bid in recent weeks to be noticed and subsequently selected by the new England boss.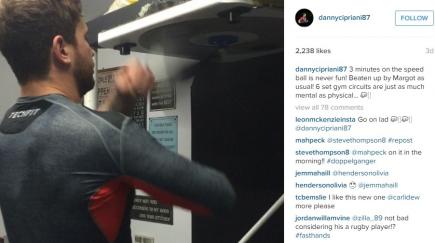 MUMMY'S BOY: Danny Cipriani training with Margot Wells down south, where the rugby talent can spend more time with his Mum
Perhaps being dropped from the squad, following a training ground altercation, for England's shambolic World Cup campaign will prove to be Cipriani's salvation.
Untainted by the humiliation associated with last year's England performance, the Sale fly half has been growing in stature and confidence as the Aviva Premiership season has progressed.
He is already ahead of his two rivals for the number 10 shirt in Premiership points scored, 75 to Owen Farrell's 58 and George Ford's 52, a particularly impressive feat considering Farrell lines up for table-toppers Saracens.
The Sharks' director of rugby Steve Diamond believes that it's through his trials and tribulations that Cipriani has raised his game.
"Danny is playing really well, I think he's pushing himself into that potential England squad whenever it's announced, certainly with Bath in the doldrums," he said.
"You learn more playing for a club like Sale, when it doesn't always go well, you have to develop as a player and he's done that over that last few years."
After missing vital kicks against Gloucester and Harlequins this season, Diamond added that his number 10 has been working hard at every aspect of his game.
"Mike Forshaw has helped him massively with his defence. He's had a rough time goal kicking and he's put the hours in – we virtually open the stadium here every day for him to practice, you've got to do that to be at the top.
"Danny's a team player, and he's got the full complement of skills that are so rare these days but are so valuable."
All the hard work appears to be paying off as Jones joked that he would be willing to overlook Cipriani's upcoming drink driving court case.
"If he's good enough to be in the 30, he'll but in the 30 but he might have to get a taxi to training!"
And, as Diamond gives his players a week off for some much needed R&R, it seems the former tabloid favourite is determined not to get into any more shenanigans as Jones' decision approaches.
Cipriani is headed home and is not going to use the time to unwind.
"I am going to go and train with Margot Wells down south because I want to get my fitness and speed up, and do some skills work too.
"I am going to spend my time trying to get physically fit and ready ahead of our next lot of games.
"I also want to go back and see my Mum."
This new-look Cipriani, showing Wilkinson-like dedication to his kicking practice and choosing seeing his mum over partying and getting papped, sounds like an ideal choice then for Jones' rejuvenated England.
Except for one thing, Cipriani isn't all that new: he's 28.
Would Jones be wasting a spot on the veteran utility back, if he could instead offer the spot to someone more capable of producing form for the 2019 World Cup?
Steve Diamond doesn't think age is an issue for his fly half however.
"Age is no problem for Cips. Look at Chris Cusiter and Peter Stringer, you wouldn't think they were 35 and 38 would you?
"Danny becomes a better player the longer he plays and he'll only get better."
Sale Sharks will return to action against Pau in the Challenge Cup next week and Danny Cipriani will just have to keep his head in the game, be patient and place his kicks.
Have no doubt: Eddie Jones will be watching.
Image courtesy of Danny Cipriani via Instagram, with thanks.