Manchester-based taekwondo duo Jade Jones and Bianca Walkden are confident that Team GB can come away with four medals at the upcoming Olympics.
The 22-year-old Welsh Olympic champion and 2015 world heavyweight champion Walkden are looking to pick up vital selection points as Rio 2016 creeps ever closer.
The 'Headhunter' Jones, who took gold at the Manchester Grand Prix in October, believes that having four qualifying spots means the team are on track for some podium finishes.
"We've got a great chance as we've got four people who could all get gold medals – I don't think we've ever had that before," she told MM.
"Obviously it is taekwondo, anything can happen, but to even have that chance of four golds is amazing."
Without question, the Flint native heads into Rio as favourite to retain her 2012 gold, which she won at just 18 years old.
Such expectation is an immense weight on Jones but she has previous with such situations and believes she can block out the pressure.
"At first I was taking too much on but then I thought back to what I did well before the last Olympics," Jones said.
"It was basically having your mindset of just taking the opportunity by both hands, just fighting and enjoying it.
"So I'm going to have that same mentality again – it's an opportunity of a lifetime so I'm just going to go for it and go after my gold medal."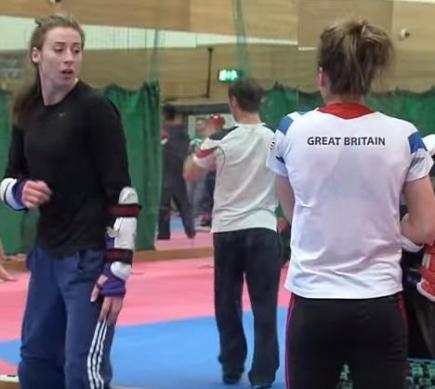 SCRAPPING IT OUT: Walkden (left) spars with teammate Jones in training
Along with being an Olympic champion, Jones is ranked number one in the world, was voted Young Welsh Sports Personality of the Year in 2012 and has a MBE – all by the age of 22.
But to what does she owe her success?
"I'd say a bit of is down to my upbringing," she said.
"I was a bit of a tomboy as a kid, brought up a bit rough so that brought my aggression out whereas a lot of girls don't like to fight or scrap, it's more about the game to them – I'm not scared to get stuck in.
"Also I've had the best coaching from an early age, with my granddad taking me all over the country to get me the best training. Then I found a good club, Manchester Aces, so it's just having great coaching as well so both nature and nurture."
Unfortunately, Jones' teammate and housemate Walkden missed out on qualification for London after rupturing an interior cruciate ligament in the build-up to the games.
Six years on from her injury hell, the "Stockwell Slayer" has firmly put the past behind her and is keen to grasp the opportunity to compete on the biggest stage of all.
"It's nice because I haven't done it before and if I can go there and do really well then it'll make me wish I went to London," said the 24-year-old.
"But obviously I can't do anything about that – the past is the past and all I can really do now is do well at Rio and enjoy the experience there.
"For me it's one of the biggest things, the pinnacle of the sport. I'm happy enough to say that I've won the World Championships so for me to go out there and win at the Olympics would just be phenomenal."
Liverpool-born Walkden's attention will now be solely focused on this weekend's Dutch Open, the first in a string of competitions for Team GB athletes.
"I'm looking forward to it because I haven't had a fight since December, so you miss it and you just want to get back in there and have a scrap.
"While it is good, at the same time because it's the first one of the year, you do get nervous but fingers crossed I just go in there, try a few new things and see what happens."
Both Jones and Walkden were present at the official opening of the new National Taekwondo Centre in Newton Heath alongside fellow Rio hopefuls Lutalo Muhammad, Mahama Cho and Damon Sansum.
"It was harder before the centre was open because you've only got so many hours in the day and it's hard to fit it all in," said Jones.
"Now, you come in the morning and have your psychology, physio, nutrition, video analysis all in one place – everything an elite athlete needs is here."
Walkden was in agreement with Jones, saying: "It's just a lot more professional now and I think everything we need to push ourselves is here."