Words rarely fail England seamer Mark Wood but even he struggles to explain the ability that wicket-keeper batsman Jos Buttler possesses.
Buttler was the man of the series in England's incredible 5-0 whitewash of Australia earlier in the summer with an incredible average of 137.50.
The 27-year-old Lancashire star made two unbeaten half-centuries against the Aussies before his incredible 110 not out guided England to the unlikeliest of wins at Old Trafford.
The England vice-captain will look for a repeat in the second Royal London One-Day International Series of the summer against India and Wood revealed his impact isn't just felt on the field.
"I don't think you can really put into words how good his skill level is," said Wood, speaking at a private bowling session to celebrate unconventional greatness in cricket with Royal London.
"He hits the ball 360 degrees against 90mph bowling, against some of the best bowlers in the world, and it's not one team he does it against he does it against everybody.
"He's just a guy with an unbelievable skill, he's very humble, a great lad in general and just a real team player.
"He's a massive leader. He's vice-captain but he's a senior player who always speaks well and seems to say the right thing.
"I really feel like he's a guy that gives people a lift when they need it but can also give them a rocket – not in a nasty way he drags people along to the standards he sets for himself.
"That's a realistic standard that everyone has to aspire to."
Buttler's incredible batting has optimised the change in fortunes England have enjoyed in the limited overs format in recent years under the guidance of head coach Trevor Bayliss.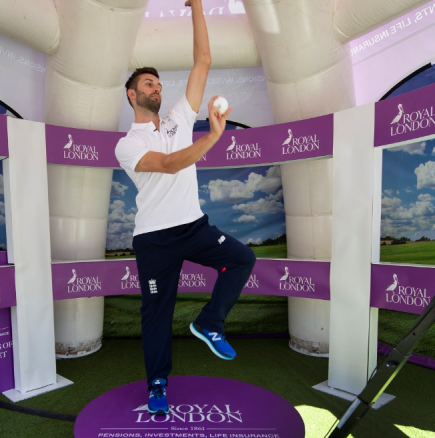 They've moved up to number one in the world in the ICC ODI rankings with a hugely entertaining brand of positive cricket which is capturing the imagination of cricket fans worldwide.
And Wood knows England must continue to follow Buttler's example and maintain an attacking frame of mind to overcome India in the three-match series.
"It's trusting each other, we know that everyone can do the job. It's not leaving it to the next person, it's doing your role in the side," he added.
"We celebrate each other's success, we're all good friends we enjoy each other doing well. When in the field it's about taking wickets, it's not about keeping them quiet.
"If we're hunting for wickets then we have an attacking mindset and ultimately that brings the run rate down. As a batting unit it's about batting with freedom, expressing ourselves.
"If we do those things across the board we'll win games of cricket."
Royal London, proud sponsors of one-day cricket, is celebrating unconventional greatness in the game by championing the independent spirit of players and fans.