People arriving into Manchester are being welcomed with open arms by Louis van Gaal, as a new billboard mocks rivals Manchester City.
The Manchester United manager is the inspiration of the new sign which has appeared outside Piccadilly station.
The billboard reads 'Welcome to Vanchester' as a picture of Van Gaal with arms raised aloft sits in the centre.
The new signage is a take on Manchester City's efforts from 2009 when they tried to taunt their local rivals.
Back then, a sign of Carlos Tevez who had moved from Old Trafford to City was placed outside the station with words 'Welcome to Manchester' blazoned across it.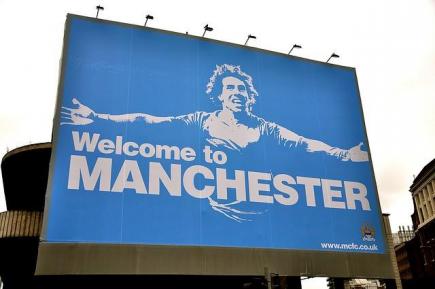 WELCOME TO MANCHESTER: City posted the above billboard back in 2009
And now United have done their own take on the infamous sign to quieten down their noisy neighbours.
Fans from both sets of clubs took to social media to taunt each other over the sign ahead of the new season this weekend.
One user, Abmu, posted the comment: "The only thing man utd have over man City is in being pathetic. Their image of this tubby old bloke makes that quite clear."
Another wrote: "United can do a lot worse not sinking to City's level."
'Welcome to Vanchester'? Come on chaps. You've got a good new manager, a decent midfielder, Anderson's going – stop embarrassing yourselves.

— Nick Miller (@NickMiller79) August 11, 2014
Welcome to Vanchester sign in Piccadilly. Love it. #mufc pic.twitter.com/sAbgoToqMa

— Martin Noble (@MartNoble) August 11, 2014
Image courtesy of Nooruddean, with thanks