Argentina have been integral to Manchester City's recent success – the player of the year award has gone to an Argentine in three of the last five years.
One of those has gone to pastures new in the form of Carlos Tevez, but four still remain in the current squad in the shape of Pablo Zabaleta, Martin Demichelis, Willy Caballero, and of course, Sergio Aguero.
The connection began in 2008 when Zabaleta made his full debut under Mark Hughes in a 3-1 defeat to Chelsea, and the City support in Argentina has blossomed ever since.
Gonzalo Lopez Sena was 16 when Zabaleta signed for City and it clearly had quite an effect on him. He is now the head of Manchester City Argentina (MCA). 
"I first remember supporting City when they played a game against Portsmouth," he tells MM.
Zabaleta did not feature that day, but he still swiftly became Gonzalo's favourite player.
"Because of when I started following the team, Pablo is of course my favourite player. He is synonymous with passion, commitment, loyalty and professionalism," says Gonzalo.
Two more Argentinians signed in the next three years, Tevez and Aguero, and MCA was born not long after the arrival of the latter.
Gonzalo adds: "At the beginning we were just two administrators, myself and Barby. As time went by, she left, but in came Ramiro, Jony, Gaston, Benjamin, who is from Chile, and Ivan, a Mexican.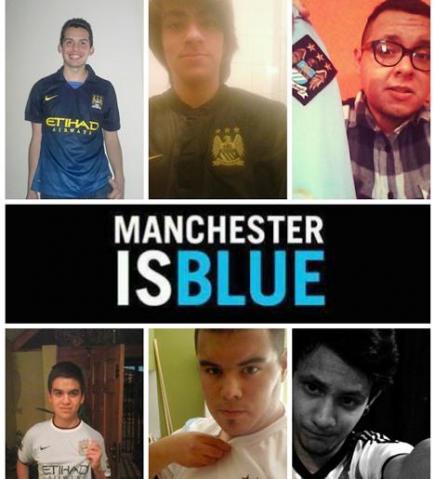 SOUTH AMERICAN PROFESSIONALISM: Gaston and co want to see City play live one day
"We share everything Man City on our website, whether it's interviews, rumours, wallpapers, videos, or just jokes."
The South American flavour flows throughout the club now and with Chilean Manuel Pellegrini in charge, parts of pre-match press conferences are regularly held in Spanish.
However, nearly 7,000 miles away, City fans have to battle to watch their team.
"None of us have had the opportunity yet to see a City match in person," says Gonzalo.
"It is a dream for all of us to go to the Etihad and see the team in action.
"I would say the majority of people can't watch many games because Direct TV acquired the rights from the Premier League matches since the last season and it is so expensive for most people.
"The presence of Argentinians on English teams ensures that people who are not fans of those teams watch Premier League matches, if they can."
It seems sad that a country with such passion for football feels starved of Premier League action, but maybe they were spoilt having just had a World Cup over the border in Brazil.
Gonzalo reminisces: "The national football team is the only thing that unifies the country, no matter what team you support or whether you know a person.
"During the festivities you can hug and sing with anyone without measuring result. No matter where the World Cup takes place, there will be an Argentinian."
Despite all the difficulties, both in Manchester and Buenos Aires, Gonzalo and his fierce band of supporters seem torn between faith and despair.
"City have had some bad luck, injuries, own goals. Our team is suffering and we believe that the signings were not good enough to deal with a tournament where the rivals were reinforced well," he says.
Hope, however, springs eternal.
He adds: "We do not lose faith that our team will come out of this slump, we have a very good team and it is impossible not to believe that we can to accomplish great things.
"We have a great coach too, that allows us to dream great things, we are proud to love Manchester City."
The word dream returns to his vocabulary, and for many City fans, to see their boys in blue may be exactly that.
Main image courtesy of Manchester City FC via YouTube, with thanks.