It's fair to say Great British two-time taekwondo world champion Bianca Walkden loves her sport.
Having snapped both her legs earlier in her career, the reigning two-time European Champion has made retaining her European crown her number one target for the calendar – just two years after achieving Olympic bronze in Rio.
The 26-year-old from West Derby, Liverpool has lost only once in competition since the Olympics and the heavyweight fighter says picking up a European Championship gold is her immediate priority.
"If I could pick one gold medal to win this year, it would be to try and get gold in the European Championships," Walkden told MM ahead of the May 10-13 event in Kazan, Russia.
"To me it is a really high priority. I don't feel 100 per cent, but I know if I go out there and give everything I can, do the best I can, hopefully I come away with triple European Championships. Fingers crossed I can do that.
"My target is to win, and I wouldn't be happy with anything apart from gold, but I know I have to set mini targets – physically or mentally taking it round by round.
"I can't underestimate anyone, everyone is a threat. I think that that helps me more. It makes me step up."
"Float like butterfly sting like a bee" 
Words can't describe how I feel right now!!! What a year it has been!!  I love this sport.!! pic.twitter.com/sX9AierPBq

— Bianca Walkden TKD (@BiancaW_tkd) December 30, 2017
While continental success is the 2017 BBC Sports Personality of the Year award nominee's short-term target, her quest for Olympic redemption stands out as her ultimate goal.
Walkden, who in 2017 became the first fighter to hold all four grand prix trophies at the same time, lost to China's Zheng Shuyin by a golden point in the 2016 Olympic semi-finals.
And whilst the Liverpool kicker was happy to be on the podium, the thought of missing out on gold again drives the +73kg heavyweight every day.
"I don't want to be known for just getting a bronze," said Walkden. "I know what I do in training every day and I know what I can do – I want to leave a legacy behind.
"The bronze medal doesn't haunt me, but I know what I want. In two years I have got to go out there and I might not get what I want, but I know I am going to give absolutely everything I can to try and change that colour to gold.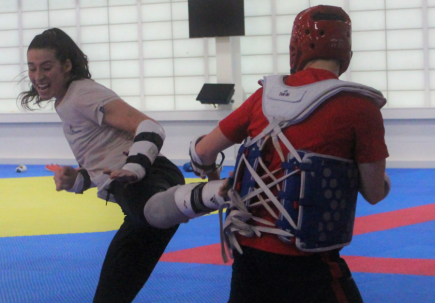 "I get scared of losing. I don't mind fighting, I don't mind the training, I put all the work in, I would die for the sport.
"I have snapped both my legs and I just keep coming back. If I got knocked down, I would come back again. That's not the fear, it is the fear of not going out there and trying my best and losing."
SCOUSERS ON TOP
Outside of taekwondo, proud Liverpudlian Walkden is an avid Liverpool supporter and by the end of May there could be two European Champions in the city with the reds set to face Real Madrid in Kiev in the Champions League final later this month.
And the taekwondo star, who took up the sport at the age of 11, had one piece of advice for Liverpool boss Jurgen Klopp.
"I would say to Liverpool, approach it just like the semi-finals, you did well there!
"You asking that question makes me think about our European Championships – you have got to take it round by round or match by match. Hopefully the scousers come out on top."
Bianca Walkden begins her title defence on Sunday at the 23rd WTE European Taekwondo Championships.
Image courtesy of Bianca Walkden via Twitter, with thanks.