Manchester is confident that a focus on youth will see it named England's first City of Football next week.
The city is competing with Nottingham and Portsmouth to receive £1.6million over two years in funding for football from Sport England.
The Manchester FA believes it can use this money to revolutionise participation in football in the area, particularly young people.
CEO of the Manchester FA Colin Bridgford told MM: "We view Manchester not just as a city of football, but as the capital of football.
"It's a lot of money over two years. We have to seriously think about how we spend it.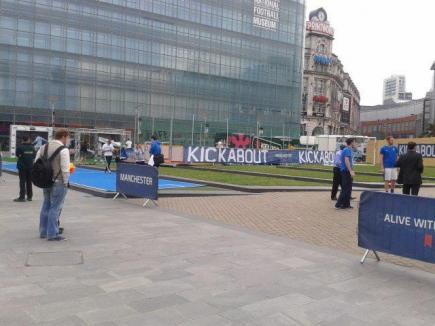 PITCHING UP: The campaign kicks off outside the National Football Museum
"The interesting part of our bid which is quite unique, is that we've said that 10% of the funding will be given to the youth of Manchester and youth will decide where that money goes.
"So that's £160,000 which young people will directly control."
Representatives from Sport England were at the National Football Museum today to hear Manchester make their claim for the City of Football crown.
Though Manchester's credentials as a footballing hotbed are well-known, with the last four Premier League titles heading to the city, Colin told MM that a lot more could be done to get people going out and participating in the sport.
He said: "The amount of people playing is probably 20% of what it potentially could be.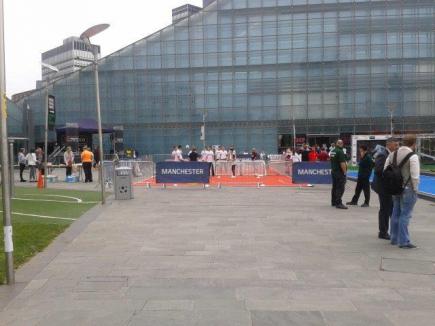 CENTRE OF THE CITY: The base of the bid at the National Football Museum
"The people we consulted wanted more of what they had in the past – they want more street football.
"It's far more recreational and far more enjoyable and we probably need to change the times at which people play.
"It's a culturally diverse city and some people want to play at two in the morning. We're going to have to look at ways in which we can change that.
"Manchester and football are synonymous. If you can't play football in Manchester, where can you play?"
It will be announced on Tuesday whether Manchester has beaten Nottingham and Portsmouth to the funding and the illustrious title.
The bid has been backed on Twitter with Mancunians sending in selfies to show their support.
Our ice cream man supporting @Manchester_COF #BackOurBid #BackOurBidSelfie #CityOfFootball @Tangerine_PR pic.twitter.com/jyp3QHZnG4

— Victoria McDougall (@McDougallV) September 12, 2014
Yup, heres my #BackOurBidSelfie here's rooting for #Manchester as the first ever UK city of football! @Manchester_COF pic.twitter.com/1UzFbeGI3b

— Paul Hurst (@frompaul) September 12, 2014
@MFC_Futsal senior players with their @Manchester_COF #BackOurBidSelfie Let's win this!! @Sport_England #futsal pic.twitter.com/EgDvpHDAls

— Manchester Futsal (@MFC_Futsal) September 12, 2014
@Manchester_FA CEO @BridgfordColin speaks to @MM_newsonline about @Manchester_COF #BackOurBid @Sport_England pic.twitter.com/6tNHWo4NOy

— Manchester FA (@Manchester_FA) September 12, 2014
Man United and Man City have also announced a link-up to aid participation in football in the area as part of the bid.
Colin is confident Manchester's footballing pedigree and potential for growing the game will speak for itself, but says it isn't in the bag yet.
He said: "Good luck to all. Wherever the investment goes, it is investment going in to football. It's a fantastic opportunity for all three of us."