A devoted FC United of Manchester fan and co-owner of the club is 'overwhelmed' by the amount of money raised ahead of her first ever marathon, adding the original target of £1,000 was surpassed in six days.
Leanne Carey has been battling through the cold, wet and blustery mornings and evenings in an attempt to raise money for her beloved FC United.
Despite the supporters already raising £2million in community shares, FC United fans have dug deep once more, helping Leanne edge ever closer to her revised target of £2,500.
I'm only £5 away from £2,200 for @FCUnitedMcr DF – so close to reaching my £2,500 target http://t.co/1NODOfHZ3c

— Leanne (@lmc_82) April 9, 2015
"It's been really overwhelming," said Leanne, referring to the kindness of the people who have donated.
"It just shows how much people love the club. People work all week yet they'll still go out of their way and donate their money, even though they've already invested a lot into the Community Shares and the Development Fund."
Leanne, who lives in Chadderton, trains with the Salford Harriers on a regular basis and often picks up tips from fellow runners.
However the 32-year-old admitted that, at a distance of 26.2 miles, the Manchester Marathon on Sunday will be the furthest she has ever run.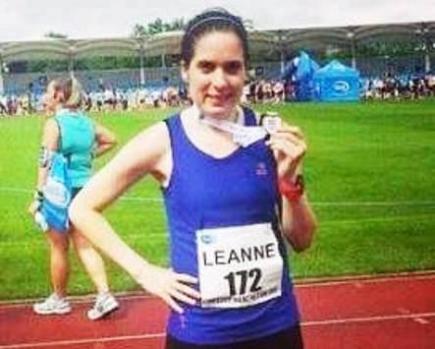 MEDAL POWER: FC United's donations have helped Leanne to keep running and motivating herself ahead of her biggest test.
It's a mammoth task, and although Leanne has had to make sacrifices, including cutting back on the occasional drink on a Friday night, she revealed it is the thought of people sponsoring her that drives her on.
"I do like my treats, I'm not going to deny myself a chocolate bar, but when I do my long runs on a Saturday morning I don't drink on a Friday because it's not advisable for the distance I cover," said Leanne, who works as an Accounts Assistant at ELAS in Salford.
"I think if you're to do a marathon you have to put your focus into it, you can't just go thinking I'm going to be able to run 26 miles.
"Anytime you go out on the road you sometimes think 'this is going to be a tough one', but the fact that I've raised more than £1,800 in such a short space of time definitely spurs me on.
"People obviously believe that I can do it and it's great to know that everyday money is going into the sponsorship and donations, so it does help a lot."
Leanne has supported the fan owned football club ever since it was formed in 2005, and it was this year that she decided to raise money and donate it to the clubs Development Funds.
All the money raised will help go towards maintaining the new £5million stadium, which is edging near to completion.
FC United's general manager Andy Walsh said: "Running 26 miles is a significant undertaking and for someone to run their first ever marathon for the club is a brilliant gesture and one that we really appreciate.
"The fact that Leanne has raised almost £2,000 so far shows how much our supporters appreciate her efforts too.
"The money that Leanne raises will go towards the FC United Development Fund, which is the fund we have to develop our ground and facilities.
"We still need to raise cash to complete the build and also to improve the facility so every pound she raises will be put to good use and will make a difference to Broadhurst Park."
While the success off the pitch continues, so it does on the pitch. FC United are currently experiencing their best season yet, sitting five points clear with one game in hand at the top of the Evo-Stik Northern Premier League table.  
"We're confident [of gaining promotion]," said Leanne. "Although the last few seasons we've been in the play-offs so you never know.
"But you could argue its fate because we're getting a new ground so things are working in our favour and we do believe this year is our year.
"The players are riding high and you just need to look on Facebook and Twitter to see what they write and see how much they believe they can do this, and if they do it, it'll be amazing and you can be sure there will be a big party."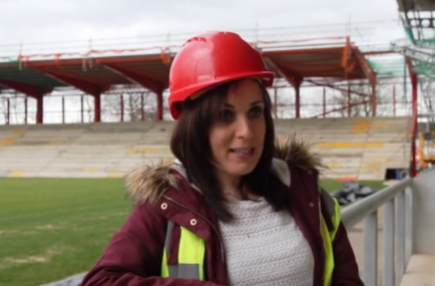 BRACE YOURSELF: Leanne is expecting another nail-biting end to the season but is confident her team will secure promotion. 
Leanne is extremely grateful of the response so far and to add to her current sum, you can donate at http://www.bmycharity.com/LeanneMarathon
Main image courtesy of Leanne Carey via Twitter, with thanks.