Thousands of Manchester City fans painted the streets blue last night as they celebrated their side's second Premier League victory.
An estimated 100,000 people packed into Albert Square and lined up along Deansgate to salute manager Manuel Pellegrini, captain Vincent Kompany and his teammates.
Fans off all ages flocked to show their support from young to old after City claimed their second title in three years on Sunday against West Ham.
The recent success of the team is a long way from where they were over a decade ago and many older fans remember the heartache of previous seasons.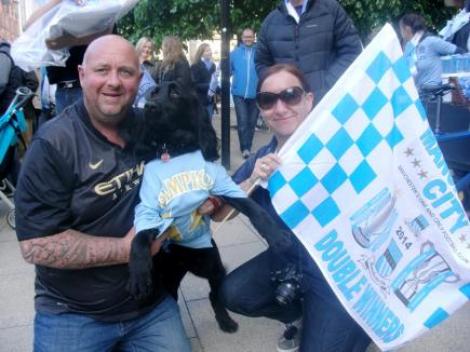 A TAIL OF CITY'S VICTORY: Austin and Karen Higgins with 'fellow City fan' Billy the spaniel
One fan who had been through the bad times was Neville, from Trafford Bar, who told MM he'd been supporting City for more than 60 years.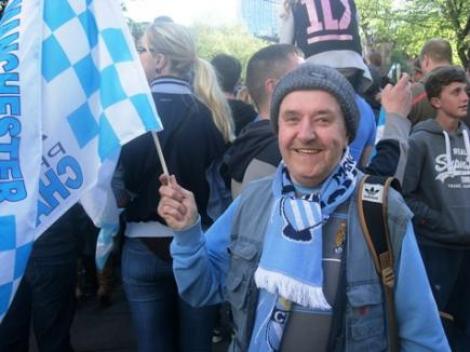 THE WAVING FLAG: Loyal fan Neville has endured years of City misery
"We had a lot of success in the 70s, and now it's our turn again, it's our era again," he said.
"Provided they keep hold of the manager for a good few years, there'll be plenty more trophies to come."
Another thrilled fan was Catherine Gissingter, from Denton, Tameside, a City supporter for 51 years after having first gone to watch them with her dad aged seven.
"I was watching the match yesterday (Sunday) in the stadium. It wasn't as nervous as in 2012 – it was just fabulous."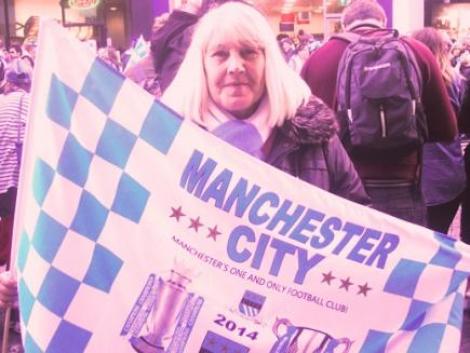 LOVE YOU LONG TIME: 51 years a fan, Catherine Gissingter's City passion showing no signs of abating
Despite the result, she had reserved views on City manager Pellegrini, indicating that many fans remain loyal to his predecessor, Roberto Mancini, for bringing them that first Premier League win two years ago.
"Pellegrini's done a good job, but he's not done much differently to Mancini to be honest," she said.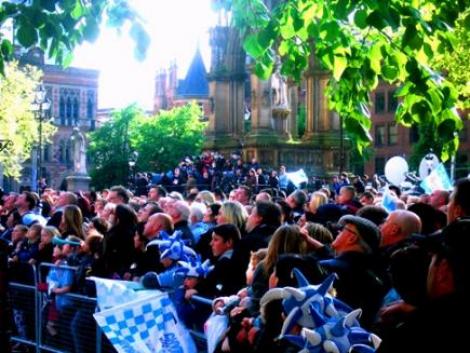 CRANE YOUR NECK: Fans pack Albert Square for a glimpse of their heroes
Most of those who were at the parade had come from Greater Manchester, but some had made a longer trip to make sure they didn't miss out on the celebrations.
One of those was Adrian, originally from Manchester but now living in Somerset.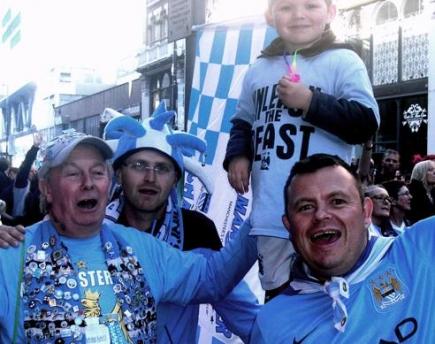 STANDING ON THE SHOULDERS OF GIANTS: Adrian (r) with his thrilled family
"I've been a City fan since 1986, when my dad took me to a reserves game at Maine Road," he said.
"We've waited a long time for this – no matter what United have done, I've stuck with City and now United are in our shadow.
"Pellegrini's a charming man, you can tell by the reaction of the players yesterday, chucking him up in the air, he's brought them together. I think he's the man to lead us for a few years, and I can see us getting stronger and going on to do more."
Me taking the selfie haha on @MCFC TV pic.twitter.com/7Fhh78u03u

— CHAMPION3 (@DazClarke91) May 12, 2014
Then there were the most loyal of fans. Anthony from Maccesfield said he had not missed a City home league match in 15 years, and had made no exception on Sunday.
"You're always nervous with City," he admitted.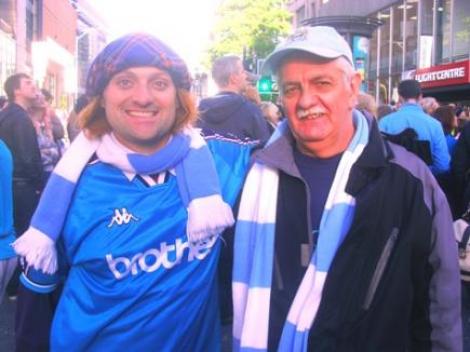 LUCKY HAT: Anthony (l) is among City's most ardent supporters
"We didn't start singing about being champions until the 88th minute yesterday.
"It wasn't as nervy as last time, and this is the second time we've done it now. In those 15 years we've gone through the Oldhams and Macclesfield Towns, and it's worth it for these times.
"The manager did a good job but it's the players who really matter, and we've got the best in the world."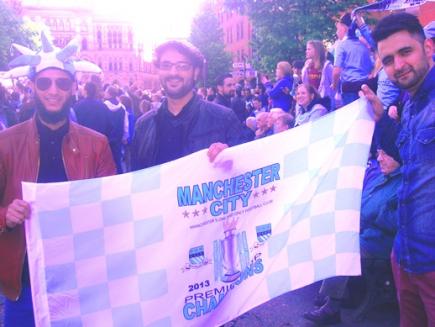 KINGS FOR A DAY: Mohammed Khan (right) and friends Umar and Adil (Manchester students)
As well as the thousands of people lining the parade route, there were also a number of canine friends dressed-up for the occasion.
One of those dogs, Billy, had come with Austin and Karen Higgins from Astley, in the Borough of Wigan.
Austin said he had been very confident of City getting the right result on Sunday.
"I knew after Wednesday, when they beat Aston Villa, that it was in the bag then," he said.
"We're more composed this year than we were two years ago – that's Pellegrini's influence.  We were like headless chickens against QPR but this year we were in control."
#Football | Manchester is Blue! | http://t.co/qZpMxEnmAj | pic.twitter.com/NrIe8lqP1z

— Tempo English (@tempo_english) May 13, 2014
He also believed – much like many fans at the parade – that European competition should be the primary focus next season, with Pellegrini the man to take them forward in that respect.
"I think Champions League will be our main thing next year now. Europe's been a learning curve for us, we're getting better."
7 stunning photos from Manchester City's championship parade – http://t.co/Vdf6IdPwnk pic.twitter.com/YhAQbCv8yt

— For The Win (@ForTheWin) May 12, 2014
Still Buzzing from the parade @1894Group_MCFC @MCFC what a evening of the best memories 🙂 blue moon.xx

— Emma Hafford (@em_lou_lou) May 13, 2014
Fans took the chance to view the parade from all vantage points, including from the top of House of Fraser.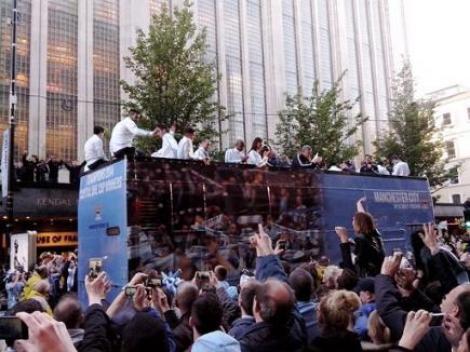 BACK OF THE PARTY BUS: Samir Nasri (l) and Alvaro Negredo lap up adoration 
Whatever next season may bring, this was a day for the supporters to revel in what is becoming a regular rate of success, after so many years spent in the wilderness.
Omg had the most amazing time. #CTID parade was mint #MCFC Jason manford ringing john bishop voice mail unreal us all singing down fone xx

— kelly l faulkner (@kelly24tigger) May 12, 2014