A RETIRED Stockport schoolteacher says England Netball's innovative Walking Netball sessions have got her fit and firing after lockdown.
Nia Brodie, 67, discovered the accessible sessions after her husband, Alan, saw the group playing after his walking football training six years ago.
And she's not looked back since, living and breathing netball and relishing her visits to the court every week. 
Any age or fitness level can take part in Walking Netball and Brodie, one of over three million UK women who play netball each year, said: "I think like a lot of women my age played netball at secondary school.
"But for me, I didn't especially like it then because there was a fine grit on the surface so if you fell, your hands were stinging, and your knees would be all grazed.
"But fast forward an adult lifetime, it's a big part of my life. It's absolutely wonderful. I've met some really great people.
"It's a diverse range of people – we're like that soap advert with women coming in all shapes and sizes! We're a great bunch.
"Being part of a group is amazing. When I play, it feels lovely and fluid, and when you get a good run of play through and somebody scores, it's a great feeling. To be part of a team is amazing too.
"It also scratches an itch of my competitive side as well. I think women of a certain age, we were always encouraged to be less competitive and more compliant and now it's great to have that outlet."
New research shows that almost nine in ten (88%) members of the netball family say the sport gives them a sense of belonging, with 73% reckoning it makes them feel empowered.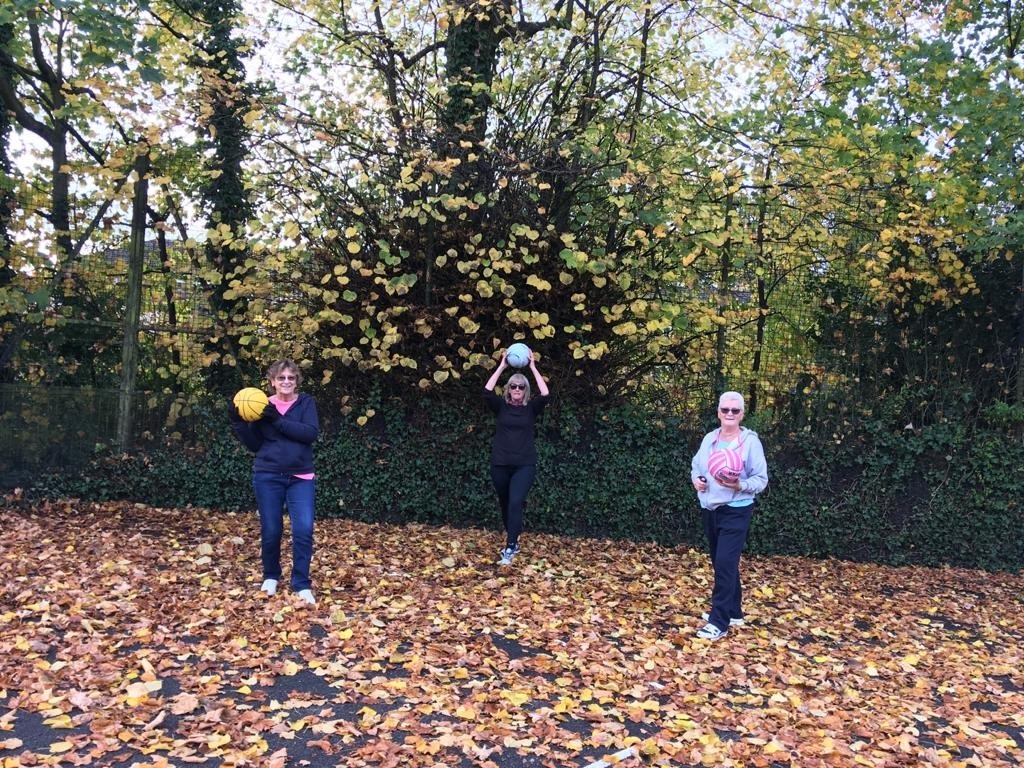 Retired primary school teacher Brodie plays for Stockport Sapphires, led by coach Eliza, who are based just outside of Manchester.
Brodie has been an integral part of the group as they've stayed active in lockdown and added: "In summer 2020, half a dozen of us met in someone's garden and said how we really wanted to get back to it. And I thought: 'where can we find a hoop?'  
"Luckily, we realised there was a local basketball court and we thought that young people would mainly be on in the afternoons, but we could do the mornings.
"We went twice a week. Everyone kept to a group of six and we split up to opposite ends.
"When it went down to two, we split into pairs and some people would go off to do drills. We really followed the rules. Everyone brought along their own ball and their own hand sanitiser. It just carried on like that for when we were allowed.
"As of last week, we have been rehomed at our new venue which is a brand spanking new sports hall.
"I'm quite competitive so when we're able to play tournaments, it's great. Also having a laugh with people is so nice. We have small socials which are really fun.
"This year we had a Christmas lunch, but it ended up just being a bacon butty out a van! But we still did it as a team." 
For more information about how to get involved in participation programmes such as Walking Netball or Back to Netball, please contact your regional Netball Development Officer (NDO). There's something for everyone no matter what your age or ability – click here to find the best contact for you: https://www.englandnetball.co.uk/support/regions/