Bury Girls and Ladies Football Club have kicked off a shirt sponsorship deal with a project that aims to get more of the town's women into sport. 
The team have joined forces with the the I Will If You Will movement, backed by Corrie star Jennie McAlpine, in a bid to up the number of girls playing the beaituful game.
More than 160 members of the club unveiled their new kits at a photoshoot earlier this week ahead of the senior ladies match against Kendal Town, in the North West Women's Regional League. 
Diana Golding, chair of Bury Girls and Ladies Football Club, said: "Football plays a big part in the lives of our players, their passion for the game and excitement when they get on the pitch is great to watch.
"The partnership with I Will If You Will has no doubt united the teams even further and provided them with a professional strip that they can be proud to play, and hopefully score in.
"We have also recently partnered with Bury FC, so the last couple of months have been monumental for the development of the club and will see the ladies set to become even more successful across the borough."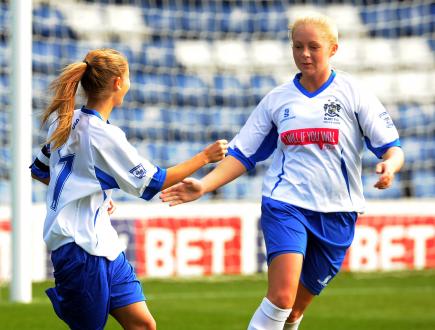 BACK OF THE NET: Bury girls and women bag exciting new shirt deal 
The £2.3million Sport England project runs activities throughout the borough's six towns and aims to address the national gender gap in the number of men and women being active and playing sport.
According to Sport England, football is the second most popular female team sport in England and the investment made by I Will If You Will into Bury Girls and Ladies Football Club aims to help continue the campaign's success in supporting grassroots sport.
Following the announcement, Pritesh Patel, I Will If You Will project manager, said: "The management team and players at Bury Girls and Ladies Football Club are fantastic ambassadors for female fitness and do a brilliant job of encouraging women to get involved in the game.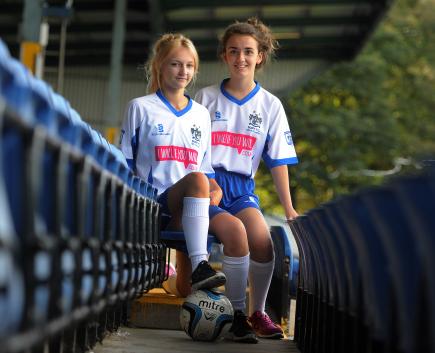 KIT IS A HIT: The Bury girls love their new footy clobber 
"The I Will If You Will movement is all about getting more women and girls more active, so not only will this partnership showcase how females can succeed in football, it will also support the players' families and supporters by encouraging them to get more active too."
To find out more about the I Will If You Will fitness movement, click here.