Described as 'inspirational', 'humbling' and 'incredible', the England blind football team took to the National Football Museum on Friday, to promote a crucial summer of action in the sport's development.
The team, who turned professional in 2013, face a trip to Seoul next month for the International Blind Sports Association World Games, before hosting the European Championships in August – a competition that they need to reach the final of to qualify for the Rio Paralympics.
Members of the squad were joined by dignitaries such as President of the International Paralympic Committee Sir Philip Craven, the former captain of the Team GB and England blind football teams Dave Clarke and ambassadors of the sport, BT Sport presenter Des Kelly and ex-England international Danny Mills.
Visitors were invited to try out the sport – which, take it from someone who tried, is impossibly difficult – before the England internationals showed off their abilities in a demonstration to leave the majority of the audience stunned.
Former Manchester City right-back Mills was amongst those to try – and struggle – at the sport, in which blind and partially sighted athletes play 5-a-side with a ball that contains ball bearings that rattle when it moves, allowing them to locate it.
The BBC pundit had previous experience of the sport after training with the squad whilst filming a documentary at their base at The Royal National College for the Blind (RNCB) at Hereford in 2011, following which he started his ambassadorial role.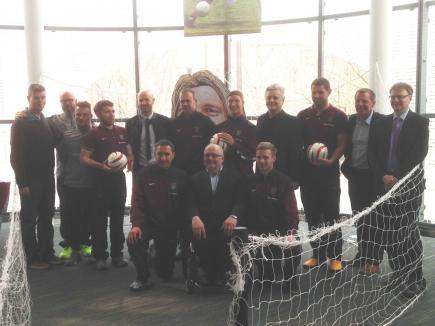 INSPIRATIONAL: The England blind football team with Danny Mills (fifth from left) and Des Kelly (fourth from right)
And he revealed to MM that he is in awe of the disadvantaged athletes, whose talents he described as 'phenomenal'.
"I knew a little bit about it, but I thought it was going to be very slow, very pedestrian," Mills remembered from before that trip to Hereford.
"I got there and I was blown away. It is phenomenal – the speed, the ability and the skill levels are just so inspiring.
"Getting to know the guys, spending time with them, having a couple of drinks with them, it makes you begin to realize how fortunate you are to be sighted, you feel very humble."
One of those lads is Roy Turnham, a 30-year-old Liverpudlian who has excelled in a number of sports throughout his life, despite being blind from birth.
After originally setting his sights on a career as a middle-distance runner, Turnham started training with Everton when they entered a team in the national league 'just for the love of the game', before being invited to train with the national squad in 2010.
Although Turnham thought he was only in the squad to build up experience, he found himself in the GB squad for the London Olympics and has been there ever since.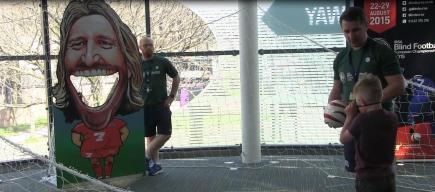 HARDER THAN IT LOOKS: A youngster gets ready to try and get the ball through Robbie Savage's mouth… blindfolded
Turnham told MM how the professional contracts have increased expectations on the squad.
"We went full time in 2013 and I'm loving it," he said.
"But the expectation for us now is to take the sport to a new level and I really believe that we're doing that and we'll continue to do that.
"The sport is progressing all the time, the standard is being raised all across the world. Our standard is being raised, especially now with us being professional athletes."
One way in which the sport certainly is progressing is in the attention that it is receiving; not only have famous faces Mills and Kelly signed up as ambassadors, but national icons David Beckham, John Terry and Steven Gerrard are amongst those who can testify to the sport's difficulty with the authority of experience.
Nevertheless, Turnham says that he and his team-mates are refusing to get carried away, and are purely focusing on performing at the European Championships – which will be held at the RNCB in Hereford – in order to qualify for Rio.
"The Euro's has to be the focus in the short term," he told us.
"Obviously we can't qualify for the Paralympics unless we at least get to the finals of the Europeans so we have to focus on that before we even think of Rio.
"Although we do want to win more than anything – we at least need to make sure we get to the final as it's only that top two who go to Rio.
"But the first games we've got are in Seoul in a month's time and we've got to take all of the experience out of that that we can.
"The great thing about Seoul is that some of the world's best are going to be, so it's going to be a very high standard of tournament."
The increase in publicity for blind football is part of a wider trend in sport, which is seeing attention shift away from able-bodied men's sports.
This was precipitated by the massive success of the 2012 Paralympics and has been under-scored by Sky's commitment to show every ball of the women's Ashes this summer.
And National Football Museum director Kevin Moore hailed the event as a massive success, whilst highlighting his museum's commitment to covering football of all descriptions.
"For us this is exactly the sort of thing we should be supporting, it is in our DNA to support this," Moore told us.
"We have a strong commitment to football for all, anyone can play this game, there's so many different versions of the game and we're seeing one fantastic version today.
"Dave Clarke is here today and he's in our hall of fame, with equal status to Bobby Charlton and George Best. He is a genuine hall of famer as he's a great of the game in his version of football.
"We have half a million people coming through [the museum] every year and if we can encourage just two or three youngsters to take up a version of football for them, then fantastic."
It is easy to forget that these athletes are men who have had to battle severe obstacles to get to where they are, such is their skill with the ball.
These are men without the one sense that the majority of us rely upon most to form our impressions of the world that we live in.
Mills – who was forced to cut his own playing career short through injury aged just 32 – highlighted the real importance of sport such as blind football, beyond silverware and Paralympic glory.
"There are so many people who are born blind, or go blind at some stage in their life that don't really know what to do," said Mills.
"This gives them a road back to what we call normality.
"They can be part of something, part of a team. I think sometimes being blind you can feel very isolated, and coming together as a team really can make you feel part of something special."
See how MM's Andy Donley got on when he tried out blind football for himself: