Dave Horrocks describes the "lovely warm feeling" he gets watching the players he coached as youngsters become professional footballers and England internationals.
As academy development officer for Fletcher Moss Rangers, Horrocks helps run the junior club that provided a platform for three of the most dynamic talents who will feature at the upcoming World Cup.
Danny Welbeck, Jesse Lingard and Marcus Rashford will aim to conquer Russia's vast expanse this summer, but it was on the same patch of grass in Didsbury where the trio spent their formative football years.
All three caught the eye of scouts while representing Fletcher Moss Rangers and were invited to trial at the Manchester United academy.
Horrocks said: "I'm tremendously proud, all of us are.
"For a lot of people who know me it must get quite tedious to hear me gush about the guys.
"On the day Manchester United played Arsenal (in 2016) when Marcus scored two and Danny scored another one, I was bawling like a kid.
"It just makes you so, so proud."
Fletcher Moss Rangers are fast becoming part of English football folklore, known as one of the area's best amateur sides and as a conveyor belt of prodigious talent.
Since its formation in 1986, more than 80 former players have gone on to play professionally – including former Manchester United and England defender Wes Brown, Swansea City central defender Kyle Bartley, and Republic of Ireland goalkeeper Kieran Westwood .
For those selected to represent Fletcher Moss, strong links with nearly all of the North-West's professional clubs improve their chances of progressing to a higher level.
Bury-born Kieran Trippier – who started out at amateur side Seedfield – rounds off a strong Manchester contingent in Gareth Southgate's 23-man squad.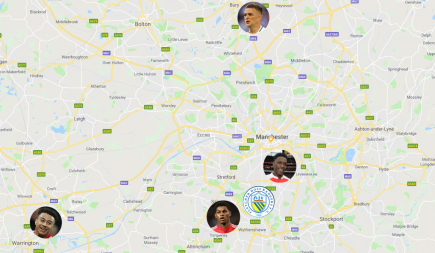 He was one of about six from that team who were picked up by professional clubs, joining Manchester City's academy despite being from a family of Manchester United supporters.
However, no club in the region can match Fletcher Moss' track record.
"From an early age we we've been producing or identifying good players that would contribute to successful teams," Horrocks explains.
"Given where the kids were coming from, it was something for them to channel into their energy into.
"We provide football to kids whose parents don't have a lot."
The club's situation and reputation draws children from of some of Manchester's most deprived areas.
About 75 per cent of the players to have become professionals are either black or from an ethnic minority; about half of the youngsters who now attend the club's Soccer Schools are from a non-white background.
Rashford grew up in Wythenshawe and Welbeck is from nearby Longsight, while Lingard joined the team from Warrington.
Though each has followed the same well-worn path to the game's highest level, Horrocks notes that in football, and in life, maturity is not always reached at the same time.
He recalls: "Jesse was slightly different to Marcus in that he was always a small kid who needed to be dropped down age groups a couple of times for people to see his value.
"With Marcus, at United as an under-9, they put him in the under-10s squad, and then when he was under-17 he was playing in the under-23s."
However, all of the three share drive, determination and a will to win – traits that Horrocks sees as fundamental to footballing success, both for Fletcher Moss and England: "If we want to make our national team successful, we need to breed success from a young age.
"It's great to see kids who have got a little bit about them because of the way they've played football.
"Like Danny, he always played football against his brother Wayne, who's a few years older, and because of the age gap he had to battle.
"Marcus would play football in his front garden against his older brothers and any of the other, bigger kids from the avenue.
"He would use his disadvantages to his advantages to get better, and that's what's happened later in his career.
"Since he got in as an academy player at Manchester United he has always strived to go further."
Rashford's boldness brought two goals on his Manchester United debut, and another within three minutes of his England bow.
One man who was not shocked by this flying start was Horrocks, who recalls an apt Howard Wilkinson quote about luck in football: "'Luck is where preparation meets opportunity' – these players began that preparation from such an early age."
Image courtesy of The FA via YouTube, with thanks.