Bramhall tennis sensation Hannah McColgan will aim to succeed where Andy Murray failed this year after booking her spot at a prestigious Wimbledon tournament.
The 14-year-old has long been known as one to watch for the future and was at it again on Sunday as she claimed victory at the HSBC Road to Wimbledon North Regional Qualifier at Ilkley Lawn Tennis Club.
McColgan, a member of Bramhall Lane Tennis Club, will now play in the HSBC Road to Wimbledon 14 & Under Challenge at the All England Club between August 11 and 16.
Murray lost in the quarter-finals at SW19 earlier this month and Cheadle Hulme School pupil McColgan, who was the top seed at Ilkley, admits she can't wait to grace the hallowed Wimbledon turf.
"I'm really happy. I went down last year and did it and I am just really looking forward to getting down again. It is an amazing experience," said McColgan, who beat Fran Booth 6-0, 4-6, 6-4 in the final.
"Last year I made the quarters of the singles and semis of the doubles so I'll have to go one better this time.
"It is just absolutely amazing to go down there – it is unreal, to be honest, to be able to play where the professionals play and practise. It is kind of like you are a professional for that week. You get the whole experience to see if you actually want to do it – it is too good."
The HSBC Road to Wimbledon 14 & under Challenge began in 2002 and is an All England Club junior event initiative supported by the LTA – it has now even expanded into Asia with a pilot scheme run in India with events in Delhi and Mumbai.
It is the largest junior tournament in the UK, involving some 850 clubs, parks and schools with youngsters bidding to reach the national final at the All England Club.
Also taking part in Ilkley were 14-year-old Moss Side duo Shaquille Williams and Kagan Rose but both fell short of a trip to SW19.
However, Rose, who attends plays at Manchester Tennis Centre, was not too disheartened and vowed to return next year and go one better.
"I'm not too upset," Rose said. "I feel proud that I came and played. I didn't play too badly but I've not really played on a grass court before – it was my first time.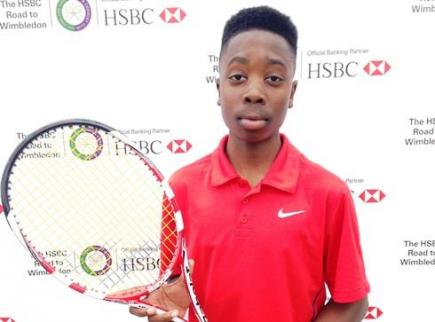 YOUTHFUL SWAGGER: Manchester's Kagan Rose
"Oliver played well and he knew how to play on the grass court, so I'll give it to him.
"I'll get there next time. I am hopefully coming here next year so I'm already looking forward to that. I'm generally quite confident and I fancy my chances next time."
The HSBC Road to Wimbledon National 14 & Under Challenge is the UK's largest national junior grass court tournament and forms part of HSBC's investment in the stars of the future.