An exciting new obstacle course event arrived in Manchester this winter and its uniqueness and popularity suggest it will become a staple of the rapidly growing assault course calendar.
Urban Attack, the UK's biggest indoor obstacle race, saw hundreds of racers invade the National Cycling Centre to tackle undulating dirt tracks, tyre pits, ramps, monkey bars and uphill sprints.
The event caught the attention and imagination of experienced runners and novices alike, self-described 'gym bunnies', male models and champion strongmen, travelling from both near and far.
"I loved it! There were nice obstacles, lovely people and the people that made the race were awesome. They did a good job," said Camilo Lattof, a 37-year-old youth coach who travelled from Gothenburg, Sweden.
"Obstacle course racing is not necessarily about strength or being a good runner. If you want to challenge yourself and compete against yourself, this is something you have to do."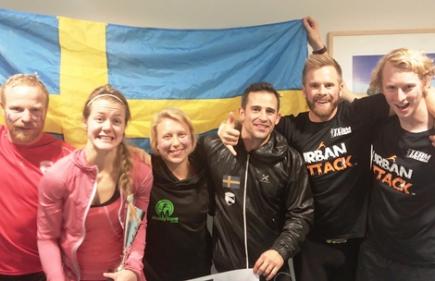 ROAD TRIPPERS: Camilo and gang travelled from Sweden to compete
Camilo was part of the victorious MIT Tough Team who's 1200-mile round trip was rewarded with victory in the elite female category; they are just one of several groups that travel to obstacle-racing events on a weekly basis.
"We came last night at eleven," said James Ruckley, a 21-year-old Chiropractic student came from Bournemouth to seek his thrills in Manchester and compete alongside friends.
"It was about a seven-hour journey. At 4am we got in and had a few hours' sleep.
"We go every weekend, the trouble is bankrolling it. Student loans need to increase – you can write that down!"  
"It's the quickest growing sport in the world supposedly. It's blowing up, which is really good. You've got races going all round the world now: Norway, Sweden and America has always been huge. And it's growing more over here."
The inaugural Tough Mudder was held in Pennsylvania, USA in 2010, and this provided a watershed moment for obstacle-racing.
Over the next four years the sport moved beyond American shores to become an international phenomenon.
The UK currently has around 200 events, which combine mud, cold water, barbed wire crawls, and even dangling electrical wires to test runners.
But Urban Attack aims to be different.
The course follows the rolling concrete tracks of the BMX track inside Manchester's National Cycling Centre – differentiating it from other obstacle courses.
The event also offers a more spectator-friendly product with the comfortable stadium seating and entertainment show a far cry from the spartan provisions available to viewers of traditional obstacle races.
Last month's event saw World's Strongest Man competitor Mark Felix take on former Gladiators Hunter and Panther in a tug-of-war contest, performances from young cheerleaders and dance crews, while loud, thumping music, smoke and flashing lights filled the room.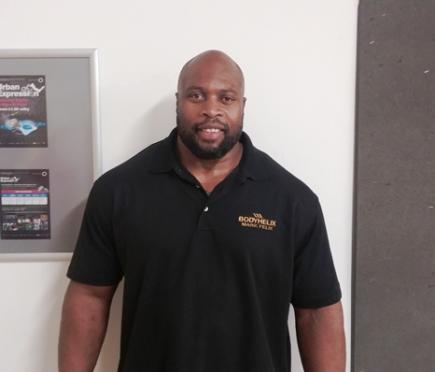 TUG-OF-WAR: World's strongest man competitor Mark Felix wowed crowds
The crowd factor of Urban Attack makes it stand out to competitors beyond just the appeal of being sheltered from the elements.
"I like it just because – and I know it sounds bad – I don't like the mud," admits GQ model and writer Ross Edgley.
"I like the fact that it's a lot more fast-paced. I like the fact it caters to the spectator as well. Sometimes it gets a bit lonely on an obstacle race, when you're doing two hours or so, whereas here, the atmosphere, the music, the pre-race and all those things makes for a better event."
Urban Attack led to him and his two brothers, Scott and Craig, spending the weekend together and taking on the course.
Scott, a 31-year-old hairdresser from Nottingham shared his brother's enthusiasm for the event
"It's great that at every corner you're cheered on, and you're just carried along by the crowd – even if you're absolutely knackered," he said.
"The atmosphere makes it go a lot quicker."
Obstacle Course Racing has enjoyed a meteoric rise from novelty to a serious sport attracting dedicated competitors.
The growing market for the spot has meant that increasingly, events have to establish an identity, and with its lack of mud, and fast-paced, spectator-friendly gladiator-style bouts, Urban Attack is well on its way to doing that.
Next year's event, takes place in sub-zero temperatures at the Chill Factore ski centre at Manchester's Trafford Centre on Saturday May 16th 2015, again featuring obstacle sprints and plenty of sideshow entertainment to keep spectators happy.
Again it breaks the mould of what this already varied, exciting sport traditionally offers.
"There's a lot of diversity in the obstacle racing market at the moment but there's nothing like this at the moment," said Pete Rees, 37, publisher of Mudstacle, a community website for obstacle course and mud runs.
"We love the variety of this. You can have a completely different experience from one weekend to the next.
"You get big groups, you get stag-dos, you get the gym-type people, and you get the marathon runners, mountain bikers, not just the people who get addicted to it.
"That's why it's growing quite excitingly around us at the moment. That's why there's a growing community of people who go to races week-in, week-out."