What is a proper football fan? Well, there isn't actually a definition of what makes you a proper fan, as we all consume 'the beautiful game' in many different ways…
Whether you are a hardcore following your team around the country every weekend or if you prefer to watch games from the comfort of your own home, you still play a part in supporting your club.
The love for the game will never change but being a fan has changed dramatically over the years.
"I could purchase a ticket anything from £1 to £1.50 depending on the game," said Manchester City fan Andy Pratt, whose love affair with the Blues dates back to the 1970s.
"If you could afford to pay up front, then the League match book ticket was the best option, but I could easily have a day out at the football for anything from £5.00 to £10.00, which would include food and transport."
Fast forward to the last few years and you have had fans at loggerheads with clubs over ticket prices and especially those prices for travelling supporters.
Protests by fans led to the Premier League introducing a £30 price cap from the start of the 2016-2017 campaign, which was recently extended through to the completion of the 2021-2022 season.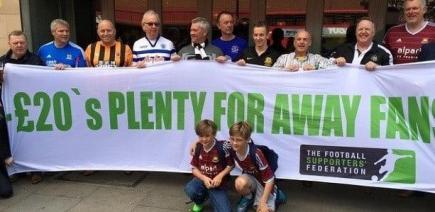 (image courtesy of TIFOSY, with thanks)
The pressure from fans has also forced UEFA's hand, as they had to cap their ticket prices: away fans are now charged €70 for Champions League games and €45 in the Europa League.
Despite fans challenging prices to be reduced, the demand to enter football stadia is still extremely high with Premier League stadiums being at least 91.6% full this season according to Soccerstats.com (see graph below)
This sentiment is echoed by Liverpool fan Ross Chandley.
"The demand is so high, it's pretty much impossible for people to get hold of a ticket."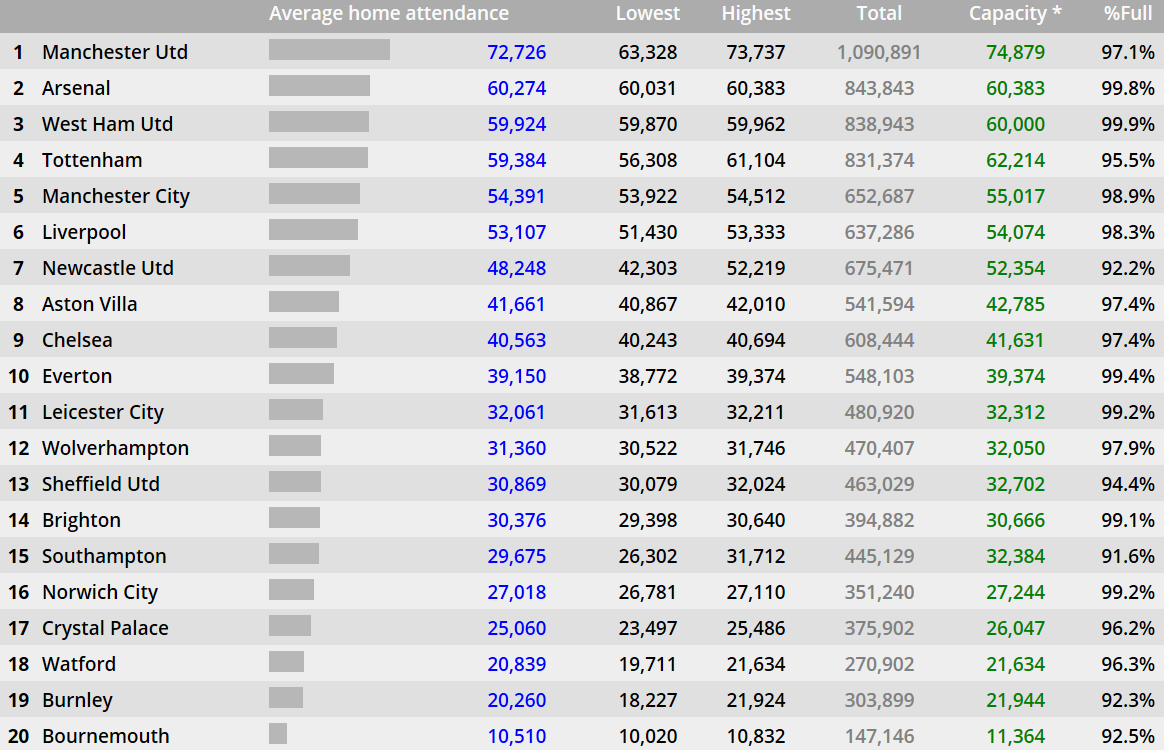 As we have entered the digital era, those fans who aren't able to purchase a ticket for a matchday or choose to watch matches on television, have a plethora of football to engage with.
This season Sky Sports, BT Sport and, for the first time ever Amazon Prime, announced that they would showcase 200 matches between them, a move which has seen matches on live TV most, if not every day of the week.
Definitely an added bonus for fans and a much-changed line-up from years gone by.
In the past, fans would only have Match of the Day or the Football League equivalent on a Saturday night to absorb the highlights.
Both Sky Sports and BT Sport have been in the sports market for a number of years and have shown the majority of live games this season, but Amazon's introduction saw them pencil in 20 games to show.
'THE WAY TO GO'
According to founder and CEO of Amazon Jeff Bezos, the company now has more than 150 million paid Prime members around the world, giving the Premier League added exposure to a new audience.
While it's another platform to pay for, even in its introduction fans are looking at it being the future.
"I think the idea of streaming games and the content in which Amazon Prime provided us with over Xmas and New Year is the way to go," said Chandley.
The Premier League has not only opened a new online audience through Amazon Prime, but its clubs have also been working on its relationships with countries overseas for many years via social media.
Clubs have their main accounts but have also introduced accounts in other languages to communicate and provide news for their supporters who live abroad.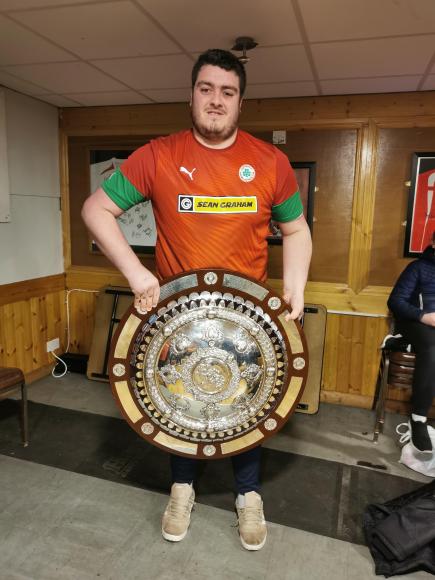 'TWITTER ADDICT': Cliftonville fan Josh Bunting is one of many fans who source their football news from social media, an ever-rising trend
Social media has become a powerhouse in football, as it allows clubs and media companies alike to provide instant news to their followers and these platforms have become highly popular amongst fans.
"I get most of my news on Twitter, I'm addicted to Twitter so that's where I go to search for my football news," said Cliftonville fan Josh Bunting.
"If I can't find what I am looking for there I will go on Sky or BBC."
News consumption has changed over the years, long gone are the days where you would have to wait for the next day's newspaper to find out the goings-on, now we're in an era where people want and expect news instantly.
As well as being a news source, these platforms have given fans a voice and you can bet that come 5pm on a Saturday afternoon, newsfeeds everywhere are filled up with fans voicing their opinions on the match they've been to watch or seen on television.
The game has evolved and continues to evolve year on year, both on and off the field, but one thing is for certain.
In the words of Jock Stein: "Football is nothing without fans."