Michael Carrick hailed the legendary Sir Matt Busby as the "instigator" behind Manchester United's glittered club history.
The 38-year-old, who retired just over a year ago and currently works as first-team coach at United, chatted to MM at the premiere of the new film Busby at Manchester's Everyman cinema.
From the directors of The Class of '92, Busby lifts the lid on the man who built United from its foundations into the institution it is today as England's biggest and most successful football club.
In his time as manager of United between 1945 and 1969, Busby won five English First Division titles as well as two FA Cups, and, of course, the European Cup in 1968.
And Carrick, who played at United for 12 years between 2006 and 2018, said he was already aware of Busby's colossus influence on the club even before he signed.
"I think you just feel it, as soon as you walk through the door you feel it," Carrick told MM.
"It's not like Sir Alex sat me down on the first day and spoke about an awful lot of things. Once I knew about the history of the club, I knew about Sir Matt, I knew about the Busby Babes, I knew about Munich, I knew about winning the European Cup."
"You know all that anyway. It's not until you really get here you get what it really means to people how special this place [Old Trafford] is.
"Obviously, Sir Matt's a huge part of it. He's the instigator behind the whole thing really."
Carrick knows all about the values expected as a United player — values created by Busby later maintained and developed by Ferguson.
"It's [Busby's legacy] carried on since," Carrick said. "His legacy has lived on and if not built and built as years have gone, and rightly so because something about giving youth a chance and playing exciting football – that kind of inspires people and he [Busby] is the one who started all that.
Carrick played under five different managers during his time at United, but he enjoyed his most successful spell as a player under Sir Alex Ferguson.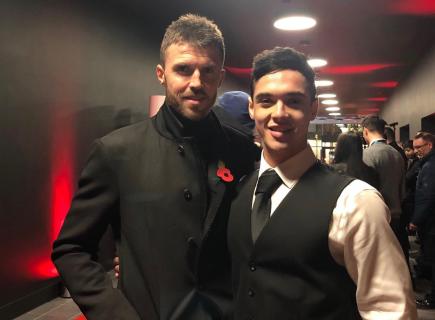 CHAT: Carrick with MM's Dane Massey at the premiere of Busby.
He formed an essential part of Ferguson's vintage team between 2006 and 2009, where United scooped up a hat-trick of league titles as well as winning the Champions League in Moscow in 2008.
Alongside Paul Scholes in midfield, Carrick formed the engine room of a hugely successful team which also featured the likes of Cristiano Ronaldo, Wayne Rooney and Ryan Giggs.
When asked if Busby's sides of the 1950s and 60s were an inspiration for building this team, Carrick gave his verdict.
"I'd say so," he said. "Sir Alex spoke about the history of the club and Sir Matt especially quite a lot. He made us aware of it over time.
"Just being here, you know all about that and what it means. Sir Alex would always speak about being a Manchester United player and playing for Manchester United and what that is."
Carrick experienced the highest highs club football has to offer under Ferguson, but in his last few years as a player under David Moyes, Louis Van Gaal and José Mourinho, he witnessed tougher and more frustrating times.
But the Red Devils have been in the position they're in now before.
Now part of Ole Gunnar Solskjaer's coaching staff at Old Trafford, Carrick is determind to help United eventually return to the top.
It took United 16 years to find Busby's ideal successor, and Carrick explained that the club still feel the pressure to keep Busby's legacy going.
"Unfortunately I never got to meet Sir Matt, so from that point of view it's what's carried on since then – it's just inspiring. It is inspiring," Carrick said.
"And now we're in a position where we've got to carry it on, and still we've got to build and the responsibility is there to try and really fulfil what's being put forward."
Carrick is one of the Premier League's most decorated players. During a career in the game where he made over 700 appearances, the highlight came in 2008 when he lifted the Champions League trophy aloft.
It's a moment no player would ever forget, but for Carrick and the 2008 United squad it was even more special considering the history of the club and the landmark it represented – the 50-year anniversary of the Munich air crash, and the 40-year anniversary of the club's first European Cup triumph.
In the best night of his football career, Carrick picked out the best moment from that night in Moscow and at the centre of it was a club icon and a key component of Busby's iconic 1968 European Cup winning side.
"Winning the Champions League was – I can't even describe how good that was. But when we were going to get the trophy, we were sat at the bottom of the steps and Sir Bobby [Charlton] was on the bottom of the steps with us," Carrick explained.
"Just seeing him there, just his presence there standing with us – it was almost tingling. It was like that realisation of what had happened, not just the winning but the fact that everything had fallen into place – 50 years after Munich and 40 years after '68. And, all of a sudden you realise the history and what history means.
"We'd made history ourselves, but seeing Sir Bobby on the steps was certainly a moment that I will never forget."
Football is the most played and loved sport in the world, and certain moments make one love the sport even more.
A moment such as the one in Moscow will go down in United's history forever, and it makes one aware that United is more than just a giant football club. It is, in Carrick's words – 'a way of life.'
He said: "As a player, it [United] is a way of life."
"You buy into everything that comes with playing for Man United and you have a responsibility with that. As soon as you pull a shirt on and play at Old Trafford, it's a pretty special feeling.
"I think we could be here talking all night about how good it feels because it's not just about playing in a football match, it means an awful lot more than that.
"And, as a player you're well aware of the situation you're in and what's expected of you and how many people are watching. It's a pretty special place to be."