On a global level, squash might be a niched sport, but it's finding a big home in Manchester this year.
MM went along to the British Junior Open – the most prestigious event in the squash junior calendar, to see the next generation of squash players pushing the sport beyond its four walls.
Compared with the grandeur of tennis, squash is a different ball game in the world of racket sports – but it will certainly be racking up the shots in Manchester this year.
The city is not only welcoming the annual British National Squash Championships next month, but it is gearing up to host the World Championships in December.
This event – the pinnacle of world squash – will witness a historic move for the sport, where equal prize money will be offered to men and women for the first time, with the winner set to take home over $45,000 each.
It's a far cry from the £2m that Andy Murray and Serena Williams pocketed for their efforts at Wimbledon last year – when Manchester last hosted the nationals in 2014, the winning prize money was £22,000.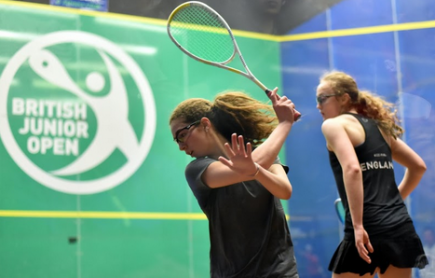 CLIMBING THE LADDER: Essex's Elise Lazarus aims to be on the senior squash circuit in a few years' time 
But squash can't afford to be driven by money. It faces a constant fight to keep participation levels stable – a challenge which Sport England recognised when it ploughed £5million into the game over the last four years in the hope of getting more youngsters on court.
And that's where the British Junior Open comes in: the event sees over 400 young promising players descend on Sheffield every January, who all aspire to be the next big hitter on the block.
Most of these kids have already decided that squash is their future. Precarious though the squash world may be to forge a career in, these young individuals aren't motivated by the money, but by the sport itself and those who have made it to the top of the squash ladder.
"Laura Massaro is my role model," 16 year-old Elise Lazarus tells MM.
This bubbly girl from Essex has already committed to squash full time. She attends college for 15 hours a week, so she can spend enough time on court. She giggles when she mentions that she'll "only" take four GCSEs later this year, unlike most of her fellow year 11 friends.
But four is probably far enough with all the training she has to do.
Sam Osborne-Wylde in the boys' under 13 age group, like Elise, is a promising upcoming British squash sensation. He boards at Wycliffe College on a squash scholarship, where he's often up at the crack of dawn to get some early practice in.
Seeing the event in full swing was a real eye opener as to why squash struggles to compete with other sports.
How had these English kids, at such a young age, managed to stumble across one of the 8,500 squash courts that exist across Britain? The simple answer is that Dad had played, or Dad had coached.
National teams and their families had travelled far and wide to watch their little ones play squash for a week.  Among them were Egypt – the current kings in the squash rankings – USA, Malaysia and Mexico, most probably with no travel expenses paid.
On court, Mums and Dads were banished behind the glass where they anxiously sat watching their little aces rack up the shots. Coaches packed out the front-row seats right behind the action, engaged in their own off-court battle with the opposition coach in the game of who-could-shout-at-their-player-the-loudest, before a referee would step in and tell them to shut up.
In one match a 12-year-old girl was swearing under her breath at every mishit shot.
"Don't mention her like this in the report," her Dad tells me. "She needs to read the positives and mature."
Another Egyptian girl, who wore a ridiculously cute Puss-in-Boots-look when filmed in a post-match interview, scuttled around the court scowling in complete desperation while rallying and looked like she was going to burst into tears after every hit. Fortunately, this never happened as she went on to win her age category.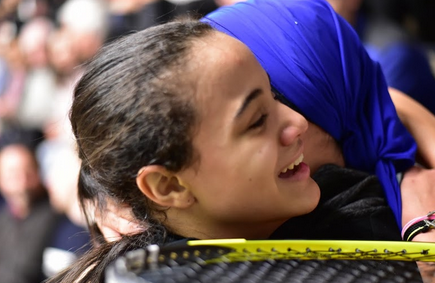 HIGH STAKES: The pressure to win at such a young age can be great 
The tears still came thick and fast, though. In fact, they practically poured.
Sometimes these waterworks started on court. Others would hold it in, and wait for a wall outside in a corridor – that familiar part of the squash court – to slump against and cry.
But this cruel, and to some extent elitist environment that these kids are part of is a learning curve, which the older competitors had already learned from. They would applaud each other's shots which were out of reach, embrace after the game, congratulate each other and were gracious in defeat.
"Wait whilst I grab my sponsor," Nick Wall says before preparing to be filmed by a local TV station on camera.
The 17-year-old, who is probably going to be the next British number 1, had just made the semi-final and already seemed well media trained.
Whilst some might argue that it is wrong to inflict so much pressure on a child which most enjoy recreationally, these kids are determined to be the ones making it at Manchester's National Squash Centre in years to come.
"The playing doesn't affect my personal life," claims Denis Gilevskiy, a 13-year-old who became the first ever Irishman to win the event.
"This gives more opportunity for Ireland to build more squash courts – there are no glass squash courts in Ireland, so this might get more juniors to play," he says gleefully after winning.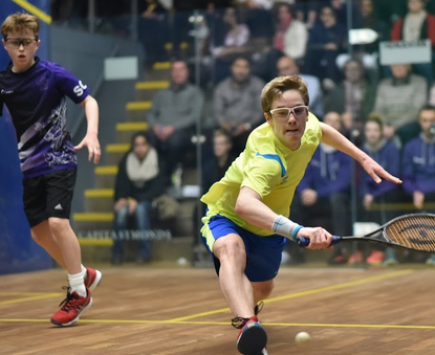 LAND OF OPPORTUNITY: Irishman Denis Gilevskiy (right) is already inspiring other children to take up the sport 
The youngsters, it seems, are pulling out all the stops to inspire other kids whilst still learning on the job.  
But in the world of squash perhaps they have to, because simply telling children up and down the country to try this exceptionally skilled game would be a bit like talking to a brick wall. 
Images courtesy of Steve Cubbins and BJO Squash, with thanks.