This Sunday sees the 16th edition of the Great Manchester Run take place – an event now firmly ingrained as one of the city's annual sporting highlights.
Over 30,000 people will take to the streets of Manchester and Salford in what is the third-largest mass participation running event in the UK behind the London Marathon and the Simplyhealth Great North Run.
Last year's event was overshadowed by the Manchester Arena terrorist attack in the preceding week – a tragedy which threatened to cause the cancellation of the run due to security concerns.
However, thousands of runners and supporters came out in a positive show of defiance thanks to the superb efforts of the police and event organisers.
The Run's return this year will be part of a week of commemorations for the arena bombing, but the 10k course will retain its familiarity.
Starting on Portland Street, the route takes participants out of the city towards Salford Quays, passing Old Trafford and the Imperial War Museum before heading back towards the traditional finish line under the Beetham Tower.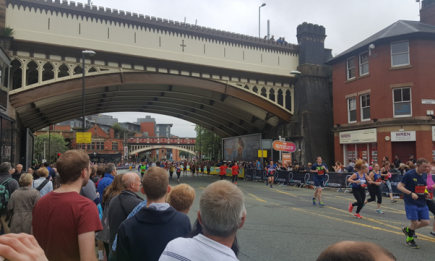 HOME STRAIGHT: Runners will head towards the finish line on Deansgate
Since the inaugural event in 2003, famous stars to have participated include Ethiopian legend Haile Gebrselassie – the five-time winner – and his compatriot Tirunesh Dibaba, who last year won her fourth Manchester 10k in five years.
Last year also saw a brand new addition to the weekend in the form of a half marathon which returns on Sunday morning before the 10k waves start at 1pm.
Former athlete and running expert Gareth Turnbull, speaking on behalf of Great Run title partners Simplyhealth, has provided the following advice for 10k novices.
Five top tips for running your first 10k
1. It's about YOU!
Easy one to start with….Get a pen and a piece of paper and write down why you want to run your 10k! Then pin it somewhere you can see it on a daily basis (the fridge, the office desk, etc) and use it as a daily reminder of your running goal! This is about YOU! Don't forget that and keep positive and happy as you prepare for your 10k!
2. Routine, routine, routine
Set yourself a realistic and structured time slot for your weekly runs. Life will occasionally get in the way but by setting yourself a routine that you can plan ahead for and make space for amongst your working and family life, you can 'own' each training run and plan accordingly. This will help you know when to eat before you run and where you will able to do your run itself. A little bit of pre-planning will therefore keep your running experience stress free and keep you smiling all the way to the start line!
Kick-start your @SimplyhealthUK #GreatManchesterRun weekend tonight at @GreatRunLocal @GRLSalfordQuays 

More info: https://t.co/f8qtT6gpiD pic.twitter.com/9ZaFwNNiSz

— Great Run (@Great_Run) May 17, 2018
3. Training plan
Alright then, so Mo Farah may be safe for now as you embark on your first ever 10k but there are still a few things you can integrate into your own running routine that the great man himself also has to! Following a training plan is one such example. Spend a few minutes looking online for an easy to follow 10k plan that will suit your lifestyle. Then try to stick to it! There is a great sense of satisfaction in ticking off a training run from your plan and seeing the progress you have made. You will get fitter and feel better as you do!
4. Do your stretches
Introducing running into your exercise routine can be a shock sometimes to the system as the initial aches and pains associated with getting out for a run can make themselves known at an early stage. Therefore, from the very moment you being to train for your 10k, begin to listen your body and know the difference between stiffness and pain. A few basic stretches will help this assessment very easily. By stretching a calf muscle that feel a little tender, you can get instant feedback as to which side of the stiffness/pain line you are on. Regular stretching before and especially after running, as well as consulting a physiotherapist – 'prehab' as we call it – will help alleviate potential pain points, so get ready to incorporate some into your running routine today! 
5. Think before you eat
An oldie but a goodie to finish with! Mother always told us that a little of what we like will always be good for us so don't worry about still keeping those little indulgences part of diet! Burning calories is hard work and your body will need replenishing afterwards. Perhaps the only small piece of advice here would be to think about when you choose to treat yourself! The cheeky Friday night takeaway may be best delayed for 24 hours if you have identified Saturday mornings for your weekend run. A lighter pre-run dinner will work better for your run and thinking of that tasty takeaway as a reward for your efforts will also help the kms fly by too! Enjoy!
Everyday healthcare provider Simplyhealth is supporting runners every step of the way and helping people make the most of life through better everyday health. For more training advice, please visit www.greatrun.org/training-simplyhealth