A University of Manchester student and Olympic hopeful is making waves in the sport of swimming, after overcoming her disabilities and securing a coveted sportswoman of the year award.
Eleni Papadopoulos has been given the award by the British Universities and Colleges Sport (BUCS) after amassing more than double the amount of points the university achieved last year in the BUCS league.
Eleni, who study's law as well as training 30 hours a week, has conquered multiple disabilities to excel as an elite disability swimmer and paratriathlete.
This season she has smashed 10 British, European and World records and has qualified for the Great Britain team at August's IPC European Championships at Eindhoven.
But admits at times it can be stressful.
"It's hard to balance my sport and other activities," she said.
"But as I've been swimming at an international level from the age of 16 – I'm sort of used to it.
"My days are quite full – the daytime is dominated by my studies and the swimming pool before and after getting up at 4am four times a week.
"I do need my time to rest in the evening – as if I'm overtired, my epilepsy could be a problem and that could mean I get behind in my training.
"But with decent time management and pre-planning I do manage to fit everything in."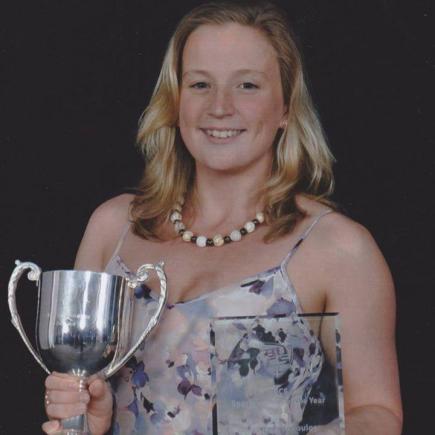 WINNING: Eleni with the prestigious award from BUCS
Eleni was born with a weaker left side caused by cerebral palsy and after a playground fall at the age of six left her with smashed bones and a severed nerve in her left arm, her condition worsened.
But despite this she has swam since the age of two and only realised her potential as an international athlete at 16.
She added: "In my first year at university I found it hard.
"Living away from home was so new and it was hard to combine life in halls with the demands of my early morning training regime.
"But with the great support of the University and my coach, I've learned how to handle living away from home; it's all coming together very nicely now."
In 2013, Eleni was also awarded Undergraduate of the Year Award by the Faculty of Humanities and eventually hopes to be represent Great Britain at future Olympics.
Eleni is supported by the University's Talented Athlete Scholarship Scheme, which provides physical strength and conditioning training as well as physiotherapy and social support.
She trains as part of the City of Manchester Aquatics Swim Team programme under the guidance of coach and Manchester chemistry graduate Mark McKenna.
University of Manchester Sport Sabbatical Officer Andy Cowan said: "I can think of no one more deserving of this award.
"Eleni has had an exceptional year of sport. Her determination and commitment this year has been exemplary and she is a fantastic ambassador for swimming, the Athletic Union and the University.
"This is an excellent end to an excellent season for Eleni."
Main image courtesy of Nicholas Jones, via Youtube, with thanks
Article image courtesy of Facebook, with thanks