World champion boxer Anthony Crolla has chosen the runners who will join him in the Crolla's Army team taking on this year's Great Manchester Run on Sunday May 22.
Crolla has picked a 12-strong team – one for every round of a professional boxing bout – including the sister of James Barrett, who Crolla dedicated his world title victory to after James lost his battle with cancer.
The WBA Lightweight champ, who defends his belt against Ismael Barroso at Manchester Arena on May 7, said: "I feel honoured to be able to train with and run alongside such inspirational individuals.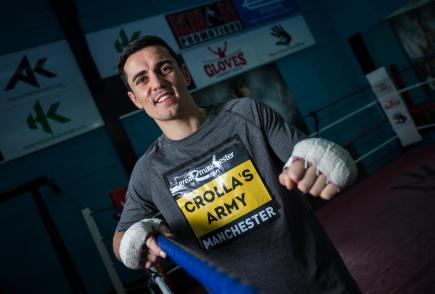 ARMY: Crolla will be taking an army of fans to Manchester Arena when he defends his title on May 7
"After so many fantastic entries it was hard to choose the runners.
"I know how hard you have to train to get the best out of yourself and I'm excited to help my army meet their own personal challenges at Manchester's Greatest Run."
Crolla will now get his team together for a training session and will provide support and encouragement in their training.
On race day the team will wear branded Crolla's Army running shirts, and be joined by Anthony at the start and finish line of the event for last minute pep-talks.
Crolla's stablemate under Joe Gallagher's management and Super Middleweight talent Callum Smith is a member of Crolla's team, said that he will be dedicating his run to his little sister, who has autism.
"I race Anthony on the track all the time so I'm looking forward to racing him over 10km," he said.
"I do quite a lot of running as part of my boxing training but I've never taken part in the Great Manchester Run.
"I'm part of Crolla's Army. I train with him every day in the gym so we're quite good friends. It will be great to do the run alongside him.
"I'll be raising money for an autism charity. I've got a younger sister with autism so I understand the affect it has and hopefully we can raise a bit of awareness through the Great Manchester Run."
Supporter Adam Irvine is taking part in the Great Manchester Run as part of Anthony Crolla's #Crollasarmy! Sign up – https://t.co/0Whm450Ze3

— The Christie charity (@TheChristie) February 8, 2016
The day will see over 40,000 runners challenging themselves over 10km through the closed city centre streets.
Entries are open for the Great Manchester Run, taking place on closed city centre streets on Sunday May 22. Sign up here.
Here is Crolla's Army in full:
Callum Smith
25, from Liverpool
WBC International Super Middleweight Champion Callum will be swapping the boxing gym for the city streets of Manchester to run alongside his sparring partner to raise money for autism charities.
Adam Irvine
30, from Manchester
After being warned that life-saving cancer treatment at Manchester's Christie Hospital could prevent him from becoming a dad, Adam defied all odds by beating stage four cancer and is expecting his first child with wife Lisa. 
Marion Haines
57, from Lancaster
Five years ago Marion weighed nearly 19st, suffered back pain, migraine and bad knees. Now 9st 6lbs lighter, she watched last year's coverage and having spotted herself in the background when Anthony was being interviewed, credits him with giving her the confidence to enter this year.
Danielle Carney
28, from Cheadle
Corporate Fundraiser at RMCH Charity and having cheered on runners in the Great Manchester Run for many years, Danielle is taking on her first ever race to raise money herself for the Charity.
Shannon Barrett
20, from Manchester
Running to thank Crolla for dedicating his World Champion title to her brother James, who lost his battle with cancer last year.
Benjamin Uzokwe
19, from Manchester
Amateur boxer with a young autistic sister, keen to run for autism with one of his boxing idols to increase awareness of an often misunderstood and misdiagnosed condition.
Lisa Crehan
32, from St Helen's
First time runner and single mum of two, looking for a reason to focus and train hard, and believes it will be a great confidence boost.
Muhammad Mulla
25, from Blackburn
Huge Crolla fan and new runner looking to complete Great Manchester Run for the first time after watching from the side-lines for years.
Thomas Smith
22, from Manchester
Fit and healthy Thomas is running to raise awareness of his cousin's rare inherited condition, PKU (Phenylketonuria), which can cause brain damage. The condition is treated with a low protein diet, which can be problematic for fit and healthy individuals in muscle recovery.
Conor McMyler
19, from Bolton
Amateur boxer since the age of 11, Conor has sparred with Crolla at Gloves ABC and has ran Great Manchester Run before. He is keen to take on the race this year alongside his boxing idol.
Russ Arrowsmith
56, from Manchester
Regular Great Run Local runner and amateur boxer who used to box with Crolla's father, Wayne.
Pardeep Robinson
35, from Sale
Running to learn how to live again after the passing of her champion Thai boxer and coach husband who died unexpectedly 16 months ago.