On January 26, Zach Sullivan was catapulted into the national spotlight when he became the first ice hockey player in the UK to publicly identify as bisexual.
The Manchester Storm defenceman tells MM about life on and off the ice, his love of Newcastle United and why it was time to tell the world his secret.
EARLY CAREER
You're one of a small number of British players in the Storm squad. How did you get into ice hockey?
There's no fairy-tale story sadly about watching a film or having a favourite player growing up. I was an extremely hyperactive kid and my parents made me play pretty much every sport you can imagine just so I wouldn't be full of energy when I got home. My closest team was Guildford but when I was nine, I had a trial at Invicta in Gillingham and started playing there along with my little sister. Then when I was 11 or 12, I had the choice between football and hockey and I just liked playing hockey more.
It's a pretty unusual hobby. What did your friends think growing up?
It's a fast paced and skilful game but I don't think my friends realised this. Because hockey has a reputation that it's just fighting and big hits, I was seen as this incredibly tough guy who wanted to fight everyone all the time. It's really funny because if you ask any of my teammates, they'll say that it's completely the opposite of who I am. I try to get along with everyone and make as many friends as I can, particularly with the guys on my team.
At school I was definitely an anomaly. I was the only one playing ice hockey whereas everyone else played more traditional sports. I was lucky enough to go to a private school where our differences were celebrated and they encouraged us to pursue what we wanted.
When did you realise you could make a career out of playing hockey?
Probably when I was 14 or 15. I'd just moved to play for Swindon, and I'd made the National team two years in a row. I've had a lot of talks with my parents about whether I should go to uni and whether I should pursue hockey. I've got three siblings and two parents, and all five of them went to university and got degrees. But, I just wanted to see how far I could go in hockey and my parents were fully supportive as long as I had the grades to fall back on in case I did need to go to uni. They've always supported me. They came to probably half of the home games this season and when I was younger, they'd take me around the world to play hockey. I've been very fortunate.
Is it your full-time job?
The EIHL is the only pro league in the UK and everyone at Manchester just plays hockey. We train three or four times a week and usually have two matches at the weekend with gym workouts mixed in. I've said it a lot but I'm very fortunate that I make enough money from hockey to not have to worry day to day.
MANCHESTER STORM: 2019/20 AND BEYOND
This was your sixth season in the EIHL but your first in Manchester. How would you describe your first season for Storm?
I spent five seasons at Glasgow (formerly Braehead) Clan, and the first three of those were under [Manchester's head coach] Ryan Finnerty. When I was released by Glasgow at the end of last season it was a no-brainer to come and play for Finner again. I knew what I was getting into, familiar ground, familiar territory, and I knew the kind of team he was trying to build. He's built a really good team and we knew we could beat any team on our night, and they knew that too.
The fans are great too. Even if we lose a couple of games, they're still loud and supportive. Our fans just want to see us putting maximum effort in and even if the results don't come off, they're incredible. It's been a lot of fun.
Having climbed into a playoff position, and with the team you had, how disappointing is it not to be able to contest the playoffs this season?
We thought we had a good team and could've caused an upset in the playoffs so it's disappointing in that respect. However, as much as we like to play sport, it's a child's game played by adults and the health of the fans, players and everyone involved has to come first. It's a strange way to end the season but cancelling [the league] is absolutely the right decision.
Are you going to pulling on the Storm jersey again next season?
I can't say anything right now because I don't want to leak anything but I'm definitely in talks with Storm and hopefully I'll be back!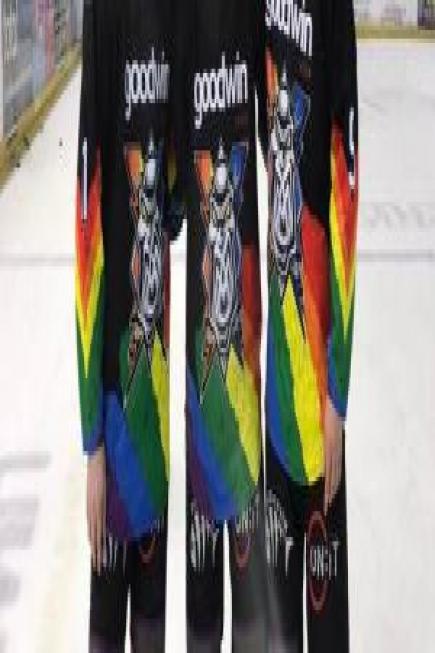 LOUD AND PROUD: Sullivan (centre), Cam Critchlow (L) and Jared Aulin (R) model Storm's Pride kit
PRIDE WEEKEND
Obviously, the major talking point of your season was your announcement at Pride weekend. What was your motivation behind coming out and how have you found the attention?
I'd been comfortable with my bisexuality for a few months and Pride weekend was a unique opportunity to try and help people going through a similar situation, so I just decided to tweet about it. I know that when I was growing up the LGBT community wasn't really accepted and if I'd had a role model it might have been easier.
I'm not someone who likes the spotlight. I'm not the flashiest player on the ice and anyone who knows me knows that I like to blend into the background and do my bit for the team. I don't like doing interviews either! But this was the first time I've had a message that I'm passionate about and if it helps other people then it's good to come out of my comfort zone.
What was the reaction like from players and fans?
It was a bit scary before [I tweeted]. As the first player [to come out] in the UK, I didn't know what the reaction was going to be – positive, negative or just ignored. But every response I've had from the fans, not just at Storm but all the teams, have been really supportive. My teammates have carried on treating me as normal too, and acting like nothing has happened, which in my opinion is the perfect reaction.
THE FANS
You mentioned the fans earlier and it's obvious from the supporter's club events on social media that the players and the fans have an incredibly close relationship. How nice is it to be able to get to know them in a way that many other sports stars don't?
It's great to be able to put faces to the people who come every week and support us through thick and thin. It's nice to show our appreciation in person too, rather than just with a tweet. The events are a nice way to acclimatise to a new area, particularly for the North American imports. They get to meet people who've lived here their whole lives and get used to the culture. Without fans, there wouldn't be any hockey and we wouldn't have a job!
What do you think this says about ice hockey as a sport?
It was the same in Glasgow, and everywhere else I've played. It just shows how tight the hockey community in the UK is. If something bad happens, or something good, the whole community reacts in a positive way. It's such a family sport and, despite the fights and the physicality, we're still supportive of whoever you are and wherever you're from and I think that's a really good thing to be promoting.
OFF THE ICE
What do you get up to away from the rink to wind down?
Hockey players have a reputation for partying which, to be fair, we haven't actually done much of this season. If our coach decides to reward us with a day off or two usually, we'll just go out for a drink together or come into Manchester and party. It's nice to have a good time, take your mind of hockey for a few days and come back refreshed and reinvigorated. After practice we'll usually come home and play Call of Duty on the Xbox for an hour or so, and I think we've watched pretty much every movie on Netflix! On the ice it's very intense so it's nice to just use the downtime to relax.
It sounds like you've got a close-knit group of players alongside you?
Yeh and I've been lucky to have that all the way through my career. We've had a rollercoaster season. We were better than our league position suggested, and we lost a lot of close fought games by a single goal or two. Usually in this situation, when things aren't going your way, you can't stand to be around your teammates, but we were the opposite. We wanted to hang out more and get to know each other which was really cool. The club put the players up in houses together and the five of us try to spend as much time together as possible, just watching TV or chilling.
NORTHERN LIFE
Finally, you've lived in Manchester for nearly a year now. What's your favourite thing about the city?
We're just outside the city in Altrincham but it's only a 20-minute tram ride. It's so easy to go in for a night out and we've never had any issues, everyone's really friendly! There are a few favourite spots, particularly Flight Club – the darts club. For a lot of the guys, the sport on show in Manchester is a huge draw. You're never wanting for something to do. That's my favourite thing – the wide range of things going on.
Have you been converted to any of the Manchester sides yet?
Unfortunately not. I'm a steadfast Newcastle United fan.
That's an odd choice, being from Surrey?
My dad was born in Southampton, so he supports them. My older brother does too and when we played Football Manager or FIFA, he was always Southampton and I had to pick another team. The best of the rest was Newcastle, so I picked them… and they had Alan Shearer then so that's as good a reason as any!