Manchester City have no time to be glum – they're a team in a hurry with trophies on their mind, says striker Jane Ross.
Defeat to Chelsea on Sunday meant Nick Cushing's defending SSE Women's FA Cup champions bowed out of the competition at the semi-final stage.
But with their chance on Wednesday evening – when they host Sunderland – to go level on points with FA Women's Super League (FAWSL) leaders Chelsea, followed by Sunday's Champions League semi-final first leg against Olympique Lyonnais, the vibes are all positive at City.
Striker Jane Ross retweeted Pep Guardiola's 'winning mentality' video clip not long after City's men clinched the league for the third time in seven seasons at the weekend and it is that spirit she believes will see them over the line in 2018.
"We've got the games coming thick and fast so we don't have time to be dwelling on things – we just have to learn from the performances and focus on the next match," she said while being recognised as the FA Cup player of the sixth round (quarter-finals) for her timely late double against Sunderland.
"Credit to my teammates for those goals, the passes and the play beforehand for both goals was brilliant and just by putting myself in the right place at the right time I just managed to get the finishes.
"As a group we have a great togetherness, we all want to see each other doing well so I think that's something that can help us in the latter part of the season.
"We want to be winning every trophy we're competing in, so come the end of the season I'd like to have won both of them (FAWSL and Champions League).
"It's always nice as a forward to be on the scoresheet and to be helping the team in whatever way I can – especially with such important goals in the Champions League and FA Cup," she added in reference to her strikes in both legs of City's Champions League quarter-final against Linkoping.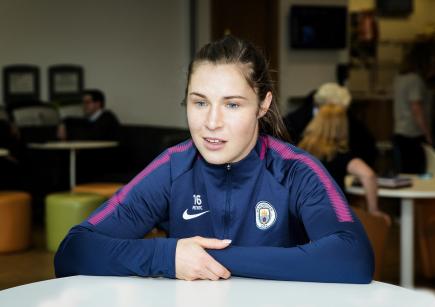 DREAMING BIG: Scotland striker Ross has Champions League glory on her mind, with City facing holders Lyon as they seek to become the first English finalist since 2007
City will punch well above their weight if they are to reach a first Champions League final – in their way stand European giants Lyon, winners of the past two trophies now eyeing up a record third straight.
But Ross sees a lot of City in the four-times European champions as the teams prepare to clash in Manchester – a repeat of last year's semi-final which they lost 3-2 on aggregate – followed by the return leg in France on April 29.
"Lyon are obviously a top side with a lot of top quality players but I have belief we have a top side also with a lot of quality players.
"I'm sure Nick (Cushing) will set us up with the right tactics to go into both those matches and win the games.
"Tactically he's really switched on and knows how he wants the team to be playing. It's enjoyable to play under."
Despite exiting the FA Cup Ross said the motivation was there for next season to get back to Wembley and lift the trophy like they did last year.
"It's always been amazing growing up and watching the FA Cup on the TV, our experience last year getting to Wembley was an amazing feeling and it was an amazing stadium to play in.
"I think the FA Cup is a special cup within the English game and we hope to find ourselves at Wembley next year winning it."
Tickets are now on sale for the SSE Women's FA Cup Final on Saturday May 5 at Wembley Stadium connected by EE. For more information about tickets and SSE's involvement in women's football visit sponsorship.sse.com.
Image courtesy of Angus Matheson, with thanks.