Although she's only lived in Manchester for less than two weeks, four-time Paralympic gold medallist Ellie Simmonds has said she's settling in well ahead of what could be the biggest 18 months of her career.
She made the move from Loughborough to Manchester – where high-performance Paralympic sport is based – in preparation for Rio 2016, her third Games.
She'll be competing at the IPC World Championships in Glasgow in July – an important date in the race for a place on the Paralympic team – where she'll hope to add to her haul of 13 golds at the championships.
"Preparation's going really well at the minute," Simmonds said.
"I've just moved here so it's all new, but we have our world championships in July in Glasgow so it's an exciting time.
"It's a really busy year for us – it's scary to think London was three years ago and we've only got a year left until Rio. It's really scary but we've got an exciting year ahead of us."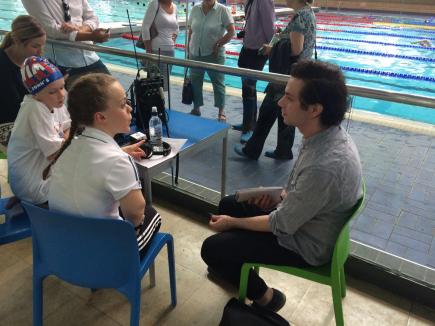 SETTLING IN: Ellie chatting with MM's Ben Weich 
Moving to Manchester was a tough decision, having spent a productive 18 months in Loughborough, but it was deemed necessary by Simmonds and her coach who both hope it will pay off in Brazil.
"This is my second week here in Manchester. It's going really well, so far I really like it," Simmonds said.
"I train downstairs here at the Aquatics Centre and I live just around the corner. This is our high performance centre for Paralymic sport so Manchester's very big for us.
"It's a great sporting facility and we have a wonderful set-up here. And there's also the English Institute of Sport in Sportcity by Manchester City just down the road.
"So there are loads of great facilities for athletes and we've got a great group of people here to get us to where we need to be for next year's Games in Rio.
And after exploding onto the scene in the Beijing Paralympics as a 13-year-old, her exploits in the pool means she's a household name these days.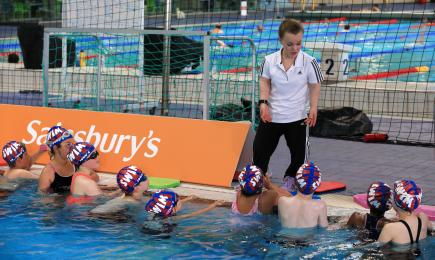 FUTURE OF SWIMMING? Ellie passing on her knowledge to youngsters
While it's nice to get recognised in the street, she says, it's not something she's quite gotten used to.
"It's quite weird when I get recognised in the street and stuff. I just see myself as a normal person because all I do is swimming.
"It's nothing special to me but it's nice to get recognised in a way because it shows how much impact the London Paralympics had."
She plays the role of begrudging celebrity well, and she knows how important it is for Paralympic sport to have a figurehead like her to raise the profile of disability sport.
MM spoke to Simmonds at a promotional event this week for the Sainsbury's School Games, which will be held in Manchester in September.
Having competed herself at the first-ever School Games back in 2006, which kickstarted her Paralympic dreams, and she's always happy to lend her star-power to help today's crop of budding sportspeople.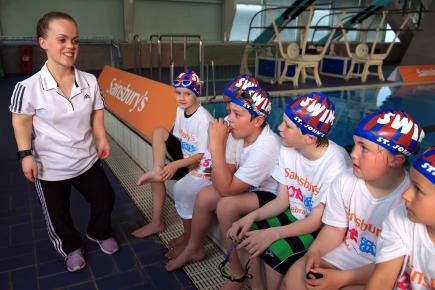 ENJOYFUL EXPERIENCE: Ellie had a smile on her face all day 
"It's so important to keep the legacy going from London 2012, so to have events like the School Games in a city like Manchester where there are so many school kids is great," she said.
"It's always nice to give back – it's really important – and hopefully these kids will be inspired and maybe one day they'll make it to a Games."