Although this past June was meant to see the start of the UEFA 2020 Men's European Championships, the coronavirus pandemic has pushed it back a year, much to the frustration of many England fans who possibly felt as though they could win the tournament.
After all the semi-finals and final are at Wembley – why wouldn't an England fan think that a major tournament is theirs for the taking?
Funnily enough, it's not the first time something like that has happened (nor do I believe it will be the last).
In the summer of 2004, I was in the middle of taking my GCSEs and the European Championships in Portugal saw England have one of their strongest looking teams assembled that looked certain to end (at that point) thirty-eight years of hurt.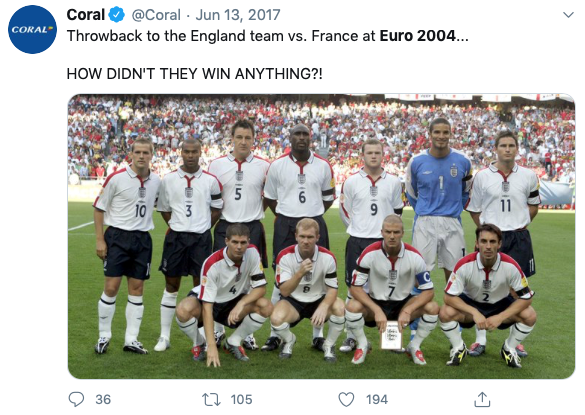 Except… that didn't happen.
A quarter-final defeat on penalties (but of course) to the hosts saw another failure for the Three Lions and the anointed 'Golden Generation' came up short when it mattered.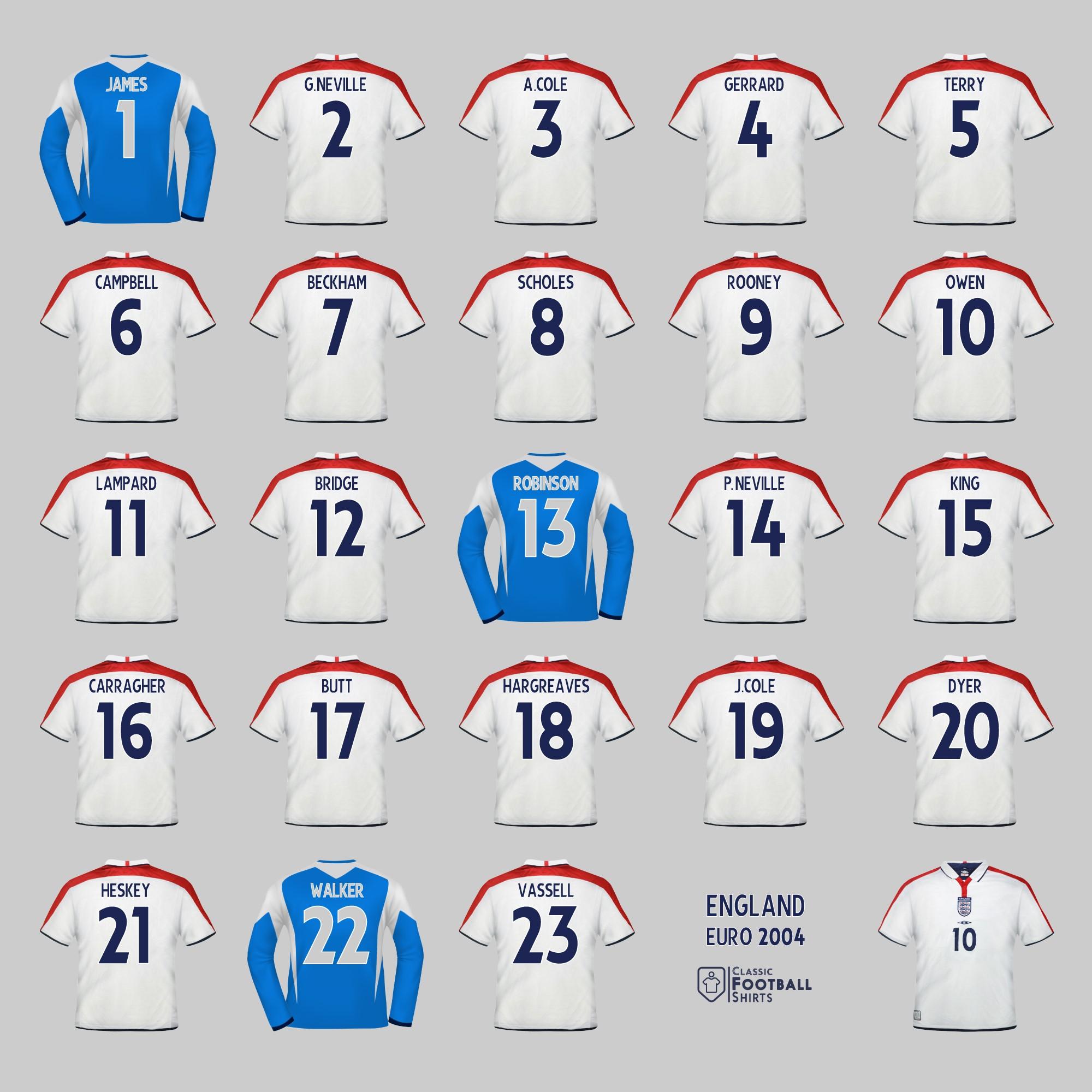 Image courtesy of @classicfootballshirts
You look at the whole squad above and wonder how and why they didn't achieve a first European title and a second major international honour.
Here are few reasons that might explain why it just never came together for England on the Iberian peninsula sixteen years ago.
Poor tactics
The then England manager Sven Goran Eriksson was added to the infamous list of '50 People Who Fouled Up Football' in Michael Henderson's book released in 2009.
His biggest crime according to the author was 'his inability to bind David Beckham within the fabric of a team game. Beckham could do no wrong by Eriksson, with the inevitable consequence that other players, who contributed as much, or more, felt resentment at their captain's preferential treatment'.
Although it would be easy to place the entire blame at his feet, Beckham's hard-working endeavour on the pitch meant that he would always be held in high regard by fans and fellow players for club and country.
Another point raised by Henderson is that 'the 5-1 thumping of Germany in September 2001 bought Eriksson a lot of goodwill early in his tenancy. But England never built on the promise of that night. Too often they were timid'.
It can be backed up in the defeat to Portugal.
After Michael Owen gave England the lead in the third minute, an injury to Wayne Rooney on 27 minutes seemed to drain the life out of the team as the hosts' attacks increased while the Three Lions sat back to defend their advantage.
Portugal eventually netted their equaliser courtesy of Helder Postiga with seven minutes remaining and extra-time followed, but only after a Sol Campbell header was controversially ruled out by referee Urs Meier in the 90th minute.
Rui Costa fired the Portuguese ahead with ten minutes of the extra-time period remaining only for Frank Lampard to level the contest five minutes later to send the match to a dreaded penalty shootout, which Portugal won 6-5 with the decisive kick coming from the boot of goalkeeper Ricardo.
You wonder whether if would have been worth it had England chosen to build on their early lead instead of allowing their opponents more time on the ball to make their attacks. At least it could have been seen as a glorious failure rather than another case of what might have been but for penalties.
Strong players, weak team
Michael Owen. Steven Gerrard. Frank Lampard.
These players would star in a domestic league match on name value alone. But when it came to the international stage, it just never clicked.
To be fair to Owen, he was a very good player for both club and country in my opinion. He scored important goals when necessary and in his fledgling days for Liverpool, his pace could terrify opposition defenders.
That was on the verge of going by the time of the tournament and the next big thing called Wayne Rooney would outshine him by scoring four times in the group stage – twice against both Switzerland and Croatia – before the aforementioned injury in the Portugal match ruined England's momentum.
Perhaps the greatest mistake by Eriksson in the course of the competition was not making the most of Paul Scholes' considerable talent.
During his playing days, Scholes was seen as the most gifted English midfielder since Paul Gascoigne. With twenty-five honours for his club, the Salfordian made sixty-six appearances for his country, scoring fourteen times in a career that suddenly ended after the tournament when he was 29-years-old.
To elaborate, Scholes was positioned in a left-sided midfield role due to Gerrard and Lampard being put in the centre of the lineup. Despite their tremendous club success they would go on to achieve for Liverpool and Chelsea respectively, it never seemed to quite go right when the two were paired together for their country.
Did they cancel each other out? Would it have been more beneficial if Scholes had been alongside either one of them during the first stage of the tournament?
On the other hand, Scholes stated that he 'never had a problem' with being played out of position in Henry Winter's 'Fifty Years of Hurt: The Story of England Football and Why We Never Stop Believing'. But one does wonder what if he had been the player that England based their team around in Euro 2004.
Rio Ferdinand being suspended
When defender Rio Ferdinand joined Manchester United from bitter rivals Leeds United for £30 million in 2002, it would be the start of a considerable club career that resulted in six league titles, three League Cups and and a Champions League.
And it could be argued that his England career was good as well working alongside Sol Campbell and then John Terry to protect whoever was between the sticks for the national team (usually David James).
But something quite strange occurred in the buildup that threw a spanner in the works.
Rio was suspended for eight months from January 2004 after missing a drugs test in the early stages of the domestic season having gone shopping (yes really).
Despite passing a subsequent test, the FA were adamant that by missing the first appointment, a serious breach of discipline had been committed and that he had to sit out the vital qualifying encounter away to Turkey in October 2003 while an investigation into his conduct was ongoing.
Needless to say, it didn't go down too well with his team-mates at Old Trafford.
Gary Neville confronted new FA Chief Executive Mark Palios and told him "You're being judge and f**cking jury. You've come in and wanted to make a point for yourself, the new sheriff in town."
Before the squad set out to Istanbul for their meeting with Turkey, there would be a meeting organised by Neville where his fellow Man United players joined him in calling for strike action. He wanted others to do the same.
Danny Mills would later confide to Four Four Two magazine that he was uncomfortable with what was going on: "I'd voted not to [go on strike] because I didn't believe it was the right thing to do, and Rio was in the wrong. How badly he was in the wrong was irrelevant."
When word got out to the press, it only served to amplify the situation as headlines such as 'Traitors' and 'You've Let Your Country Down' saw the team vilified by the fans and scribes.
In the event, the strike was called off after an intervention from Sir Alex Ferguson, who (understandably) was concerned that any backlash would have a negative impact on his United players.
Ironically, Ferdinand himself had a part to play after he sent text messages thanking his team-mates for their support whilst encouraging them to leave the picket lines and play on, which they did and secured their place at Euro 2004 with a 0-0 draw against the Turks.
Without Ferdinand in Portugal, the combination of Terry and Campbell keeps one clean sheet between them in a 3-0 triumph over Switzerland in the group stages.
However, this isn't to say that they aren't good defenders, but that having another experienced head at the back could have helped England and seen them reach the latter stages of the tournament.
Miscellaneous
And a few other short explanations of why it went wrong sixteen years ago.
Fear of failure – something that has to be considered when you look at the talents that England had at their disposal. Did the pressure of playing for their country ultimately hurt the players' confidence despite their domestic stardom? Had the 'Golden Generation' tag become an albatross around their necks?
Steven Gerrard seems to think so when he spoke to Henry Winter in the aforementioned 'Fifty Years of Hurt…': "It [the Golden Generation label] was an annoyance. We didn't give ourselves it. Other people gave us it.'    
Indulgence – in the middle of this run of the 'Golden Generation', they were allowed time after time to show what they could do, even if they weren't always exceptional for their national team, which makes you wonder what if a firmer approach had been taken.
Say Lampard had been left out for 2-3 matches in the qualifiers because of his lack of goals. It wouldn't have been a popular decision, but it may have been one that would help the Chelsea midfielder greatly for his country as he fights back to regain his place in the team. He becomes more appreciative of what it means to represent England and becomes one of the best-regarded players ever.
Over-expectation from fans – this will never go away. For good and for ill, any England fan goes into a major tournament thinking that all those years of hurt will finally be over.
I certainly remember getting caught up in it all. I placed a replica England flag outside my bedroom window for the tournament and had my face painted prior to the first group stage match against France (it was on the same day as my secondary school's summer fair, which had a face painting stall in place – as you do).
Trying to tell fans that they're being over-optimistic about England's chances of winning a competition is a foolish task.
It doesn't matter if you're proved wrong or right, nobody comes out of the scenario looking good.
What the fans say…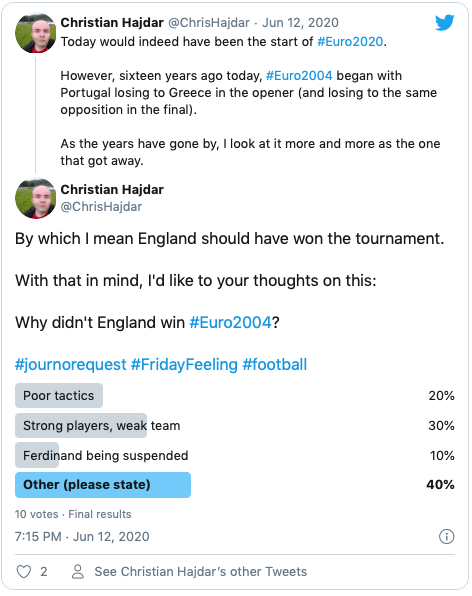 There are plenty of reasons provided for why England didn't win Euro 2004 when they were one of the favourites.
But I asked the fans for their thoughts on the matter via a Twitter poll.
40% of fans believed that other factors were at play for their failure in the tournament.
As Andy Fearnley explains: "We approach competitions with a fear of losing,not the drive of winning. Thankfully looks like that has changed… England will win something soon…"
30% put it down to there being strong players but a weak team overall, 20% blamed it on poor tactics and the remaining 10% thought the suspension of Rio Ferdinand was the chief reason for England's men's team not winning Euro 2004.
Whatever was behind that victory that never was, it was a fun tournament, mainly thanks to Greece surprising everyone by taking the main honour through that 1-0 triumph over hosts Portugal.
In the years that have followed, they've been two quarter-final and one semi-final appearances for the Three Lions.
Can they do it next year at Euro 2020? Here's hoping…