The Manchester City brand is a relatively young pup but success has bred a whole new wealth of fans. 
And while they are still a long way off matching the big dogs Real Madrid, Barcelona and rivals Manchester United, they have certainly announced themselves on the global scene. 
Our best indication of viewing City's rapid growth is through social media and their Facebook page has seen a 945% rise in two years, compared to 277% for Man United.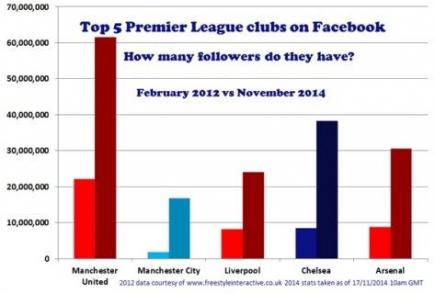 MM has been in contact with fan bases worldwide to question them on what lured them to the blue side of Manchester and the challenges they face as they continue to support the club. 
In the first of a monthly feature, proceedings shall kick-off 4,520 miles away thanks to an exclusive chat with Niket Paudel (picture above, front right) from Nepal.
Niket is 19 and lives in Kathmandu. He is currently studying to be a computer engineer at the Nepal Engineering College. 
He managed to get together 20 people to form an official supports club, but unfortunately could not renew this due to a lack of funds. 
"It might sound bad," he said, "but the people here in our country are economically not so sound." 
This did not deter Niket from carrying on supporting the club he loves, he is looking to renew the membership soon and the Facebook group he is admin for has over 6000 likes.  
It is the efforts of Niket and his friends away from football however, that are most commendable. 
"We have been supporting the people who are extremely poor," he added. 
"We have provided books for three children and clothes for those who can't afford it. We have also been cleaning the community. 
"Since every one of us can't donate, we try our best and do what we can. 
"We have been planning to fund those children for their further studies but since we have no donors, it seems impossible but we are trying to do what we can." 
Their love of City brought them together and the group duly responded by giving to those less fortunate.  
On top of their charitable exploits, they still head to the pub to watch City, when they can, and also take part in futsal themselves. It is evident that football is a huge part of Niket's life.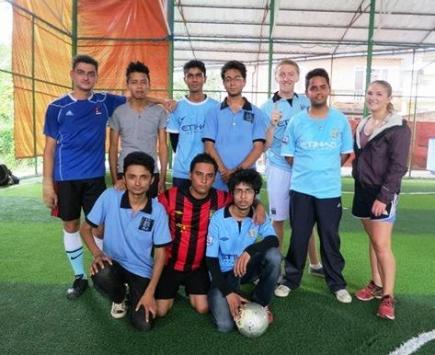 WORK HARD, PLAY HARD: Niket (second right) and his fellow footy fanatics (image courtesy of Niket via Facebook)
So, why Manchester City? 
"I started to support City just when Sheikh Mansour took over. It was not because of the money that was going to be poured in, but it was because I found myself in that club," he said. 
"I chose the blue side of Manchester when it was all about the red side of Manchester here in Nepal." 
Niket is keen to shake off the tag as a glory hunter. When Sheikh Mansour came to City in 2008, United had just won their second title on the bounce, and lifted the Champions League too for good measure.  
City meanwhile, finished ninth in the league, but did make the marquee signing of Robinho on deadline day. 
It was a sign of City's ambition, but they were by no means competing at the top. They failed to pick up a trophy until May 2011, claiming their first major silverware since 1976. 
They went one better in 2012, and it is undoubtedly the stand-out moment for Niket and his group. 
"There were two matches being televised in the pub," he started. "Man United's and ours. 
"When United won, their supporters mocked us and they celebrated.  We thought it was over. 
"Then Balotelli, Aguerooooooooooo. And we went mad."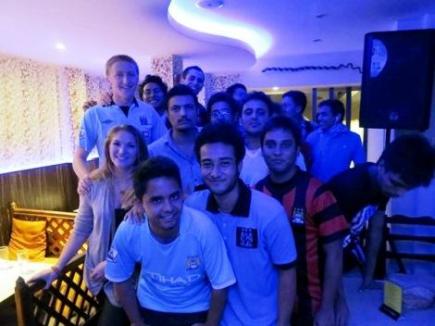 GRIN WHEN YOU'RE WINNING: Niket (front) and friends (image courtesy of Niket via Facebook, with thanks)
The joy of this first Premier League crown will live long in Niket's memory as it will with every City fan around the globe.  
The same cannot be said for his views on football in Nepal itself however. 
"The future of football in Nepal is not so good. The whole organisation is corrupted from top to bottom. 
"This country's football will never prosper. Never Ever. The squad is always the same. 
"Even If you don't perform, you are never taken out from the squad as the whole committee is corrupted." 
Niket has chosen to focus on the Nepal international side, who currently rank between Yemen and the Solomon Islands in 179th place. This is out of 208 nations who compete, and it is a desperate shame to hear of someone with such passion for their club fall short when it comes to their country.
And with regards to FIFA, Niket doesn't hold back. Migrant workers from Nepal have died on building sites in Qatar as they prepare for the 2022 World Cup.
"Qatar and Blatter can f*** off. Thousands of Nepalese have lost their life in Qatar. But still, Blatter doesn't give a damn. FIFA  are footballing mafia."
The Premier League evidently offers a brilliant distraction. Despite a stuttering start to their defence of the Premier League, Niket says he is still hopeful of a domestic double but seemed resigned to another disappointing season in the Champions League. 
And his hero? An easy decision – Pablo Zabaleta. 
"Zaba is the kind of player, every supporters want in their club," he said.  
"He doesn't play for girls, money or fame. He plays for the club. He plays for the supporters. He plays for the pride of the club. I have always admired Zabaleta."
Main image courtesy of Niket via Facebook, with thanks.