Today members of the wider football community came together at Manchester's National Football Museum to celebrate Justin Fashanu's inauguration into the Football Hall of Fame on what would have been his 59th birthday.
The Hall of Fame, which is supported by the Professional Footballers' Association, celebrates the achievements of those who have made an outstanding contribution to the game, either on or off the pitch. 
Previous inductees include football icons Bobby Moore, Sir Bobby Charlton and Sir Kenny Dalglish as well as more recent talents such as Roy Keane, Thierry Henry and Alex Scott.
During his career, Fashanu came out publicly as gay and, to this day, remains the only male player to have done so in the English game before retirement.
Former Aston Villa player and Germany international Thomas Hitzlsperger retired in 2013 before he came out early in 2014 while Robbie Rogers, a former US international who played for Leeds, came out in February 2013.
Fashanu had a glittering playing career lasting 20 years, and is best remembered for his spell at Norwich City, for whom he played 103 times, scoring 40 goals.
He was also the first black player to be valued at over £1million when he signed for Nottingham Forest in 1981 and is fondly remembered at Carrow Road for his 'Goal of the Season' strike against Liverpool whilst playing for the Canaries in 1980.
Tragically, Fashanu's life was cut short when he took his own life in 1998, aged just 37. His contribution to the English game remains a unique story of defiance, something that has prompted this move to recognise his legacy as an inspiration to LGBT+ participants in football and the wider sporting world.
Fashanu endured discrimination and prejudice throughout his playing career and is widely considered a hero of the LGBT+ community for his courage in coming forward.
Di Cunningham, former Chair of Pride in Football and founder of Proud Canaries, Norwich City's LGBT+ fan club, said: "It's wonderful that Justin now has his rightful place among the country's footballing greats; a magical player in his heyday as a Canary.
"He's also remembered for the dedication he showed to the Norfolk community where he was raised.
"The courage, determination and integrity central to his coming out, when there were few rights for the LGBT+ community and when homophobia was systemic in football, were remarkable at the time – in retrospect, given that no other elite player has felt able to emulate Justin in the last 30 years – it's even more stunning that he refused to hide who he was."
Fans of Norwich City hailed their local hero with a banner containing the famous lines of commentary that accompanied Fashanu's wonder goal against Liverpool in 1980 when the two sides met at Carrow Road in a Premier League clash last weekend.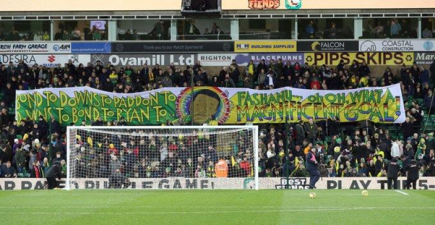 ICON: Banner unveiled at Carrow Road ahead of Norwich City's clash with Liverpool last weekend celebrating Fashanu's iconic goal versus the Merseysiders from 1980
Cunningham feels the banner demonstrates the wealth of feeling that still exists on the terraces towards the late Canaries fan-favourite and has called for the memory of Fashanu to serve as an impetus towards driving change.
"It's 30 years in October since Justin came out – that no other elite male gay player has been able to do that since demonstrates not only the depth of Justin's courage and determination to be himself – but just how much is wrong with football in 2020.
"Norfolk loved and still loves Justin as one of our own and the response to our banner celebrating his 1980 Goal of the Season last Saturday showed that.
"The unity my club's fans showed in remembering Justin and welcoming diversity at Carrow Road gives me some optimism that together we can use his legacy to change the game."
Rob Sanderson, a member of Proud Canaries and a Pride in Football officer echoed Cunningham's thoughts, hailing Fashanu's courage, while also calling for more to be done to make football grounds a safe and enjoyable place for members of the LGBT+ community, both on and off the pitch.
"It's important to all of us within the LGBT+ movement in football to see Justin quite rightly recognised for his contribution to the game.
"Justin was more than just the first out gay male footballer but it is right that we remember he came out at a time that it was unheard of within football. As a result he suffered from homophobic abuse both on and off of the pitch, the lasting legacy of which is that we have yet to see another male footballer come out whilst still playing in the English game.
"We work with strategic partners such as the FA, EPL & EFL as well as with clubs across the UK to make football a safe and welcoming space for LGBT+ fans and to eradicate both LGBT+phobia and all other forms of discrimination from the game that we all love.
"Whilst attitudes within the game are changing, LGBT+ phobia is still a problem faced on a weekly basis. We believe that through education and visibility attitudes will continue to change. Our focus isn't upon achieving another out gay professional player within the men's game, but on making football a safe and welcoming game for all.
"As fans, we can change the environment of the ground and a person's playing experience. We can say loudly that we will support them if they are LGBT+ and we will stand up against hate they may face.
"More needs to be done, but things are improving. Governing bodies need to do more in practice than just repeat the same lines, and foster an effective ethos of inclusion."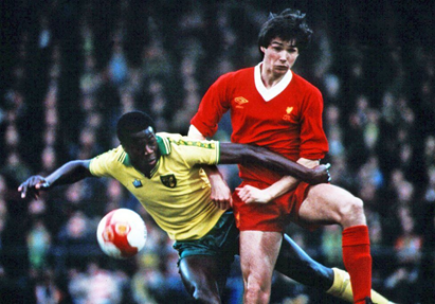 LEGEND: Fashanu in action against fellow Football Hall of Fame inductee Alan Hansen
Fashanu's niece Amal, who received the award on his behalf, spoke of her pride at the induction of her late uncle into the illustrious Football Hall of Fame.
"Today would have been Uncle Justin's 59th birthday and what a way to celebrate it on his behalf. One of my favourite memories of Uncle Justin was his playful, cheeky character. He was so fun to be around and he would have been the life and soul of this event.
"Justin was talented, smart, well-loved and charming. It warms my heart to witness his legacy being honoured more than 21 years after his untimely passing."
Amal Fashanu also discussed her work with the foundation set up in her famous uncle's name which aims to combat a host of issues that still sadly exist in the game itself.
"It's unfortunate that we are still discussing discrimination in football in 2020 and it's because of this harsh reality that we decided to create a platform in his name to tackle homophobia, racism and mental health within the game.
"The Justin Fashanu Foundation would like to thank The National Football Museum and all stakeholders involved who came together to honour my Uncle Justin."
Fashanu's induction coincides with the launch of the National Football Museum's LGBT+ Tour.  The tour, which has been developed with a group of LGBT+ volunteers, features memorabilia from the museum's collection which help to tell the story of LGBT+ history within the context of football.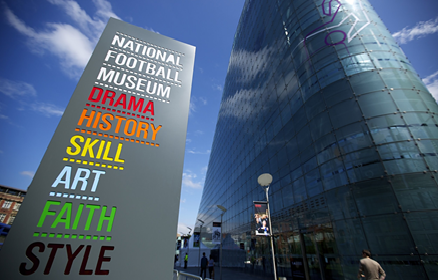 LANDMARK EXHIBITION: Fashanu's induction coincides with the launch of a new LGBT+ Tour at the museum
National Football Museum CEO Tim Desmond expressed his delight at being able to bestow the award on Fashanu, while also stating the museum's commitment to recognising the key contributions of figures such as the former Norwich City forward.
"We're delighted to present this award to Amal Fashanu on behalf of Justin and The Justin Fashanu Foundation.
"Justin was a pioneer on many levels and with this award we acknowledge not only Justin's legacy but also the importance of the LGBT+ community within football.
"The National Football Museum Hall of Fame aims to recognise a wide diversity of individuals who've made an outstanding contribution to the game."