A football fanatic from Greater Manchester has harnessed the power of volunteering at his non-league football club to boost his confidence and build a career. 
Lewis Perkins began helping out at Ashton United aged 14 and has done nearly every job at the club that he loves. 
As Perkins grew in experience, he saw his confidence grow and now works as a coach at Manchester City.
"I was a bit shy and as I got older I came more and more out of my shell," said Perkins.  
"It's a great way to boost your confidence and a great way of getting into a football career path. 
"I started out as a ball boy roughly nine years ago. I maintain the pitch and then on game days I do stewarding to help out." 
Perkins is one of thousands of people across the country who volunteer at their local non-league club, performing a vital role to keep clubs running. 
And stories like the Ashton stalwart's are at the heart of Pitching In's newly-launched Volunteer Hub, where clubs can advertise vacancies to make it easier for people to get involved. 
"It's actually a community where you're all together and you know everyone," added Perkins. 
"To begin with it was just a way of watching football and then as I got older it was one, keeping out of trouble and two, being involved in football which I wanted to do my entire life.
"It's a great way of gaining experience in a working environment. You never know, you could enjoy it and move into a career."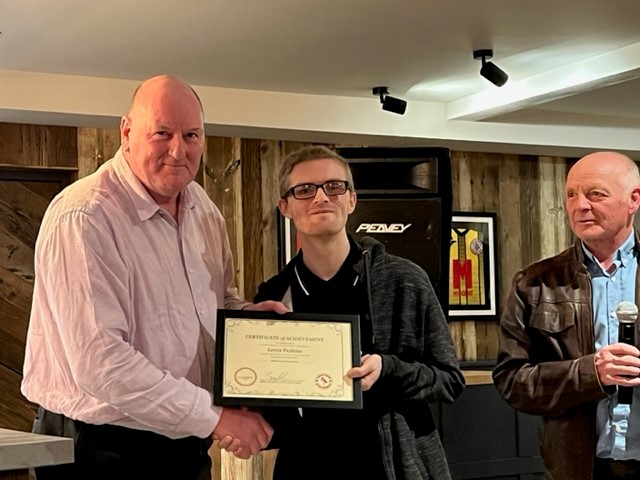 The power of volunteering was something also extolled by Steve Ashton, Ashton United vice-chairman, who spoke of the transformative affect it had on Perkins. 
"Two years ago we took our volunteers to an escape room in Manchester, then a meal, then cinema," said Ashton. 
"Having lived in Ashton all his life, he [Lewis] had never been to Manchester, never been to a cinema or been on a tram.
"Now he does all that by himself and has got himself a job at Manchester City. 
"That encapsulates everything our football club is about – to make that many changes to someone's life just by getting involved. 
"The value to us as a club is the work he does around the place, the value to him as a person is that it's completely changed his life." 
Ladbrokes, with the support of its owner Entain, has launched a multi-million-pound investment programme, Pitching In, designed to support and promote grassroots sports. For more details see: https://entaingroup.com/sustainability/pitching-in/