Most people need years of trying to become a top athlete. Some never make it at all. But Manchester BMX Club's Lewis Holmes is different.
At just 12, the Wincham youngster is already preparing to represent his country at the World Championships, just two years after taking up the sport.
Even more freakish, Holmes only discovered the sport he was clearly born to do by chance after having his 10th birthday party at Manchester's National Cycling Centre.
"From the minute I got on the bike at my 10th birthday party, I knew I wanted to get involved in BMX. It's hard to get me off my bike and I'm on it every day, either practising or competing," said Holmes, who won his first ever competition, the Winter Indoor Series at the National Cycling Centre.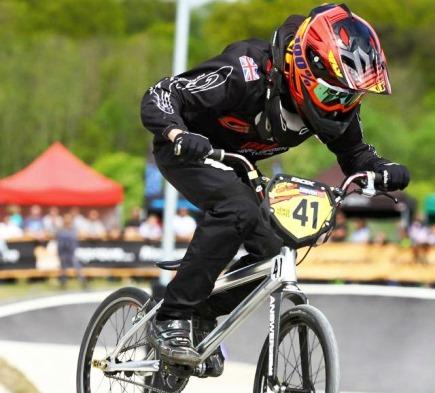 RIDING STAR: Lewis Holmes put his father's bad car accident in his first full season behind him to now be competing at the very top
"I can't wait to represent Team GB and one day I would love to take part in the Olympic Games. That's why it's been great to have help from Shanaze Reade because she's been there and she's always offering me advice on how to get better."
Holmes is already ranked among the top 10 riders in the country for his age group and has even trained with British Olympic hero and three-time world champion Reade.
This success has earned him a selection for Team GB's under-13 squad at the upcoming UCI BMX World Championships, which take place at the Circuit Zolder outside Brussels between July 21-25.
Holmes is just grateful for his parents' and sponsors' help, especially since his Dad suffered a serious car accident during his first full season.
"My parents have been great supporting me every step of the way but it's an expensive sport to compete in, so we're also really grateful to my sponsors, who have helped make sure I can take my spot at the World Championships."
This only made the University of Chester Academy Northwich pupil more determined to succeed and an intensive training regime has paid off three months into his second campaign in the Northern Region competition and the British BMX Series.
Currently, Holmes trains seven days a week, combining sprint with long-distance work at various tracks across the North West and on the training rollers at home.
On the back of this, a series of strong performances, including a win in the recent Northern event at Hartlepool, have seen him rise to third in the North West rankings.
Matthew Baldwin, CEO of one of Holmes' sponsors PMI Health Group, said: "Lewis' dedication and talent are seriously impressive and have acted as an inspiration for all the staff at PMI Health Group. We look forward to helping him in his rise through the ranks."
Main image courtesy of Geof Wilson via YouTube, with thanks.