Pablo Maffeo intercepts the ball in the Catalan dusk.
An exchange of passes, he weaves through a down-hearted midfield and, as the final whistle blows, boots the ball into the purple night.
On the day that Spanish Interior Minister Juan Ignacio Zoido writes an open letter asking Catalonia's police force to accept orders from Madrid, newly promoted Catalan club Girona have beaten symbol of the Spanish establishment Real Madrid.
But Pablo Maffeo, a 20-year-old Catalan native, is not owned by the club he is playing for. Like around 20% of Girona's squad, he is on loan from Manchester City.
City co-own the Spanish club, and that sentence fragment alone is what this article is about. Girona might not be a 'Spanish' club for much longer. 
***
The situation in Catalonia has changed an incredible amount in an incredibly short space of time.
After the tense scenes surrounding the referendum in October, Spain imposed direct rule on the region after its regional parliament voted to declare independence.
The Spanish Supreme Court recently dropped the EU-wide arrest warrant hanging over former Catalan president Carles Puidgemont, who had fled to Brussels, and back in Catalonia a new round of regional elections will take place later this week.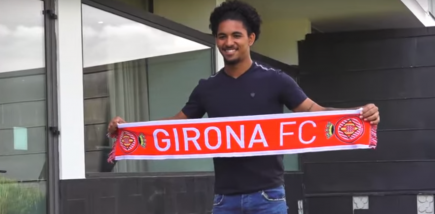 LOANEE: Douglas Luiz is one of a number of CIty players plying their trade at Girona this term
It seems slightly narrow-minded to fret about football, but a potential split in La Liga is still on many fans' minds.
Much of this has, understandably, focussed on Barcelona, but here in Manchester we have our own link to Catalonia.
Manchester City have been involved with Girona, a club some 100 kilometres up the coast from Barcelona, since 2015 when Pere Guardiola (brother of Pep) became an advisor there.
Premier League watchers may be aware of Newcastle's new defender Florian Lejeune, who was bought by City from Girona in 2015 for a reported figure of £225,000. He was loaned straight back to the Catalan club.
In practical terms nothing, except perhaps Girona's bank balance, had changed. Not exactly usual transfer practice.
Back then, Pep Guardiola was not yet Manchester City manager.
***
This summer, City Football Group became official co-owners of the club along with the Pere-headed Girona Football Group, the shares split 44.3% each.
The split in shares is likely to be an arrangement to help avoid the complications that the Red Bull group faced with Leipzig and Salzburg, where the wings-giving drinks giant had to reduce their involvement from the latter when both qualified for this season's Champions League competition.
Xevi Masachs, a journalist for Catalan paper L'Esportiu de Catalunya, says that the powers that be at Girona have definitely considered this: "They are convinced that they would not have problems [like Red Bull had], because Girona does not have one master."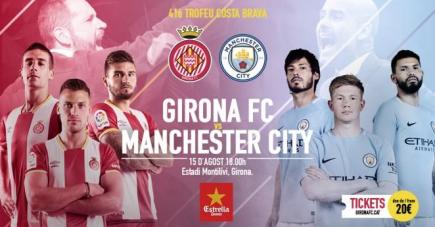 FRIENDLY: The two sides met in Girona in August, a game which City lost 1-0
But, as well as buttering up Pep Guardiola by throwing his brother some bones, there are genuine footballing reasons for City to be involved in Girona.
A scouting and development base in the heart of Catalonia, in the shadow of Barcelona and their vaunted academy, is useful.
But, as Diario Sport journalist Pos Ballus says, "City's main interest in Girona is to have a competitive option to develop young talents."
This season, City have sent some of their best prospects on loan to Girona: Douglas Luiz, Marlos Moreno, Olarenwaju Kayode, Pablo Moffeo, and Aleix Garcia all currently in Spain.
But will the prospect of Catalan independence throw this all into jeopardy?
***
Early in September, La Liga's president Javier Tebas said that the Catalan clubs would no longer be able to play in Spain's top division in the event of independence, prompting several other European leagues to let Barcelona know that they have room on their sofa.
While the prospect of Barcelona flying in every matchday might be exciting, no-one seemed eager to clarify whether these offers would extend to Catalonia's other clubs.
However, Tebas has said previously that he cannot imagine La Liga without Barcelona, and Catalan journalist Carles Rosell says that Barcelona's clout will be an important factor.
"If Catalonia were independent, I imagine that in the beginning, Catalan teams would continue to play in La Liga because they are interested in each other, for economic reasons," he says.
"Although a lot will rest on FC Barcelona. It is the most powerful club here and, what they do, the others will do, Girona included."
***
The consensus seems to be that a La Liga without Catalonian clubs is merely a hypothetical, particularly given that political independence is not guaranteed in the long term yet.
Rosell also points out that it could take several years for the political and footballing situations to settle down, so a new status quo might not emerge for several years.
However, if – and it is a big if – Girona were to start playing in a Catalan league, then Manchester City's interest may wane.
Ballus says that if Girona's level "[is] not as competitive as they expected, the relationship loses a lot of sense."
Rosell agrees, saying that "if you create a Catalan League, you will have much less prestige than any other championship in Europe," echoing Tebas' comments that a Catalan League would be 'a little like the Dutch league' in terms of quality and attraction to TV broadcasters.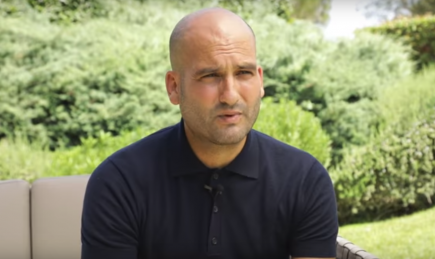 BROTHER BEYOND: Pere Guardiola is a part-owner of Giron FC
Interestingly, there was more detail to Tebas's headline-grabbing comments than his most inflammatory and newsworthy line.
Sounding a little as if he were annoyed at not being consulted, he also said that he was "surprised by comments that said Barcelona would be allowed to choose where to play.
"It must be clearly said that that's not the case. It won't be so easy to reach a deal. Spanish legislation must be looked at."
In theory, the Catalan football federation (FCF) could stay part of the Spanish football federation (RFEF) even if Catalonia declares independence, and therefore continue to take part in Spanish competitions.
Given this, it would be down to the clubs to decide whether they wanted to follow their region (or nation)'s lead in independence.
However, Ballus points to Argentine World Cup winner Jorge Valdano's quote: 'Football is the most important thing among the less important things in the world' to remind us that the matter is bigger than just sport.
"At the end of the day," Ballus says "the independence movement is a decision or a desire from Catalan society and these kinds of claims that come from society are more important than football.
"Then, if the people from Catalonia decide to go for independence, Catalan football will adapt to any context."
Picture courtesy of La Liga via YouTube, with thanks.