FC United of Manchester supporters have issued a call to arms to encourage fellow fans to vote at the club's general meeting this Sunday in a bid to improve democracy at the supporter-owned club.
The Moston club – for so long the poster boys of the fan ownership movement and the antithesis to the corporate world of the Premier League – has been rocked by a series of bitter internal disputes over a perceived 'democratic deficit' and disagreements as to the future direction of the club.
Investigations into forum comments, controversial photo-ops with Conservative ministers, the expulsion of the club's founder and a 'let them eat cake attitude' of some board members has led to the resignations of general manager Andy Walsh, followed on Monday by longstanding board member Adam Brown.
"A siege mentality has developed and the board are struggling to communicate properly with us," an FCUM founder member told MM.
"There are a number of board members who are currently not prepared to answer reasonably expressed questions on the forum.
"It doesn't feel very democratic and it's only exacerbating the 'them and us' feeling between co-owners and their elected representatives."
Walsh and Brown are considered by a section of supporters to be responsible for what they see as the development of a dictatorial and undemocratic culture at the club.
Supporters' views are apparently treated with the same contempt as they were by Manchester United when fans walked away to form the club in 2005.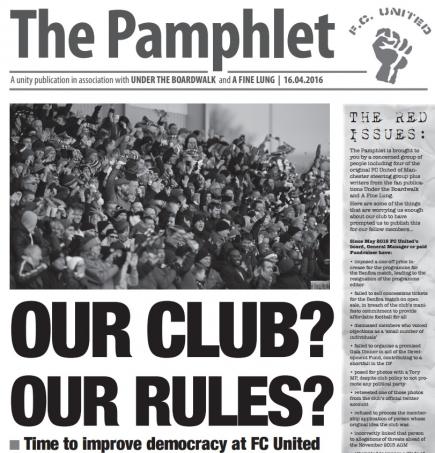 ​THEM AND US: Democracy, transparency and accountability are in short supply at FC United, say fans
Now, in a pamphlet authored by four original members of the club's original steering group in association with fanzines A Fine Lung and Under The Boardwalk, active supporters have appealed to their fellow co-owners to support a number of resolutions at Sunday's General Meeting aimed at restoring democracy at the club.
"Democracy, transparency and accountability are in short supply at FC United at the moment," the editors write.
"Our club? Our rules? Time to improve democracy at FC United. VOTE at the forthcoming general meeting."
Nevertheless, lack of accountability is not solely the fault of the board. They are elected after all, but an acute decline in participation and voting has also contributed to the democratic deficit.
At early AGMs in the years following the club's formation, resolutions and board elections were voted on by around 500 people out of an adult membership at the time of approximately 2000 – a turnout of 25%.
But by 2011, the number of regular voters had decreased to less than 300 out of a membership which had by that time grown to almost 3000 – a turnout of approximately 10%.
At last November's AGM, less than 10% of the club's total current membership cast votes.
"We can't lay the blame at the feet of just one set of people," said the source.
"The state of democracy within the club is a whole issue in itself. They are elected by us, the membership, and it's our responsibility too
They added the cracks first began to appear with the board's decision to increase the price of the match-day programme for the Benfica friendly by 50p.
"It breached one of our founding principles about outright commercialism," they said.
"We always knew it was going to be a big crowd of 4000 plus, and that the programmes were going to sell. Everyone was going to want a souvenir from that game.
"With the increased print run, the cost per unit actually ended up being lower than an average league game, so to stick 50p on the price was outright commercialism."
The programme's editor resigned in principal over the dispute but there were financial consequences for the club as well.
A crowdfunding campaign to raise £15,000 to provide facilities for youth and community use had to be extended beyond its original four weeks after supporters who would ordinarily have contributed declined to pay in protest at the board's actions.
Further alienation followed in October after the club hosted a visit by Conservative Treasury Minister Damian Hinds – the day after a number of FC United fans took part in an anti-austerity march in Manchester.
Great to visit @FCUnitedMcr to meet @andykwalsh at their incredible new stadium –financed through #SITR and #SocInv pic.twitter.com/Rhpt0f2SbL

— Damian Hinds (@damian57) 7 October 2015
They faced further criticism in December for their handling of the fallout from 'programme-gate' on the club's official members' forum, after voting to launch an investigation into what they considered 'abuse' that board members were receiving online.
Indeed, in a statement accompanying his resignation, former board member Adam Brown said an orchestrated campaign against board members and club staff had made life difficult.
"When debate crosses over into personal attacks and a hate campaign with the spreading of libelous, baseless and inaccurate information under the cover of anonymity, the role becomes impossible to fulfill," he said.
According to the pamphleteers, the board offered former Supporters Direct chief executive Dave Boyle, a personal friend of Andy Walsh and Adam Brown, £900 to head the investigation in a role that they affectionately term Witchfinder General.
"Nine hundred pounds of co-owners' money," they write.
"And this at a time when the club is struggling financially to adjust to the stresses and strains of owning our own ground."
While money is spent on internal investigations, there is frustration among fans that other more serious allegations of physical and verbal abuse of fans at matches are not being looked in to.
At last week's away game at Corby for example, a young fan was punched in the face by a fellow supporter following a dispute over the direction of the club.
The online members' forum is intended to provide a secure platform for members to directly hold their representatives to account and fanzine A Fine Lung has spoken of the mentality of board members who refuse to get involved.
Saturday's pamphlet was followed on Tuesday morning by the publication of 101 Damnations' by Red Issue – the dormant Manchester United fanzine credited with the original idea of founding FC United.
101 Damnations

Read: https://t.co/GOZEeFW5bu

— Red Issue (@RedIssue) April 19, 2016
The list features 101 questions to the club 'aimed at getting to the heart of the corruption of FC United's founding principles'.
Surprisingly for a modern club with a comparatively young fan base, FC United offer no facility for online voting, since it would be too expensive – an issue which discourages participation.
But considering that a recent online members' survey attracted over 1200 responses – about a quarter of the membership at the time – many believe this could be the way forward.
In the meantime, the fanzine writers and original steering committee members are hoping that their pamphlet will act as a rallying cry and will encourage fans to use their vote at Sunday's General Meeting.
"It's going to be a crucial few weeks for the future of this football club," they conclude.
"Did we really fight the Glazers and end up leaving our first love, Manchester United Football Club, for a life of jam and chutney fund raising and third sector do-gooding?
"Whither the radical thinking that established this football club? Whatever happened to punk football?
"We as co-owners need to reclaim and restore our football club to ensure that it rests on strong democratic foundations and rediscovers its defiantly Mancunian rebel heart."
Image courtesy of LeTV Sports via YouTube, with thanks.