Pushy parenting or not, globetrotting Venezuelan football freestyle champion John Patrick Acquaviva is indebted to a cunning ploy by his father to stop him watching television.
At the tender age of five his dad signed him up to a local football club – without Acquaviva even knowing.
"I was a couch potato and I hated it at first, but it soon became my whole life and the only thing I wanted to do," the 20-year-old told MM.
Acquaviva grew up on a remote farm in the Andes, but his quest to master the ever-increasingly popular art of freestyle football has seen him travel the planet and he now lives in Didsbury, south Manchester.
After spending his early years in La Azulita, Acquaviva and his family swapped rural life for the city of Maracaibo when he was nine, and it was then his passion for freestyle exploded at the age of 14 in a nearby parking lot.
"I would spend countless hours every day just kicking a ball around by myself trying to learn tricks I saw other guys doing on YouTube videos," he said.
"Then, just six months after I started, my mother took me to Caracas to compete in the national Red Bull street style championship.
"I was so nervous. I didn't even want to go, but my mother convinced me and told me it was all just for fun so not to worry so much about winning and just have a good time."
Such was Acquaviva's drive, he completed the arduous 16-hour journey to the capital in pain and competed with a broken coccyx.
"I tried to get out of the bus, but I had terrible pain in my coccyx and I could not even walk for an hour or so," he said.
"But, I took some painkillers on the morning of the competition and ended up winning all my battles unanimously and taking home the national champion title."
Acquaviva's national crown would prove to be the catalyst to enter some of the most prestigious freestyling competitions in the world, such as the Colombian Red Bull street style in 2010 where he came second, losing in the final by one vote in over-time.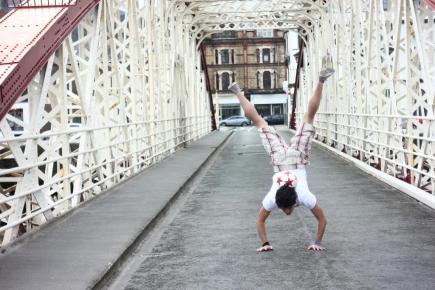 ANDES-STAND: Acquaviva learnt his trade on a farm in the South American mountains (© JPAFS)
There was no shame in defeat however, the eventual winner subsequently finishing third in the world championships later that year.
He has since secured the Venezuelan national title for a second time, and as a result, Acquaviva is now ranked in the top-16 in the world.
Now in rainy Manchester, where the South American combines his passion of freestyle football with a dream career in photography and film, Acquaviva has been stunned by the importance of sport to English people.
"It was crazy for me to experience how big football is over here – especially because Venezuela is not a big football country, it was strange to come to a country where football is pretty much the main religion," he said.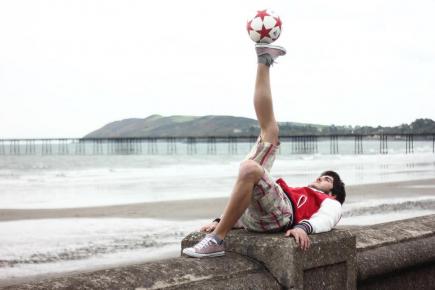 LEG UP: A Red Bull street style championship win brought Acquaviva to prominence (© JPAFS)
While conceding Manchester is his 'favourite city' despite the weather, he refused to nail his colours to the mast when it comes to being Red or Blue.
"I support Union Atletico Maracaibo, they are my hometown team back in Venezuela. But David Beckham was one of the footballers I always watched and aspired to be as a kid."
Acquaviva's passion for freestyle has not waned since moving to England, and he has stated his intentions to get back onto the scene after a frustrating 12 months of niggling injuries.
Despite the knocks, it has been a hectic three years for the Venezuelan, who could only be stopped by the eventual winner, Szymo, at the quarter-final stage of the World Championships and then became the first freestyle footballer to carry the Olympic Torch a year later.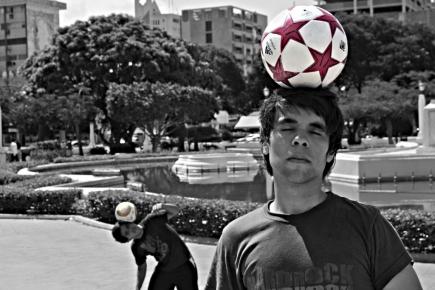 SPOT THE BALL: Acquaviva shows off his skills (© JPAFS)
"Freestyle is definitely growing, not only in Manchester and England, but all over the world. There are many great freestylers in this country and a lot of them live in the Lancashire area," he said.
But life has not always been so kind to John, who experienced the hardships of growing up in a third world country throughout his childhood.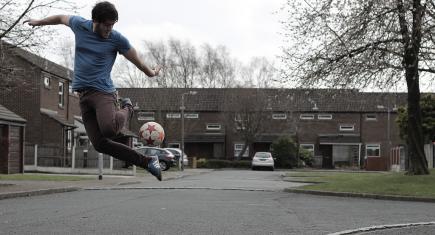 VENEZUEL-AIR: Acquaviva has brought South American style to Didsbury (© JPAFS)
"I do motivational speeches at local schools and different events to talk about my own life and personal experiences and how I was able to overcome them," he said.
"Growing up was a struggle – I have experienced things that most people living in first world countries wouldn't even be able to imagine.
"But, along with the unconditional support and love from my parents, my message is that people should chase their passions, stay determined, and then they will be able to accomplish anything." 
Images courtesy of John Patrick Acquaviva, with thanks.