Manchester United have celebrated hitting 60million Facebook likes by pitting their stars head-to-head.
The challenge saw Juan Mata and Adnan Januzaj's white team and Uruguayan youngster Andreas Pereira pair up with Wayne Rooney to take part in contests to sort out who rules the roost at United's Carrington training ground.
Both sides took turns at attempting to smash the ball into the back of the net from 60 yards in the first round before swapping sports for a competitive game of 'volley tennis'.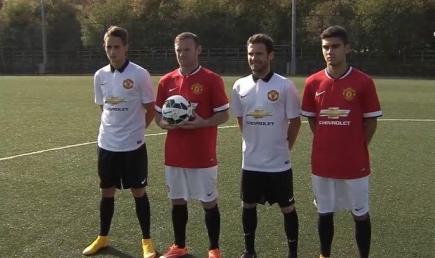 WE LIKE IT: Manchester United celebrate reaching 60million Facebook supporters (©Manchester United via Facebook with thanks)
Rooney, who has been resigned to England duty and the training ground since he was sent off against West Ham last month, and Pereira have come out on top so far and already have an 2-0 advantage.
Despite United banging in goals for fun in the Premier League – and some comedy defending at the other end – all four missed the target on their first attempt with club captain Rooney failing to lead by example and Januzaj slicing horrendously wide in the 60-yard goal-scoring challenge.
But Rooney did shrug off his ring rustiness to get the red team off the mark in the second round of attempts.
Mata – not for the first time in his ten-month spell at Old Trafford – was the man to miss out as he fired wide.
And young guns Pereira and Januzaj showed their more established team mates how it is done to score with ease as the red team triumphed 2-1.
In the second match-up, the two sides had another net to contend with as they switched to tennis.
While none of the United stars will be troubling Andy Murray at Wimbledon any time soon, it was the doubles pairing of Rooney and Periera who raced into a 3-0 lead to make it game, set, match and take the social media grand slam in the process.
United also revealed stats from their time on Facebook, including: they have had 514million likes, shares and comments, their posts have had 418million likes, Rooney's 2014/15 kit reveal is their most shared post and Angel Di Maria's welcome post topped the table for likes.
United return to Premier League action tonight after the international break with a trip to West Bromwich Albion.
Image courtesy of Manchester United via Facebook with thanks