Sale Sharks played host to the latest of this season's Land Rover Premiership Rugby Cup on Sunday with Wilmslow RUFC and Lymm RFC booking their places at the Aviva Premiership Rugby Final in May.
In total, more than 7,000 youngsters will participate over the course of the season in search of a spot in the Land Rover Premiership Rugby Cup 'Parade of Champions' during half-time of the Aviva Premiership Rugby Final.
There were plenty of potential stars on show at Manchester Rugby Club as 30 different teams took to the field in under-11s and under-12s tournaments for Sale Sharks' leg of the Land Rover Premiership Rugby Cup.
In the under-11s tournament, Lymm went unbeaten through the group stages – not conceding a try all day – and edged out Caldy RUFC in the final to seal their showpiece place at Twickenham at the end of the season.
"It feels fantastic to earn a place at Twickenham as a team," said 10-year-old Luke Greenwood. "It was a tight game and we really showed how well we work together. 
"Rugby is not just about one person with the ball, it's about everyone passing the ball together and that's why I like it so much.
"It's my favourite sport because it's a tough game but still really fun and exciting. We learnt a lot and I think we have bonded and improved as a team.
"It's really exciting that Sale run events like these for us as you get to see the players when they come down and have a chat to them.
"They were telling us what it's like to be a professional rugby player and that inspires us for the future."
Wilmslow eventually came out on top in the under-12s tournament after overcoming a strong Sheffield RUFC side in an enthralling final match.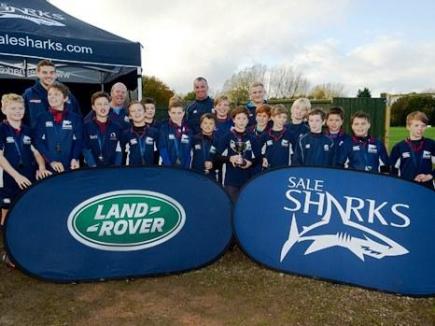 STRONG BOND: Wilmslow's teamwork saw them through
Wilmslow's eleven-year-old captain Ben Kersh admitted his delight after getting the chance to head to Twickenham for the first time.
He said: "I'm very proud and happy that the team played so well. The atmosphere at Twickenham will be incredible and that is what I'm most excited for.
"Our teamwork was our strength and we really bonded as a team. We did well in the rucks as well and built on what we've been doing in training.
"The final was tough as our opponents were quick but we did what we came to do and I'm really happy."
Meanwhile, the Land Rover Premiership Rugby Cup Spirit of Rugby Award, which goes to a player who best demonstrated the values of the game, was given to Oliver Parry of Stockport RUFC.
Parry, who has only been playing rugby for a month, showed exemplary fair play when he jumped at the chance to join the rival Manchester RFC team who were a couple of players light.
The 11-year-old won tackle bags and other equipment for his own club and admitted he was more than happy to help out all parties on the day.
"You don't want to see any team get left out of something like that, so I wanted to go and help them out by playing with them," he said.
"It feels really good to get the award and to win all of the equipment for the club as it is helping them out. It will definitely help us improve as a team.
"Playing really helped me improve as a player as I was able to see what rugby is all about. I've learnt that it is all about playing fair and it doesn't matter about losing as you just want to have fun with your friends.
"My friend got me involved in rugby and now I go to training with him and I've made loads of new friends over the last month with everyone from the club."
Launched during the 2008-09 season, the Land Rover Premiership Rugby Cup is the first national grassroots tournament officiated by Premiership Rugby and run in conjunction with all 12 Premiership Rugby clubs.
Casting an eye over proceedings were Sale Sharks quartet Tom Brady, Will Cliff, Joe Ford and Ross Harrison and the latter believes he saw more than a few players with huge potential.
"Getting the kids out and playing is obviously massive for them and their development as players," said prop Harrison.
"I remember coming to these kind of days with Lymm from the under-12s onwards and I came through from there.
"Minis rugby is really important and you make a lot of new friends from your area as well, not just your school.
"I used to get a lot of enjoyment from getting a run out at these kind of festivals, and it is not just about getting the win at this level as it's more about getting everyone out here playing."
Land Rover supports grassroots rugby and provides the opportunity for over 7,000 youngsters to take part in the Land Rover Premiership Rugby Cup each season. Keep up-to-date with the latest Land Rover rugby activity by following @LandRoverRugby on Twitter.