Running out at Twickenham is the dream for every grassroots rugby player and next month it will come true for no fewer than four of Manchester's own.  
Orrell RFC and North Manchester RFC are both putting forward a pair of players to a NatWest Grassroots Barbarians side to play at HQ on 9 June.
Orrell's Dan Huxley and Andy Kelly, alongside North Manchester's Lewis Higgins and Lewis Gally, are part of the NatWest Grassroots Barbarians team, coached by Rugby World Cup winner Maggie Alphonsi, who will pit their wits against another team made up of players from grassroots rugby clubs across the UK.
For Higgins, who started playing for North Manchester seven years ago, it's a reward for all the sacrifices that he has poured into the grassroots game. 
"It's something I never thought I'd ever get to do – a massive opportunity," said Higgins. 
"There's a lot of sacrifices involved in grassroots rugby. I'm chuffed to bits with it to be honest, I'm overwhelmed with it.
"It's a dream, since I started playing seven years ago. It's the aim, to play at such an iconic stadium where great teams and legends have played in the past.
"I've been going to watch England and other teams. It's brilliant to actually get the chance to play there.
"I was first-team captain a couple of years ago. It's a good chance to show off the club and the dedication we show to play."
NatWest RugbyForce is a longstanding initiative run by the Official Banking Partner of England Rugby. This year, all clubs that registered for NatWest RugbyForce were entered into a draw for their chance for club players to be selected to join the Grassroots Barbarians.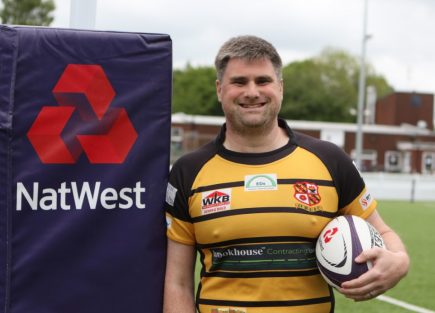 PLEASED AS PUNCH: Orrell RFC's Andy Kelly will take on other English grassroots stars of the game 
On 9 June four teams of the most committed players from clubs around the country will go head-to-head, supported by their clubs, rugby legends and current players to celebrate the grassroots game.
Alphonsi, who led her squad through a coaching day in the north-west last weekend said: "I'm so chuffed for all the men and women who are going to have this crazy experience.
"My first time playing at Twickenham was for England against Scotland. I knew what the stadium was like as a fan but to be thrown into it as a player, I was incredibly nervous.
"It's like Wimbledon for tennis players, Lord's for cricketers – what NatWest have created is brilliant because it's all about grassroots. We can't forget where we all started.
"Clubs are the foundation of the game in this country and that's where internationals are created. For these guys to go from their local club to the best ground in the world will be incredible."
NatWest is the Official Banking Partner of England Rugby. This year NatWest RugbyForce is making it easier for grassroots clubs to access rugby through its NatWest Grassroots Barbarians initiative, offering grassroots players the chance to play at Twickenham on June 9th. @NatWest_Rugby