England cricket legend and ex-Ashes winning captain David Gower is going back on tour.
No, he's not batting for England again, but is instead travelling the country with his autobiographical show, On the Front Foot.
David will be at The Dancehouse in Manchester later this month and describes his show as a "sort of journey through life" where he starts at the very beginning and most of his stories are, naturally, about cricket.
"What I've done is I've picked out some good, some bad," he tells MM, humbly adding it's not a "self-congratulatory" talk.
"I'm quite happy to acknowledge the failures as well as the successes."
David left his long-standing broadcast role at Sky Cricket this summer after the corporation decided to not renew his contract. This was the end of an era for many and he made it clear that it was not his choice to leave.
"The truth about leaving Sky is that I was warned about that two years ago, and the powers that be were saying they weren't going to renew that contract. I was trying very hard to persuade them to change their minds."
They stuck to their guns and David, alongside old friends Ian Botham and David "Bumble" Lloyd left their roles. What made all three of them great broadcasters was not just their cricketing knowledge, but their personalities that made viewers feel like they were watching their friends having a chat down the pub.
At times, the laid-back approach he's famous for got David in trouble within the England set-up and one incident, where he flew a Tiger Moth plane over the ground when his team was batting, cut his England career short.
This story, alongside many others, are recounted by David in his show, leading me to wonder if the game is missing a bit of personality today.
11 CLONES PLAYING CRICKET
"They are advised quite rightly to keep themselves to themselves and under the radar when they're not required. So a lot of the fun happens almost behind closed doors because once it's exposed, you know, you are open to reputation.
"I know from interactions I've had with some of those guys, there's some characters there, there's still a sense of humour within dressing rooms, all those things you need to keep the dynamic alive.
"Variety's good within a dressing room because I've never been a believer of a sort of a one-size-fits-all approach to team sport. I think what makes team sport interesting is that it's a collection of different characters. If you just have 11 clones playing cricket, that's a bit repetitive.
"If you have half a dozen saying the same things in the commentary box, then that will become rather dull."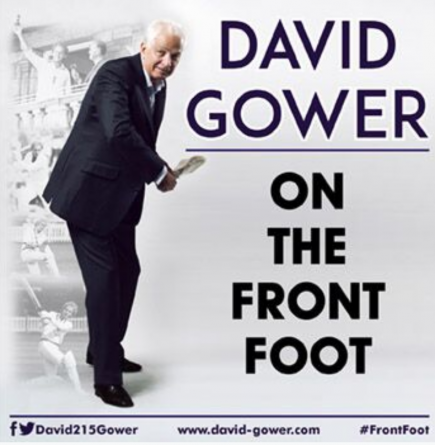 The bitterness over his Sky exit clearly still lingers, even if in the background.
But it's not the only thing that rankles. David's seen cricket grow into many iterations during his time as a player and broadcaster and thinks the "ever more complicated schedules we have in the summer" are detrimental to the team.
"If you're looking to get some form as some of them might or might not be in the team, it's very hard to do so, everyone nowadays has to be almost there. You, almost compulsively have to go from the practice ground into the game.
"But if you have an injury or someone had a fall then you're relying on someone coming in who has to sort of go from naught to a hundred in three seconds."
The change in style happened over a number of years and he doesn't think a quick fix would be possible.
LIFE UNDER SILVERWOOD
"Subtly change the culture because you don't want to stop people stop being, I know it's an overused word, but you don't want to stop people being positive. You just want them to show a little bit more judgement at times.
"I fully understand what instincts lead you to do because that's a lot of what I was at the times, and equally times where people said to me 'Well maybe that was a risk too far'. And you acknowledge that if you're taking risks, some of them will not pay off."
David was known for a languid batting style and admits he didn't always play the 'test way'.
"I certainly can't preach I lived the law according to Geoffrey Boycott, because that would be very disingenuous, hypocritical.
"There have been a number of times in the last four or five years where I've been thinking, wait hang on, someone needs to hang in there.
"I know from what (new England coach Chris) Silverwood has said already and the discussions that have come about already that they're going to look at their approach."
The show will include more of his thoughts on this summer's topsy-turvy cricket as well as tales from his storied and occasionally controversial career.
As many will have become accustomed to with David: "All that is sprinkled with a lavish degree of humour."
David Gower is at The Dancehouse Manchester on October 31 with his show On The Front Foot. Tickets from www.david-gower.com