Somewhat remarkably, the man behind the cycling brand taking the world by storm has no GPS navigation system on his bike.
Nor, as it turns out, does Rapha CEO Simon Mottram have warm enough gloves for a less-pacey-than-usual winter spin in Essex.
So, in typical cyclist fashion, he gets his head down and charges back through London traffic to his company's headquarters near King's Cross.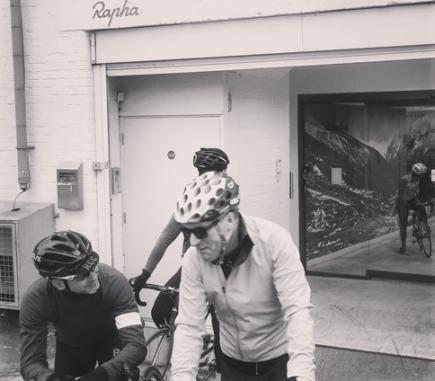 HOW MANY CLUBS? Rapha will have 10 by the end of 2015 but Mottram (left) is aiming for 30
Others are out of breath. Mottram has no time for that. He has a shower to take, lunch to wolf down while chatting and then a meeting to attend.
Who ever said running a company was easy?
"I don't want to be looking down, I want to be looking up," he tells MM after a 50-mile spin through the English countryside.
"I like maps. I quite like getting lost. That's the experience, the humanity of cycling."
It's little wonder then that Mottram created Rapha in July 2004 with an emphasis on being human, friendly, open and engaging. 
In September 2014, Rapha landed in Manchester. Mottram was here for that and he was back on Thursday for the RCC (Rapha Cycle Club) launch night in what was a busy week for the company after they announced their kit partnership with 2012 Tour de France champion Bradley Wiggins' new team, set to commence racing next month.
That coup was at the back of Mottram's mind however as he entertained crowds in London and Manchester in the space of just over a week in another major stepping stone for the company.
"I find it amazing that any week there will be hundreds of rides all over the world with all the same kind of people doing something they love and getting huge satisfaction out of it," he says.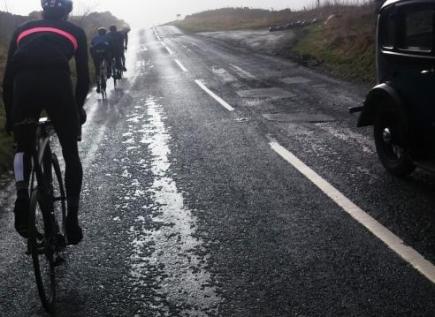 OUTSIDE IS FREE: Manchester offers some of the best riding in the UK
"That's actually what Rapha's all about. It's not about the products. The products are a part of making that happen, but it's really about the social side of cycling."
Manchester became Rapha's seventh worldwide club last year and the club's dynamism has impressed Mottram more than any of the other six over 10 years since the company was born.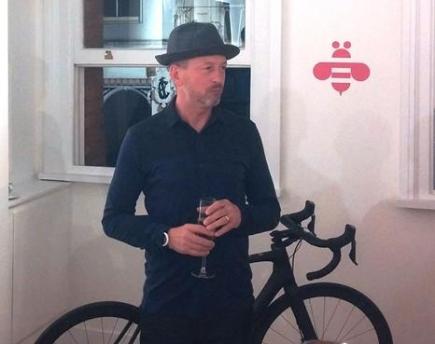 ALL EARS: Mottram listens intently to Rapha customers, members and cyclists alike
Yet Manchester struggles to compete numbers wise with the droves who have flocked this winter (their summer) to the Sydney club, or even the London base, which was where it all started.
There are further clubs in San Francisco, New York, Osaka and Tokyo, with Amsterdam to open in late March then Hong Kong and Los Angeles to make it 10 in 2015. Mottram wants 30. He's an ambitious man, why not?
But while various mobile clubs adorn the map too, serving only to enhance the brand, it is Manchester's 'humanity' which he finds so appealing.
After all, Rapha is seeking to rid itself of a serious and pretentious reputation, so much so that cyclists wearing the company's gear have been known to get asked for their business cards by riders in non-Rapha kit.
"There was always a bit of nervousness up north about 'is the brand for me?' Is it for a factory worker? We always felt that we were but we never really had the opportunity to articulate it," says Mottram, articulating nicely himself despite the din of coffee machines around him as he tucked heartily into some post-ride food.
"Because people didn't see very much of it, the longer it went on without people seeing it the more that perception grew that it wasn't really for them.
"So the last couple of years we've really focused on the north in general, which is the heartland of British cycling anyway. People there are just as passionate if not more so, and they probably care about kit just as much as people down south.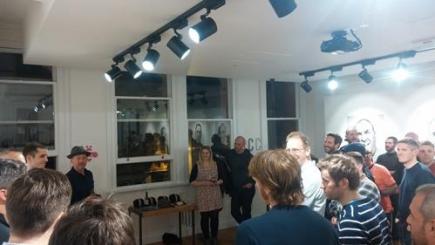 ALL SMILES: Cycling has a real community feel in Manchester
"The way we've tried to make our brand relevant isn't by advertising, we do it by putting people on the ground and doing things. Events, rides and ultimately having a cycle club.
"I firmly believe you've got to be it, you've got to show it, it's got to be real. And that takes time. If you're not physically there your brand doesn't exist. It's not just a picture.
"Hopefully other brands aren't quite so engaging. Even though our reputation is quite po-faced, certainly when we started out and people thought 'Oh Rapha, it's all a bit rarified and self-conscious', when you meet people from Rapha we're just fans."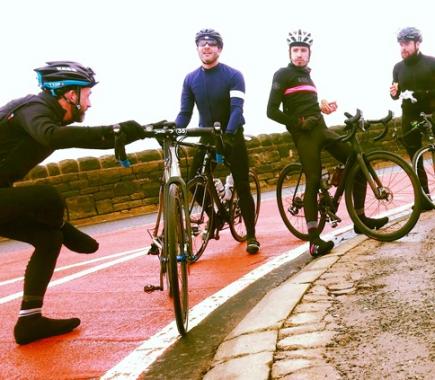 FUEL UP: Manchester rides regularly take in iconic climbs like Cragg Vale
Team Manchester are not just fans. They can fix punctures with one hand. They can ride fast. They say hello to everyone on outings. They are respectful of traffic. They are doing what, according to Mottram, cycling has been crying out for for years.
"It's about hiring people who get it and are totally authentic," he said.
"They are the brand but they're also not dicks about it. Cycling is full of people who are really strong and very fast, which we want, but we also want people who are charming, relaxed, open and get other people. That's what you want and it's quite hard to find. Cycling's not very good at that.
"In Manchester we just managed to find some really good people. It's about having the right people from day one and I think we've probably done that better in Manchester than any other cycle club, getting those connectors."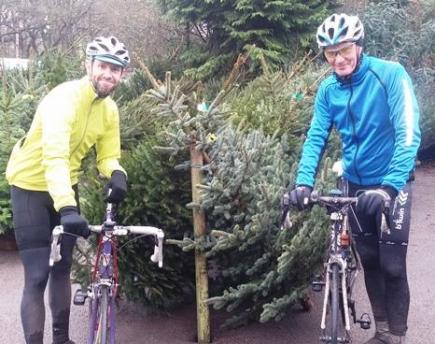 CHRISTMAS ALL YEAR ROUND: Expect friendly faces at CCMCR
As the old saying goes, you need a lot of luck in life, but some make their own fortune and you get that feeling with Mottram and Rapha.
In spite of Manchester's burgeoning success, the many brains behind the operation still have no idea how they landed upon such a gold mine.
"That's a question for the whole of Rapha really. How much of it was luck and how much was belief and just doing it?
"I strongly believe that execution, giving something everything, has a good chance of working. Some things don't work but if there's half a chance of something being able to work, doing it whole-heartedly for a long time is your best chance.
"That's what we've done. Some would say it's overdone. We pour over every detail because we love it.
"We didn't do a little test in Manchester. We just went and did it: a full on cycle club. And we expected it to work.
"I don't want anyone to think we're blasé or arrogant about the whole thing. It's really hard work. We're not just doing a shop. We're doing a community centre. A café. An events space."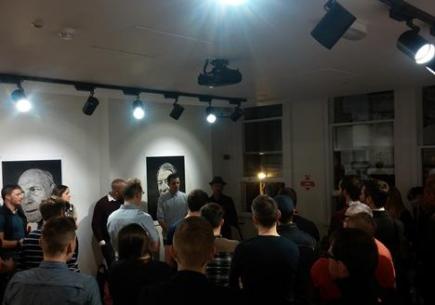 NOT YOUR AVERAGE CLUB: Mottram and Rapha went all guns blazing in Manchester
Rapha's Manchester base is precisely that. Lycra-clad cyclists can sit near the bar scoffing a sandwich while elegantly dressed folk potter around the club, gazing at a mixture of high-end kit and memorabilia.
And, for a lot of people, there's no place they'd rather be. Long may it continue.
Main image courtesy of Lupo Lee Jackson, the finest singer in the North.