Modern sport, and football in particular, looks to have developed an ever increasing reliance on statistics.
Whether it's a betting company trying to entice you to take a punt on the next goal scorer, or pundits trying to convince you who will lift the Premier League trophy at the end of the season, you cannot seem to escape them.
Here at Mancunian Matters, we thought we would delve into the plethora of football statistics to see if there is any truth in them.
We looked at the key, obscure and sometimes surprising stats for Manchester City and Liverpool, who appear to be the two teams fighting it out to be crowned champions, and also how Manchester United are faring since the appointment of Ole Gunnar Solskjaer .
We then took the findings to fans of the three teams to see if it had an impact on their opinions as to where their team will finish as we enter the business end of the season.
Starting with the title race, Liverpool are undefeated in their last 32 home matches, stretching over this season and last, and with eight home games still to play, a continuation of this record would definitely leave them in a strong position.
Despite the Etihad appearing to be a fortress on the whole, City have come unstuck in recent months, losing 3-2 to Crystal Palace in the league and a 2-1 defeat to Lyon in the Champions League.
In fact, the last time Palace beat Manchester City was 28 years ago, coincidently in the same year that Liverpool last tasted top-flight glory.
In terms of away form, both sides sit in the top three in the league, with Liverpool only losing one and City only two, however the reds sole defeat came at the hands of their Manchester title rivals just three weeks ago.
Both sides are known for their attacking prowess, and dominate the top of the attacking statistics charts.
Liverpool's Mo Salah leads the way with 16, ahead of City pair Sergio Aguero and Raheem Sterling (both on 10), and in joint tenth spot comes the Egyptian's teammates Roberto Firmino and Sadio Mane (both on 9).
This may seem like grim reading for City fans, however delving deeper into the world of statistics does reveal some reasons to be cheerful.
City have returned to form in style of late following their must win defeat of Liverpool, and since then have been winning at both half time and full time in 10 of their last 14 league matches.
Moreover, City seem a more rounded team in terms of creating chances than their title rivals, with Leroy Sane, Sterling, Aguero and Bernardo Silva all featuring in the top 10 in the league, with Salah being the Liverpool's sole representative.
The blues also dominate most of the key team stats, including possession (63.9%), shots per game (17.5) and passing accuracy (88.9%).
The biggest source of confidence for City fans however should be Liverpool's history in title winning positions.
Only twice in the last ten years have a team failed to go on to win the Premier League title after sitting top of the table at Christmas, and on both occasions that team has been Liverpool.
Furthermore, in 2008/09 Liverpool only lost two games all season, but still finished behind champions Manchester United, who were themselves defeated 4-1 at Old Trafford by the Merseyside club.
If history is to repeat itself, the blue side of the city will soon be celebrating their fourth title in eight years.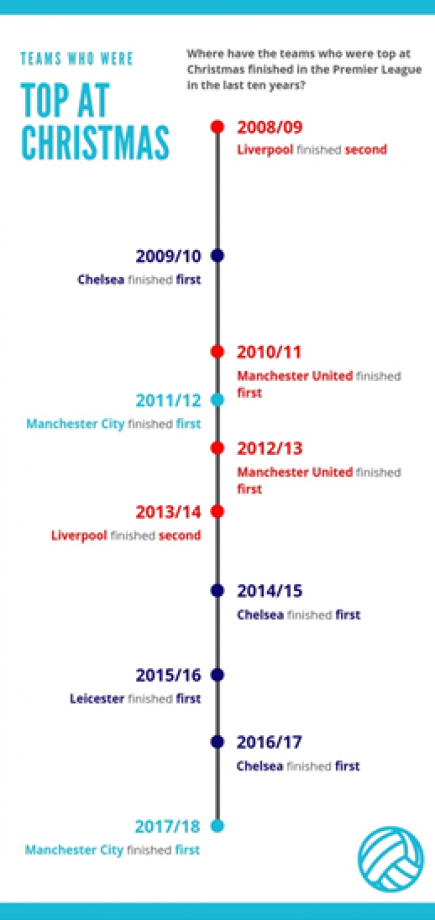 For the red half of the city, this season really has lived up to the old cliché of a game of two halves.
At the time of Jose Mourinho's departure, United were languishing in sixth place in the Premier League table, and sat a dismal 19 points behind league leaders Liverpool.
Under caretaker manager Ole Gunnar Solskjaer, United look to be a team transformed, winning all seven of their matches with him in charge, and five of them by a two or more goal margin.
Possibly the biggest factor in this is the red's ability to score the first goal and hold on for the win – a feat they have achieved in all seven of those wins.
Such has been the impact of the Norwegian that he has set a new record for the most successful start of any Manchester United manager in history, with the 1-0 away win against Tottenham bettering Sir Matt Busby's record of five consecutive wins.
The players seem to have received a new lease of life as well, with Paul Pogba being directly involved in 47% of the team's goals in Solskjaer's first six games in charge.
Rashford has established himself as the first choice number nine instead of playing out wide as he did under Mourinho, and has rewarded his new manager by scoring five in his last six league games.
In terms of defensive capabilities, United have often been questioned this season, but David de Gea has been in outstanding form of late, only conceding once in his last three outings
Despite this, they remain the third highest team for receiving cards from fouls with 37, and Luke Shaw is the joint third most yellow carded player in Premier League at the moment with seven.
If United can keep up the early form they are in under Solskjaer, there is little doubt they will secure a Champions League spot, especially considering top-four rivals Arsenal and Chelsea are starting to wobble slightly.
With the stats out of the way, we put the findings to a few football fans to see what they made of them.
Lewis, a Radiographer from Merseyside and a huge Liverpool fan, admitted he was worried by his side's history in terms of falling short after finishing top at Christmas, but had faith in his team to go on and lift the title.
"I do believe in statistics, but this team is more than capable of going on and winning the title," he said.
"In one of the years we were top, Gerrard slipped, which was a freak accident and we went on to lose it from there.
"A title is long overdue and with the front three we have and in the form they are in, Fabinho in midfield, Van Dijk at the back, who has been the signing of the century, and Alisson in goal, we have a complete team.
"City are a quality side with plenty of strength in depth and I would be lying if I wasn't worried, but I'm still confident we'll come out on top."
Harry, a furniture designer and Manchester City fan had similar thoughts to Lewis in thinking that Liverpool would win the league, mainly due to the proficiency of their front three.
"I think Salah, Firmino and Mane have come on strides from where they started at Liverpool," he said.
"Salah's started to get his confidence back after getting that shoulder injury and they are definitely equal to our front three.
"I don't necessarily buy into that stat about not going on to win after Christmas – it's just down to chance and anything can happen.
"We'll push till the end but I think we'll fall short."
Finally, we spoke to Connor, an engineering student and United fan, who was very sceptical of the stats we put to him.
"I don't really see anything in the stat about cards because they don't really tell you anything -Herrera likes a card now and then and Jones is clumsy at the back," he said.
"We've definitely improved all over the park though under in Solskjaer – we're more attacking and playing passes I've not seen in a long time.
"It's definitely close between us and Arsenal for the top four, but if they lose another I think we'll sneak in."
When asked about the stat of Liverpool failing to win the league after finishing top at Christmas, he also consigned it to coincidence rather than a prophecy of what may happen.
"I really hope Liverpool don't win the league but to be honest I can't see them losing," he said.
"The other year's they've not had a front three scoring twenty plus goals a season like they have this year.
"If they do go on to lose it this year, they really will have bottled it."
In review, the fans we asked didn't really put much faith in the statistics we showed them.
They would rather place their faith in their gut and hunches rather than base it on numbers, which they felt could be misinterpreted and in essence, football is a game of chance.
It seems that there is an over-reliance on statistics in football, but most fans do take stats with a pinch of salt, and would rather wait and see what happens in what is set to be a thrilling end to the season.