Saddleworth skier Erika Heginbotham claims she has vastly exceeded her own expectations at the Delancey British National Alpine Ski Championships after clinching a remarkable double bronze on Tuesday.
The championships are currently taking place in the world-class ski resort of Tignes, France until April 1.
The downhill event took centre stage on Tuesday morning and Heginbotham's time of 1:23.35 minutes was enough for her to take bronze in both the junior and U18 competitions.
The 17-year-old's performance was even more remarkable considering she is a full-time swimming instructor at Saddleworth Leisure Centre while also training to be a PE teacher – yet was competing against full-time skiers at the British Champs.
With her work commitments, she has only had limited time on the ski slopes this year but acknowledges she won't be forgetting her experience in the French Alps any time soon.
"It feels good to have won bronze – I've not done any training this year because I have been working full-time but it has been really fun," said Heginbotham (pictured above right).
"I'm working as a swimming teacher and training to be a PE teacher as well, so it's not always easy to fit in ski training.
"I've not really done any practice, I just came out for a few days before the British Champs to see my mum and have a free ski and then come here.
"I just wanted to have fun coming out here and to see my friends, I didn't really think about winning any medals."
The Championships are the biggest event of the year for the British ski racing world and Delancey are the principal sponsor for the sixth year running.
Heginbotham won't be competing in the slalom and giant slalom later this week but is delighted to be leaving Tignes with two bronze medals.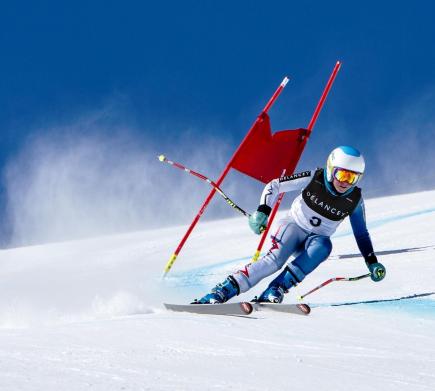 FRIENDS FIRST: Erika in action en route to bronze though the Saddleworth Leisure Centre swimming instructor said she went to Tignes mainly to see her mates and her Mum
And the teenager insists that while she has no designs on taking up skiing full-time she would love to keep returning to the British Championships.
"This is my second year at the British Champs because I was here in Tignes last year but I won't be doing the tech events," added Heginbotham.
"I've never won a medal at the British and I think I'll just keep coming out to do some skiing in the school half-terms, so I can see my friends."
To follow the progress of the Delancey British Alpine Ski Team visit www.teambss.org.uk or follow @teambss on Twitter. As Principal Sponsor of British Ski and Snowboard, Delancey is proud to be able to provide British athletes with the support they require to win World Cup and Winter Olympic medals. For more information visit www.delancey.com